'Swamy's crash-landing carries a message to all loose cannons.'
'Get your rants vetted by someone higher up in the party so that you are not left high and dry,' says Amulya Ganguli.
Illustration: Uttam Ghosh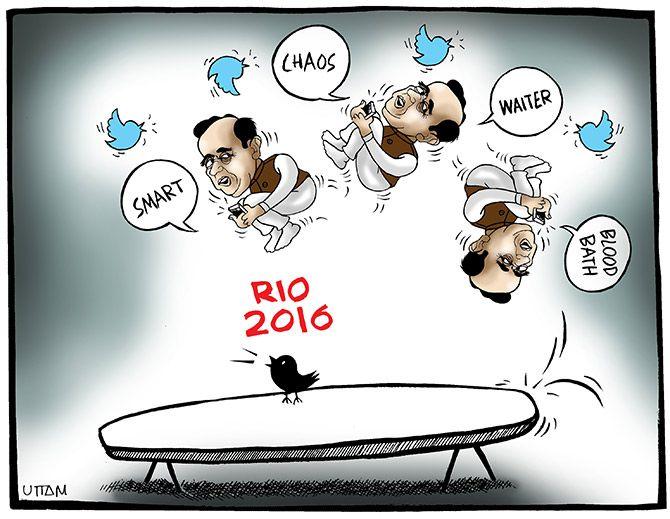 Nothing is so sad as to see a court jester being snubbed by the king.
As the other courtiers look on smugly, trying to conceal the glee which they feel at the joker's humiliation, the clown himself has no option but to swallow his pride and pretend that nothing has changed.
The delight of the courtiers over the comedian's comeuppance is over the licence which the humorist traditionally enjoys to poke fun at all and sundry and even come close to riling the monarch himself by taking advantage of his position as the Fool, the Shakespearean philosopher in the guise of an entertainer.
But the moment is inevitable when the vaudeville comes to an end. In Shakespeare's Henry the IV, this happens when the king tells Falstaff: 'I know thee not, old man. Fall to thy prayers.'
And Falstaff once again tries to brazen it out by asserting to an interlocutor, 'I shall be sent for in private to him. Look you, he must seem thus to the world.'
Only time will show whether Subramanian Swamy will be sent for in private to confirm his earlier boast that he speaks only to the prime minister. But for the present he has been relegated very much to the sidelines as never before.
Few will doubt that Swamy has shot himself in the foot by pretending to have the prime minister's ear when he was no more than a lone ranger.
By taking on whoever came into his sights from Arun Jaitley to Raghuram Rajan, the newly chosen Rajya Sabha MP was clearly punching above his weight.
He must have known in his heart of hearts that he is favoured by his party more for his nuisance value than any sage counsel that he may offer.
His utility lay in saying the unsayable against the high and mighty -- an enterprise in verbal warfare which no minister or party member would be willing to undertake.
His selection for the Rajya Sabha was evidently for the purpose of needling Sonia and Rahul Gandhi on the National Herald and Agusta Westland cases.
But he interpreted the elevation as a licence to kill whoever he wanted to. So, he targeted his pet peeves -- the finance minister and the RBI governor.
When he got away with virtually forcing Rajan to quit, he turned his attention to the chief economic adviser, Arvind Subramanian, presumably because Swamy regarded himself as a top-notcher among economists.
But that was his undoing. However, it is possible that Modi led him on by telling The Wall Street Journal that the media shouldn't show any interest in the tenure of a banker.
But now that the blow has fallen, Swamy has become a figure of ridicule and pity. At the moment, he may have withdrawn behind a wall of silence. But a person who made a career out of shooting off his mouth, reticence cannot be an option for long.
Sooner or later, he has to face the 'presstitutes,' the Hindutva lobby's term for the 'sickular' media.
It remains to be seen how he conducts himself in Parliament. Will he not look like someone who is wet behind the ears after being dubbed as a publicity seeker by the prime minister ?
As a damp squib, he may not now be able to target the Nehru-Gandhis with his earlier vim and vigour or arrogantly tell the Rajya Sabha chairman that the expunction of his diatribes was wrong.
Swamy's crash-landing carries a message to all loose cannons. Get your rants vetted by someone higher up in the party so that you are not left high and dry.
Swamy's problem was that he presumed that there was no one above him, except Modi. But the otherwise voluble prime minister is strangely uncommunicative in matters concerning the antics of his party men, which made The New York Times decry his 'dangerous silence' when people from his party were running amok.
Why Modi gave Swamy a long rope is unclear. As his rebuff to the MP in a television interview showed, he simply could not allow Swamy to continue with his Twitter tirades since they were bound to dent the prime minister's image sooner or later and show up the BJP as a party which cannot discipline its own members.
Modi can afford to ignore Arun Shourie's jibes about his Casanova-type narcissism because the former minister is no longer in the BJP. Swamy is not only a member but an MP. He should have been told, therefore, to hold his tongue long ago.
Amulya Ganguli is a writer on current affairs.