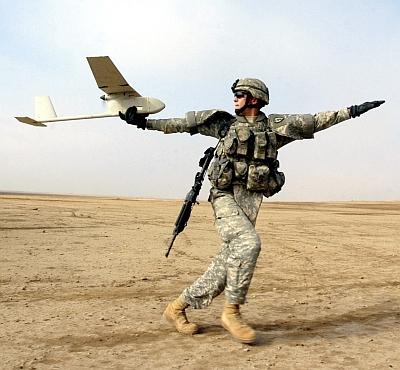 'As the tanks roll down Delhi's Rajpath and the C-17s fly overhead, there could be a lot brewing in Hyderabad House,' says Surya Gangadharan.

In December 1962, India proposed an air defence pact with the United States in the wake of hostilities with China. The pact was rejected as the war had ended by then. Earlier the US had turned down then prime minister Jawaharlal Nehru's appeal for 12 squadrons of F-104 Starfighters and four squadrons of B-47 bombers.
In later years Russian equipment became standard across the three services, so will President Barack Obama's visit change that substantially? It would not appear so given that it will be a long time before Russian equipment is phased out of the Indian military.
Also, with Narendra Modi's 'Make in India' being the new mantra, the focus will be on building locally.
Publicly available information suggests there could be movement forward with the US in two areas: An agreement on the hand launched RQ-11 Raven unmanned aerial vehicle, and a 'roll-on roll-off module' for installation on the Indian Air Force's C-130 transport aircraft.
The Raven is among the most widely used tactical UAVs in the world (it is used by Pakistan among other countries) and will enter service with the Indian Army's 300 odd infantry battalions and also central police organisations engaged in border security and anti-Naxal operations.
Make no bones about it, the market is huge. The Raven has a range of about 10 km, is lightweight and designed for rapid deployment.
Technology for the Raven will be transferred to India's Larsen and Toubro by the maker AeroVironment. Sources in the ministry of defence say the Raven does not represent cutting edge technology, but also admit that expecting high technologies in these or other areas maybe unrealistic.
Indian industry sources say the 'roll-on roll-off' module to be installed on the C-130, will be made in India. Its precise capabilities are not being talked about, but the sources said "it can be used for surveillance, on board VIP transport or hospitals."
There have been reports that Obama's visit could see an announcement on the high altitude UAV Global Hawk, an unarmed 7.5 tonne drone which can fly as high as 60,000 feet and cover 100,000 square kilometers a day.
The reports have also referred to the Indian Navy keen on acquiring the maritime variant of the same UAV known as Triton. Both UAVs have an endurance of 24 hours and are equipped for 'extraordinary intelligence, surveillance and reconnaissance capabilities.'
Needless to say, both will come with a price tag of over $100 million (about Rs 620 crore/Rs 6.2 billion) each. The Global Hawk is now in its fifth avatar (Block 40) and there is one variant which comes with multi-signal intelligence capabilities.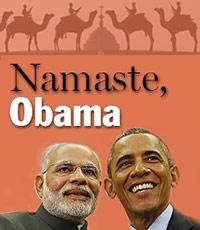 Any announcement of their acquisition will confirm reports that India's own indigenous programme to develop UAVs may be proceeding slower than anticipated. This is because UAV technology is jealously guarded and not easily parted with.
Even the Israelis who have made good money selling the Searcher and Heron UAVs to India would obviously like to continue making more money selling units wholly made in their country. But if the American UAVs start coming, then that is competition for the Israelis.
This may push them to transfer some technologies, but the Global Hawk is in a different category altogether, meant for high altitudes like Ladakh. The Israelis may not have something matching.
Then there is the next generation Javelin anti-tank missile which was identified for 'co-development.' The Javelin is intended for the Indian Army's 40-odd mechanised infantry battalions and if there is agreement on it, Bharat Dynamics could be the co-developer.
India's Defence Acquisiton Council has already cleared the Chinook transport and Apache helicopter gunship deals, but the contract negotiations have dragged on with little end in sight.
The equipment and technologies being transferred to India is a far cry from the 17 items identified by the Defence Trade and Technology Initiative agreement (signed in 2005 and expected to be renewed for another 10 years).
There remain reservations about the kind of technologies the US is prepared to transfer to India, as the US has reservations about the 49 per cent cap on FDI in defence. So both sides have their work cut out.
What is clear is that Modi is keen on building relations with the US and there is broad bipartisan support for India in the US establishment.
For that reason, the Obama visit has stirred speculation in other areas, that India may sign the Logistics Support Agreement allowing US naval vessels to pick up fuel and supplies from Indian ports. There is also talk about signing the CISMOA (Communications Interoperability and Security Memorandum Agreement), which India has refused to sign until now.
Result: Though India has bought the maritime reconnaissance P-8I aircraft, the US has withheld sensitive encrypted voice, IFF and satellite communications trans receivers (it does not appear to have hit the Indian Navy much because Bharat Electronics, Electronics Corporation and Hindustan Aeronautics Limited have developed similar equipment).
Indirectly, an announcement on the nuclear deal could be a confidence booster for the defence relationship. This is the 10th anniversary of the India-US nuclear deal, but it has run aground on India's liability law that penalises vendors in the event of a nuclear accident. It has stymied the sale of Westinghouse and GE reactors to India with the Russians the only ones to benefit from something the US initiated.
So as the tanks roll down Delhi's Rajpath and the C-17s fly overhead, there could be a lot brewing in Hyderabad House.
REDIFF RECOMMENDS
Image: The RQ-11 Raven unmanned aerial vehicle is likely to be one of the items supplied by the US to India.
Surya Gangadharan is former strategic affairs editor CNN-IBN and foreign editor NDTV. He is currently Chief Editor, defenceandtechnology.com