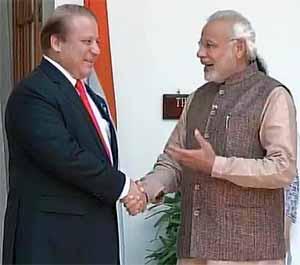 The clichéd path of conducting 'uninterrupted and uninterruptable' bilateral dialogue with Pakistan to improve ties remains unimplemented and un-implementable under prevailing circumstances that are unlikely to alter in the near future, says Rahul Bedi.
India calling off foreign secretary-level talks with Pakistan only reinforces the conviction that only the most naïve optimist can continue believing anything positive can emerge from such initiatives.
The stark reality is that over decades similar moves, even when executed, have failed to ensure that the two sides are able to forge workable and courteous neighbourly ties.
There is far too much historical, political, diplomatic and territorial baggage, visceral acrimony and suspicion on either side to sustain even a modicum of trust or at best a functional relationship between the two establishments.
Neither side is willing to budge or make the slightest move or concession to defuse tension, convinced about the righteousness of their respective (non)-approaches to seemingly irresolvable issues.
Instead, like weary pugilists wearily and tediously circling each other for 67 years, India and Pakistan have fought three wars-and-a-half, mobilised armies for battle, traded nuclear threats and waged terrorism in addition to periodically engaging in jerky 'composite' dialogues and peace initiatives.
The discordant script rarely ever changes and various ongoing back-channel discourses like the hoary Neemrana Dialogue, launched nearly three decades ago, have achieved nothing.
Both sides continue to hysterically hurl ludicrous allegations at the other to the extent of even blaming inclement weather conditions on their respective security agencies -- Pakistan's Inter Services Intelligence Directorate and India's Research and Analysis Wing. This is further illustrated by the abusive nightly exchanges on popular television news shows in which insults and crude threats are regularly traded.
So having tried it all, what ploy or stratagems can India adopt to cope with this persistent Mexican standoff that shows no sign of abatement or resolution?
Elementary: practice masterly inactivity in all dealings with Pakistan; initiate a low level of engagement and expect little or nothing from it.
Pakistan's predominantly Punjabi establishment welcomes Delhi's gushing overtures and even more its hollow braggadocio.
But indifference or apathy the Punjabis loathe; they view it as an affront to their inflated egos and exaggerated machismo and hence would find it difficult somewhat disorienting, to handle.
The clichéd path of conducting 'uninterrupted and uninterruptable' bilateral dialogue with Pakistan to improve ties remains unimplemented and un-implementable under prevailing circumstances that are unlikely to alter in the near future. Realistically, these are only likely to get worse with the imminence of the western military drawdown in Afghanistan and the Kashmir assembly elections.
Downsizing the respective high commissions in Delhi and Islamabad can be a beginning, as the massive contingent of diplomats in the respective capitals are unable to perform their assigned tasks.
To coin an adage, diplomacy is CD business. It's all about keeping one's country flag flying in foreign, often hostile lands and furthering bilateral relations through established norms: people-to-people contact, liberal issuance of visas, trade, cultural exchanges and facilitating contact between political, diplomatic and even military leaders in addition to other sundry responsibilities that advance mutual ties.
The Indian and Pakistani missions, constructed, staffed and maintained at enormous expense fulfill none of these CD requirements. The burgeoning animosity ensures the two missions with their fake bonhomie, irrelevant demarches and occasional lavish banquets have failed in facilitating a breakthrough.
Either side claims the others' missions are staffed with spies, issue visas sparingly and encourage little or no trade. Ironically, even the designated spies are unable to perform their clandestine tasks.
In short, sincere diplomacy via the two high commissions is no more possible than dry water.
These beleaguered diplomats too face the brunt of strained ties. If their constant shadowing and harassment is not demanding enough, heavies on either side have been known to kidnap and thrash embassy staff before expelling them on charges of spying. The score on this and other harassment counts remains even.
The obvious difference, however, is that Pakistan's diplomats have an easier ride in Delhi compared to their fraught counterparts in Islamabad though doubtlessly they will disagree with this assessment.
All Indians, for instance, are able to socially interact in Delhi with the host of genuinely hospitable Pakistani diplomats without fearing a visit from security agency thugs followed by endless and mindless interrogation.
The reverse is true in Pakistan.
Ordinary Pakistani's cannot mix with Indian diplomats or Indian visitors unless they have been cleared by the authorities or are willing to run the awesome security gauntlet. Understandably, few in Pakistan volunteer after their maiden innocent or well-intentioned transgression.
So this begs the question: Why maintain the embassies at their inflated levels of representation? Besides money, why commit competent diplomats who can achieve little or nothing in ushering in good neighbourliness, when they could be more gainfully employed elsewhere?
The persistent belief in the respective nuclear-armed establishments is that both sides want to dismember and destroy the other by fuelling ethnic and sectarian tensions, amply abundant for exploitation. The underlying cynical reasoning, albeit in varying vehemence, is that survival is possible only if the other is destroyed or, as an acceptable and workable alternative, horribly weakened.
Islamabad's reality is that the Pakistan Army, the country's principal fulcrum of power is the least interested in conflict resolution. Instead, it is intent not only on stockpiling nuclear assets but cosseting Islamist groups to wage low cost war against India under the strategic radar.
US scholar Christine Fair argues in her excellently researched book The Pakistan Army's Way of War that "Pakistan's revisionism persists in regard to its efforts not only to undermine the territorial status quo in Kashmir but also to undermine India's position in the region and beyond".
She calls Pakistan a 'greedy state' willing to suffer any number of military defeats in its efforts to undermine India. But under no circumstances will it acquiesce in any way to India, as this would mean the unthinkable: defeat for the Pakistan Army.
Conversely, Fair argues retaining even the ability to challenge India is victory for the Pakistan Army. She also contends that despite its many setbacks in wars with India -- in 1971 and Kargil -- the Pakistan Army continues to view itself as India's peer competitor and demands that Delhi, the US and the world treat it as such.
India, on the other hand, is highhanded in its dealings with Pakistan, invariably hostage to the politics of the day. It talks down to Islamabad, issuing it ultimatums it is unable to vindicate and ends looking impotent.
Alternately, it appeals whiningly to Washington to intervene with Islamabad on its behalf but with little effect. The ensuing stalemate only serves to alienate Pakistan and further worsen relations.
Over decades, Delhi's high dudgeon scripts and demarches delivered to Pakistan have lost their bite. They have ended up merely as moralistic homilies responded to by terror strikes on India's Parliament and Mumbai, serial bombings across India, cease fire violations along the Line of Control or at the very least, public pledges of governmental support to terrorist groups like the Jamat-ud-Dawa formerly the Lashkar-e-Tayiba.
Thus India's efforts at kick-starting talks, responding to Islamabad's peace offers or making grand gestures like A B Vajpayee's bus journey to Lahore or Prime Minister Narendra Modi inviting Nawaz Sharif to his swearing-in ceremony, have come to naught. The Kargil war overtook the former initiative whilst the latter has been thwarted over the past few weeks by LoC violations, whipped up by a frenzied media.