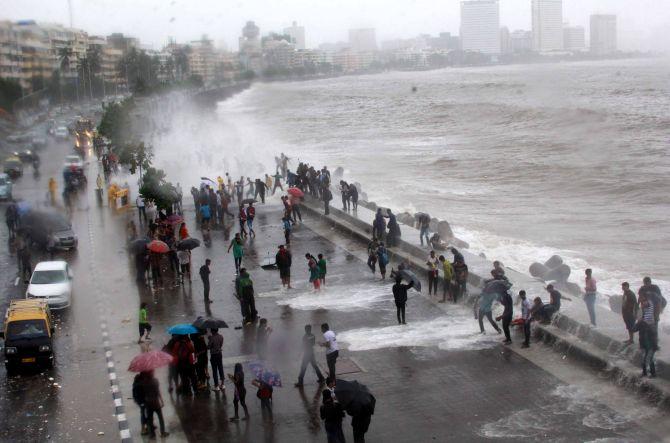 I write this from Mumbai, on a day that news anchors are calling "waterlogged" and "rain drenched". A completely wasted day for the city that never sleeps, in fact. No trains, no buses, no way to leave our homes, no staff, no home delivery, no greengrocer and milkman at the door, poor TV reception, no Internet connectivity -- nothing.
It's been raining all night long and this morning all of us have woken up to calls from various servicemen and staff, informing us that they cannot come to work today. Offices and schools are closed, trees have fallen, train services have shut down, commuters are stranded and scenes of mayhem and flooding are being shown on TV screens.

But we do not have to worry as everything is under control, of course. Our Chief Minister, Devendra Phadnavis, has been on TV since the morning. He has advised citizens to stay home and assured them that he is "reviewing the situation" and his government will "issue advisories at regular intervals about the situation". The "disaster management team is on the job", he has said.
From our CM's face, we can see how pained he is by this surprising turn of events. Who would have thought, after all these year, that it would suddenly rain so much in Mumbai and cause flooding of all things? What a sudden turn of events, how very shocking! How totally unexpected. It's taken us all by surprise. Raining in Mumbai? That too at this time of the year? And so much of it that it disrupts the city? Surely this is unheard of! Surely there hasn't been a precedent for this. Look up the archives of the city. What? It's happened before? No kidding! When?

Along with the CM, our collective hearts bleed for the Brihanmumbai Municipal Corporation and the Shiv Sena, Aditya Thackeray, in particular. How much this young man has been doing to make Mumbai an international megalopolis of maximum import - all night shopping and restaurants, malls, multiplexes, food courts and drive-ins. And then the rain comes and well, rains on his parade! How demoralising for a young man who wants to do so much good. How very sad.

Very soon he may be on TV too, looking pained and telling us all to stay home. How shocked he must be that the rains have come and disrupted his plans for our international megalopolis. It could even be a plot to sabotage his party's performance for the next civic body elections. Perhaps the same news channels will do a story on it soon. The nation must surely want to know. Meanwhile, we should all stay home and await further advisories, he will say.

But as citizens who look gloomily out at waterlogged roads, we are truly angry. In this fine, efficiently-run city of ours, where the roads are smooth and un-potholed, where the infrastructure runs like a well-oiled machine, where every thing is ordered and immaculate and above board and transparent. Where no drains are blocked by garbage or debris and no unauthorised structures stand, all we can do is curse the rain.

Why does it have to come down in this manner and spoil things for all of us? Couldn't it have given us suitable warning so that Messrs Fadnavis and Thackeray could at least have been prepared.

Hold on, now the intermittent TV reportage is saying that more flooding is expected when the high tide comes in at 2 pm. High tide coming in? You don't say! Since when?