How he hopes to retain his fort is anyone's guess, says Nazarwala, the man who called right the 2007 and 2012 UP elections.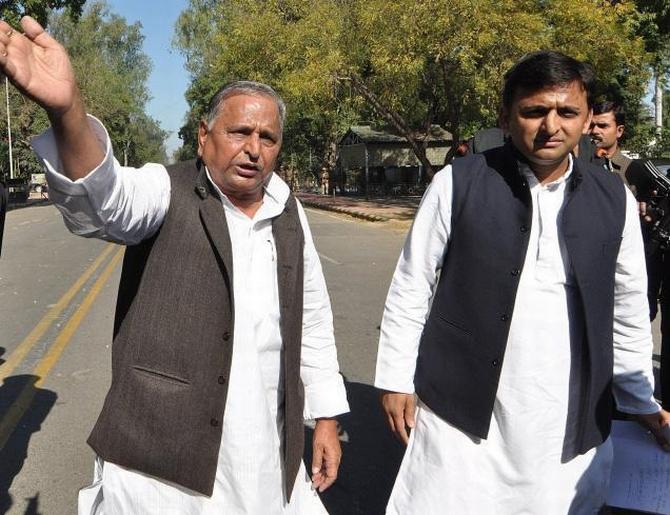 It seems that Mulayam and chaos seem to be made for each other!
After all, that is what looms large in the Samajwadi Party.
Although ambitions have somehow been kept under check in the past, time is running out for the vulnerably ageing patriarch.
Although Mulayam could have formally inducted resourceful 'friend' Amar Singh into the party any time, he didn't dare do so all along till Tuesday, when he made him the party's national general secretary.
After all, the veritable triumvirate of Azam Khan, Ram Gopal Yadav and Jaya Bachchan hate Amar Singh.
It is undeniable, the stress Mulayam feels in tolerating Azam Khan's tantrums is palpable.
On the other hand, the still inexperienced Akhilesh has no gauge of the need of Muslim support for his party's survival.
This situation is exasperated since the Muslim vote-bank is confused by Asaduddin Owaisi's presence in the fray. However, Mulayam is an old horse and has a few tricks to cut through this danger.
And what, pray tell, is Mulayam's innovative solution to the 'Owaisi problem'?
Promise quotas for the Muslims. We only hope he knows the judiciary may turn it down.
Meanwhile, the Samajwadi Party supremo's younger brother Shivpal is restlessly chafing in frustration, despite having been palmed off the presidentship of the state unit despite opposition from Akhilesh Yadav.
Forced to accept his nephew as the CM and convinced of his prior claims to the 'throne,' will the angry brother leave his brother's political establishment?
Mulayam's erudite aide and intellectual 'think-tank' is his cousin Ram Gopal Yadav who claims to have a better worldview and is, as such, best suited for the CM's chair. He is, of course, ranked behind Akhilesh now (wink, wink).
Prateek, Mulayam's irrepressible and ambitious younger son, is a firebrand and literally so.
Fond of playing with toy guns since childhood, he has grown up wanting his rightful share of the family's power and pelf with real ones.
He has been goaded and persuaded to pursue the 'builder-line' in Noida, but that is only for the time being.
He is another of those impatient men in the Samajwadi Party.
With anti-incumbency looming large, the stress of distributing party tickets among desperate contenders is taking its toll too.
Muted whispers among the inner circle are increasingly centred on the vital question,
"After Mulayam, who?"
The knives are being sharpened, clandestinely.
Coterie in-fighting is straining at the leash.
And keeping all these loose cannons under check is telling on the enfeebled heart of Mulayam who will, in November, turn 77.
He wants to be the PM, but his past is worrisome. The disproportionate assets case keeps hanging fire and the CBI posse gives him sleepless nights.
And the fate of resourceful pal Saharashri Subrata Roy, who underwent a two-year sojourn in Tihar jail, is a constant reminder of the shape of things that may come to cripple him in his old age.
One certainly cannot deny that the seniority-conscious Mulayam is envious of a junior like Modi having ascended the PM's post.
His juniors like Nitish Kumar, Rahul Gandhi and Arvind Kejriwal, along with the likes of Mayawati, Mamata Banerjee and Jayalalitha, are in the queue for the PM's chair.
In such a scenario, what happens to the life-long dream of this Saifai pehelwan?
Prashant Kishor, Owaisi, Nitish, Priyanka, Mayawati et al are actively creating problems for him.
Nitish Kumar, the Bihari Kurmi expanding his turf into UP, is an obvious provocation, causing unneeded nervousness to the septuagenarian.
Swallowing past insults from Beni Prasad Verma, Mulayam, perforce of caste equations, re-inducted Benibabu into the SP -- with an anguished heart.
External enemies, CBI inquiries and intense family feuds are increasingly becoming difficult for him to cope with.
Containing the anti-incumbency fallout is proving stressful for the father-son duo.
The equation between the two is frayed, and over the last week spilled over into the public domain.
All these issues confound this ambitious dhartiputra.
Whenever he has to be rushed to Delhi for medical treatment, right follows the usual plea of attending an 'important political meeting'.
Akhilesh 'claims' to have developed UP with over 25 institutions on the medical front. Yet, this dutiful son does not wish risking his father being treated in them.
Strangely, these days Mulayam is reported to be mumbling in his sleep.
And the one waking dream of becoming the prime minister of India keeps this ex-defence minister awake and surging on.