'You know, there's not much else happening other than the juicy murder story starring the TV mogul's trophy turned huntress wife,' says Mango Indian.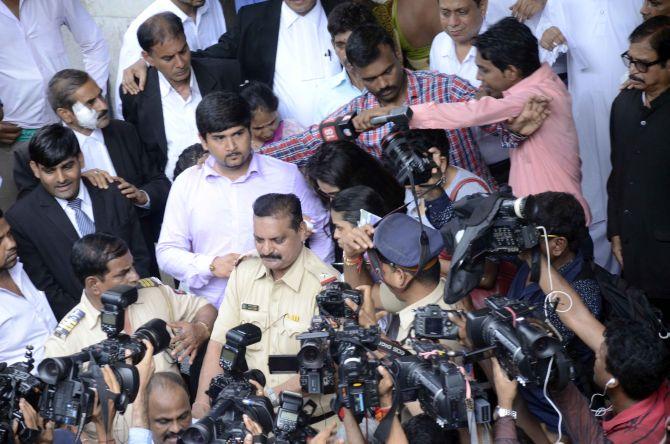 MEDIA CIRCUS: As one talking head put it, the Indrani Mukerjea case has all the makings of a Jackie Collins story. Yes, that's what we love to read. Photograph: Sahil Salvi.
Indrani Mukerjea nee Bora not nee Das was 'money-minded', we have been told today, September 1, by her ex-live-in partner Siddhartha Das, who till yesterday was being reported to have fled to Bangladesh but who it has now been discovered is living as usual in Kolkata and who has admitted fathering two children with her -- the latest shocking revelations in a case that has riveted our Twitter-trendy flashmob attention. We, the not-money-minded, are aghast.
I mean, look at the woman. She brushed the arm of a venerable editor; she got a socialite to act against what is believed about said socialite's sexual orientation; she told another venerable editor (just making conversation, you know) that she had been molested by her step-dad; she married thrice sorry twice; she killed her daughter, who she passed off as her sister. She got a suitcase to fit her son's body in after murdering him. She ate a sandwich in custody.
As one talking head put it, it has all the makings of a Jackie Collins story. Yes, that's what we love to read.
So it is only natural that a Delhi-based television news channel deploy 16 people to cover the Peter Mukerjea family scandal story in Mumbai (and more in the other cities this juicy story encompasses). That city tabloids do away with other news. That random photos from the accused's (what a strange word) Facebook page be pasted onto newspapers and Web sites. That a police commissioner nearing the end of his tenure take visible charge of the case with a crack team, and that the chief minister congratulate the cops for cracking a cracking murder mystery.
In the same Mumbai in April, a five-year-old girl who had been raped lay bleeding -- she needed two surgeries to reconstruct her genitals -- for five hours while the cops of two police stations argued about jurisdiction. And it takes six to eight hours of sitting in a police station for a young girl to file an FIR after she is mugged onboard a local train.
And even as the Mumbai police scoffs at the Raigad police for not having done the due process when a burnt body in a suitcase was discovered in the jungles on the way from Mumbai to Goa in 2012, anti-superstition activist Dr Narendra Dabholkar's daylight murder in Pune remains unsolved two years later.
The family of Govind Pansare, Communist leader who was shot dead in February, is also running from pillar to post trying to get the State's ear. 'The investigation has failed so far mainly because the chief minister has not shown the political will to nab the killers,' Smita, Pansare's daughter, told Mumbai Mirror in March.
Activist and advocate Asim Sarode, who is fighting against caste panchayats and right-wing Hindu organisations like Sanatan Sanstha, was asked to pay Rs 75,000 for police security after he received death threats. Others who have been getting death threats include Satara-based activist Dr Bharat Patankar, and Justice B G Kolse Patil, a former Bombay high court judge who was working with Pansare on a book called Who Killed Karkare?
Forget Mumbai or Maharashtra, the soapy saga of alleged murderess Mukerjea has rocked the country from the east to west. On that black mirror called social media you can see fights about big-city sleaze and small-town values bouncing off discussions about the shamesational case. 'Because, you know, there's not much else to talk about.'
The Congress government in Karnataka has also skilfully deflected responsibility by almost pre-ordering a CBI probe into rationalist thinker M M Kalburgi's brazen murder (CBI, Centre, BJP, hint hint). Never mind that Mangalore is increasingly becoming a communal cauldron.
In 'other' news, schools and colleges have been shut for two months now in Manipur amid blasts and people versus armed forces clashes over the people's demand for an Inner Line Permit which, if implemented, will only worsen the people's problems. The floods in Assam have been particularly bad this year, with a few lakh more people than usual affected.
There's not much happening on the legislative front either, except some dense stuff about a proposed DNA profiling bill that seems straight out of an Orwell novel, some talk that the GDP figures might be number mumbo jumbo, and a government that prefers to talk through Twitter.
Oh and there is also the sudden discovery that there are not enough white-collar jobs in development mascot Gujarat, which is hobbling back online after being thrown back to 2002 (sorry, but no WhatsApp, no SMS, no Internet does sound like that, no?) after two days.
So gives us more Indrani, please. Let us hear even louder the sound of the full might of the Indian media crashing on the low-hanging fruit and hot-pressing it for our consumption. Because it's easy to castigate far excessive coverage of a case like this, but the truth is it works. Now we even have algorithms to prove it.