He was deliberately reducing Ansari to his Muslim identity by linking his career as a diplomat in the Arab world and educationist and his reflections on intolerance with his religion, says Aakar Patel.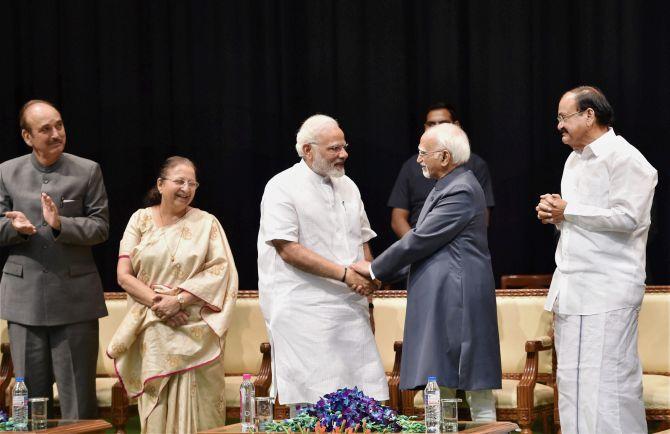 One of the more unusual things about India is that what is said is often less important than who says it.
This is true to some extent for most parts of the world, of course. But in our country the primary motivation ascribed to something controversial being said is the identity of the person holding the view.
And so, if I speak in favour of Patidar reservations, it is because I am a Patel and pushing my own community.
Or if one is against the use of shotguns on protesters, it is because she or he is Kashmiri and backing their own community over the greater good.
The most vulnerable such people are India's Muslims who are casually accused of parochialism and narrowness.
This happens without an examination of what they are saying.
This phenomenon I am describing is visible to us in our everyday lives and on television news, so I do not need to describe it further.
All readers will know what I mean. However I think that we have not yet seen this phenomenon entering our high politics, which is full of politeness and decorum.
I believe that tradition has been broken with the comments of the prime minister on the vice president of India.
They followed an interview on Rajya Sabha TV with Karan Thapar in which this question was asked: '...the Muslim community is apprehensive, it's feeling insecure. Is that a correct assessment of how Indian Muslims feel or is it an exaggerated one?'
Hamid Ansari replied: 'Yes, it is a correct assessment, from all I hear from different quarters, the country; I hear the same thing in Bangalore, I have heard from other parts of the country, I hear more about in North India, there is a feeling of unease, a sense of insecurity is creeping in.'
This line was grabbed and made the front pages. The interview has to be seen or read in full to gauge how measured and controlled Ansari is.
He has said absolutely nothing wrong.
He is reporting his assessment of what he is hearing and seeing.
He doesn't even blame the government. But the response from the BJP was quite vicious and aggressively communal.
I was disturbed and saddened by the words of Modi, who mocked Ansari on his last day in office.
Readers will remember that Ansari was vulnerable from the beginning to the BJP.
Ram Madhav, the party's general secretary, made some ignorant observations about Ansari's conduct, which he later deleted from his twitter account after it turned out that what Madhav said was wrong. I will not repeat what happened because it was distasteful.
Ansari remained the picture of decorum and decency while all this was happening.
On his last day, Modi said to his face the following. That he (Modi) got to know the 'real meaning of career diplomats only after he became prime minister as it was difficult to immediately interpret the meaning of a diplomat's handshake or smile.'
Modi said Ansari's family had a long association with the Congress and the Khilafat movement. He said that as a diplomat his work was focussed on the Middle East and Ansari had associated with the 'same sort of atmosphere, same kind of ideology and same kind of people.'
Even after his retirement, Modi went on, Ansari had mostly worked with the Minority Commission and Aligarh Muslim University. Modi ended with this barb: 'There may have been some struggle within you (in the 10 years that Ansari was vice president) but from now onwards, you won't have to face this dilemma. You will have a feeling of freedom and you will get an opportunity to work, think and talk according to your ideology.'
What ideology, according to the prime minister, does Ansari hold?
Modi did not say that. He did not need to. It is impossible not to miss the intent of Modi's thrust.
He was deliberately reducing Ansari to his Muslim identity by linking his career as a diplomat in the Arab world and educationist and his reflections on intolerance with his religion.
Modi's supporters on twitter and the television channels took his cue and hammered Ansari in the most vulgar fashion.
Ansari himself began his speech with the couplet: Mujhpe ilzaam itne lagaaye gaye, begunahi ke andaaz jaate rahe.
Meaning that he had been accused unfairly so often that now proving innocence was impossible.
Should not all Indians worry that an exiting vice president says these words?
We probably will not give it much thought. Or, if we do, most of us will dismiss his warning.
Are Indian Muslims feeling insecure in this atmosphere? It doesn't matter.
If India's vice president says they are, then he's saying it only because he's also a Muslim.
IMAGE: Hamid Ansari exchanges greetings with Prime Minister Narendra Damodardas Modi as incoming Vice President Muppavarapu Venkaiah Naidu, Lok Sabha Speaker Sumitra Mahajan and Ghulam Nabi Azad, the Leader of the Opposition in the Rajya Sabha, look on.
Photograph: Shahbaz Khan/PTI Photo
Aakar Patel is Executive Director, Amnesty International India. The views expressed here are his own.