It is worth reconsidering if this fascination with either having a single party majority or Modi's leadership or, indeed, both, is such a great idea for India, says Udit Misra.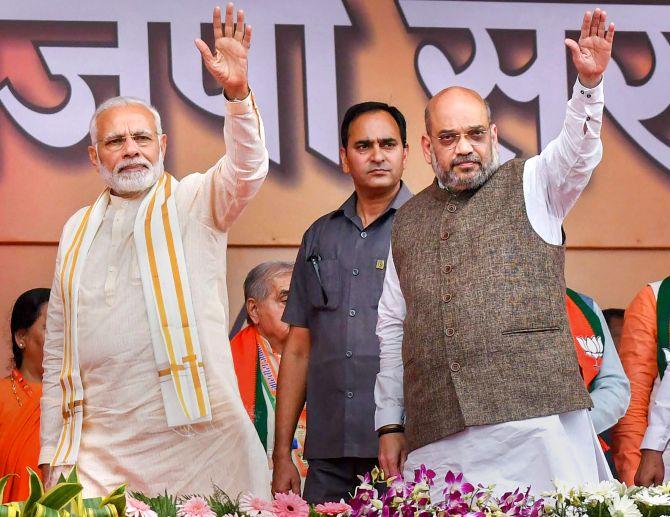 India is well and truly in election mode. The recent cut in diesel and petrol prices is a clear giveaway.
Predictably, the battle lines are getting drawn with talks of a possible grand alliance among the opposition parties.
On the other hand, the Bharatiya Janata Party, which secured a stunning majority on its own in the Lok Sabha in 2014 -- the first such instance since the start of economic liberalisation in the early 1990s -- seems to be approaching the 2019 elections with the question: If not Modi, then who?
Presumably, the BJP's argument is that a coalition government, as against a majority under Prime Minister Narendra Modi, would not perform as well. But is that the case? Has India really performed all too differently under the single party majority of Modi?
The evidence on offer may not be so convincing.
Let's start by looking at economic policies, which are supposedly Modi's strongest suit.
First up is the passage of the goods and services tax -- possibly the biggest reform. But can anyone argue -- given the highly compromised structure of GST India has finally adopted -- that this could not have been achieved under a coalition?
In fact, India's GST not only suffers from congenital design defects -- because it is anything but a single tax -- but also its implementation has been plagued by one blunder after another.
Moreover, even after a year of its implementation, businesses and experts alike are still confused about how it works or how much does it earn.
The fact that there is little clarity on GST revenues is a damning indictment of the transparency that was promised.
There is no point blaming the GST Council or the state; the BJP dominates in the central legislature as well as in most of the state legislatures.
Pick any other policy. Is the Ganga any cleaner?
Farm policies have been routinely ill-directed and that is the reason why farmer distress is one of the constant themes of Modi's tenure. Yes, the production has increased but look at the state of farmers.
Power sector reforms: How is the UDAY (or its predictable failure) any different from previous efforts under a coalition?
Next, social welfare policies. If anything, Modi has been caught up in a bind here. He came to power with people having the notion that schemes, such as rural employment guarantee, etc, would be phased out. Nothing of the sort happened.
If anything, such schemes just performed worse. If one looks at the claimed successes of the Skill India mission, can one genuinely say that such a middling performance is any different from what a coalition would have achieved?
Exports -- again, is India's performance better under a Modi majority? Indeed, his protectionist turn is the worst that could have happened under a coalition.
Or for that matter, take the inept handling of the non-performing assets crisis in the banking sector. Or indeed, possible corruption in the Rafale deal.
And let's not forget the major reforms of land and labour that many believed could happen only when a strong leader like Modi, who understands such issues, gets a majority. To the limited extent that they happened in the BJP states, they have not yielded significant results.
Overall economic growth, too, is no different from the United Progressive Alliance-II period.
Moreover, even with this growth, job creation is grossly inadequate. And the glimmer of macroeconomic stability, which was hugely helped by a sharp fall in oil prices in the initial phase of Modi's tenure, is looking quite iffy now.
Three additional points to contend that Modi's majority government actually functions like a coalition or worse.
The one real economic reform undertaken has been the enactment of the Insolvency and Bankruptcy Code. But here, Modi's government has been trying its best to undermine it.
Case in point: Sashakt. Where Modi's majority has cost India even more than a coalition are decisions, such as demonetisation -- a hare-brained idea that could not have received the nod if a PM had to seek a consensus of any sort -- and the sheer coercion of Aadhaar, the legislation for which was passed as a money bill in the Lok Sabha, while chickening out of the Rajya Sabha.
Beyond the economic price of such a bumbling effort, the security of having a clear BJP majority has polarised Indian society. India's social fabric is in tatters and mob lynchings have become the new normal.
On security and foreign affairs, too, things have become worse. The Kashmir valley is more anti-India than it has been for a while and relations with Pakistan are no better. Indeed, relations with almost all neighbours, especially Nepal and China, have worsened. Even the Maldives has happily drifted away.
And for all of his foreign tours, are we getting our way with the United States or the European Union?
It is worth reconsidering then if this fascination with either having a single party majority or Modi's leadership or, indeed, both, is such a great idea for India.
Modi's biggest hurdle at being re-elected is the sense among voters that he has underperformed. A big reason for that is the way he over-promised.
He might be realising the deep wisdom of Napoleon's words: 'The best way to keep one's word is not to give it.'
At the very least, his party-men such as Cabinet minister Nitin Gadkari seemed to be setting the stage for a more sober election campaign in 2019.
It is worth considering then all the other options on the table. Such as a single party majority under some other leader of the BJP or indeed, a coalition government under Modi's leadership, albeit without a clear majority for the BJP.