Two years of Modi's foreign policy can be best remembered for its flip-flops on Pakistan and the PM's blockbuster speeches to delirious non-resident communities and the grand receptions he has received, reports Archis Mohan.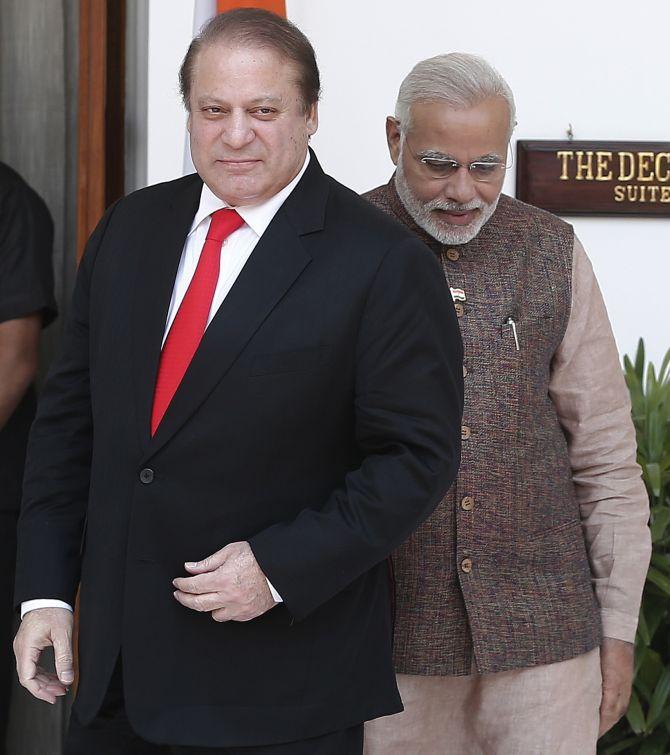 In year one of his tenure, Prime Minister Narendra Modi surprised all who had doubted his ability to negotiate the esoteric world of international diplomacy. Modi came across as a conjurer with a bag of tricks, the likes of which were seldom seen from his predecessors, making even his worst critics reassess their opinion of the former Rashtriya Swayamsevak Sangh pracharak. But, foreign policy reverses in year two have given his political rivals an opportunity to point not at the conjurer's magic trick but his sleight of hand.
In the past two years, Modi's visits across the world, including the surprise one to Pakistan, have garnered much social and mainstream media coverage. He has also successfully reached out to the substantial Indian diaspora, particularly the wealthier sections living in Europe and North America. There is, however, little to show in terms of brass-tacks -- whether geopolitically or investment-wise. But, the PM has continued undeterred to beguile with his foreign policy initiatives, the element of surprise being the leitmotif of his foreign policy.
His inviting South Asian leaders to his swearing-in ceremony, his subsequent visits to the neighbouring countries, the rapturous reception he received from the Indian diaspora in the US and other countries, the surprise invite to US President Barack Obama to be the chief guest at the Republic Day and the audacious visit to Pakistan in end-December -- all were delivered with the finesse of a master at work.
Modi, as he completes two years, has continued to surprise -- this time with his West Asia outreach. His visits to the United Arab Emirates in August, Saudi Arabia in April and to Iran in May, and his forthcoming visit to Qatar have again left foreign policy wonks intrigued. Year three of Modi's tenure is likely to see some more surprises -- a historic first visit by an Indian PM to Israel is in the works as is a multi-nation visit to the African continent, including to such countries with significant presence of the Indian diaspora such as South Africa and Kenya.
Unfortunately, surprise as a strategy, if employed frequently and in the face of evident reversals, has diminishing returns. In the PM's case, the embarrassment was the terror attack on Pathankot on January 2, barely within a week of his Lahore visit. More so because the PM, if you were to ask him about his favourite world leader, would likely reply without batting an eyelid: "Nawaz Sharif". The two men get along famously and Modi will probably be the man most disappointed outside of Pakistan if Sharif were to be deposed in a military coup. Similarly, the PM would name Japan as his favourite country as he finds a resonance of India in the strong Japanese family ties.
While the hand of friendship he has proffered to Islamabad has been spurned by that country's deep state, with Tokyo the promised investments have not materialised. Given that the world economy is on a decline, few investments committed by countries like the UAE, Japan, the US and others during Modi's visits reached India.
What's worse is the seeming weakening of India's geopolitical clout in its immediate neighbourhood. China has added some more to its string of pearls around India. Sri Lanka recently awarded contracts to China, giving Beijing operational control of the Hambantota port. Bangladesh has also awarded key contracts, while Kathmandu has drawn ever closer to Beijing in these past months when Nepal reeled under scarcity because of Madhesi protests.
Chinese construction of the Gwadar port and the China-Pakistan Economic Corridor continue at a slow but worrisome pace for Delhi. India, meanwhile, has continued to look towards the US and the PM's June visit to Washington could throw more light on how that relationship is likely to shape up once the post-Barack Obama administration comes to hold the reins.
Two years of Modi's foreign policy can be best remembered for its flip-flops on Pakistan and the PM's blockbuster speeches to delirious non-resident communities and the grand receptions he has received in several countries. But, catering to the PM's vanity has not been easy for Indian diplomats. They have had to walk the extra mile to request foreign governments to go out of their way to make the PM's public engagements a grand success.
Hopefully, in year three, the PM will conjure up surprises of a more durable and deliverable nature.