How are the illiterate and aged coping with demonetisation, wonders Subir Roy.
Illustration: Dominic Xavier/Rediff.com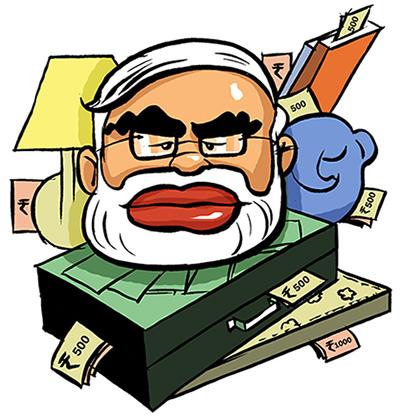 The maid who cooks for us seemed bemused, as if she could not make up her mind whether to be sad or happy. A little coaxing brought out the story.
Her young married daughter had come to her distraught.
She had been squirrelling away little bits from what her husband gave her every month to run the household.
Over the last few years this had become what, to her, was not just a tidy sum but invaluable.
It was her own money which she could spend as she pleased so long as her occasional splurge (again by her standards) did not attract her husband's notice.
Now, with demonetisation, what was she to do with these Rs 500 notes?
Her most prized possession stood in danger of becoming useless.
If she gave it to her husband, at best he would get it changed and give it back to her. But there was a clear danger that, from the next month, he would reduce the monthly household allowance because he knew that not all of it was needed.
Our maid then had a brainwave.
She told her daughter, 'Tell jamai it is my money that I had left with you for safekeeping.'
This innovative solution should have made her entirely happy but, as she confessed to my wife, her daughter should give her at least a part of the percentage that the local mahajan was charging for conversion.
She couldn't ask, but it would be nice if her daughter on her own...
Any thought that this sort of thing has happened only to women who either don't have a bank account or are not good at operating the odd one they have is quite wrong.
As I settled down to a good cup of tea at my sister's, the topic inevitably turned to the demonetisation tsunami and my sister, with much amusement, narrated her own tale.
She also had been in the habit of tucking away currency notes here and there -- little bits she saved from running the household.
She had more than one bank account and a couple of joint accounts but didn't bother to have the amounts squirrelled away deposited there.
Then when the bombshell came, she had little difficulty in telling my brother-in-law what had happened. He was as amused as her, but was taken by surprise when she confessed she had no idea of how much was tucked away.
Then the real fun began.
The duo went around the apartment looking behind books and the rear end of drawers and the Rs 500 and odd Rs 1,000 notes kept emerging.
There was even a tidy sum underneath an ornamental cloth on which sat a few idols in the puja corner of the bedroom.
Eventually, when the little bits were all gathered together, the duo told me with great aplomb that the amount ran into thousands!
This was the fun part of it.
Not everybody was happy over the new development.
A couple of days after the announcement, the old retainer from my parents' days who now watched over our ancestral home came to my brother-in-law, looking totally distraught.
He would put away the little sums, in currency notes of course, that he saved every month from his wages, then take it with him when he went home to Bihar once a year or so. This was his savings.
He had no bank account and, being rather old and barely literate, he was intimidated by the thought of operating one.
My brother-in-law assured him his savings would be secure, but when I heard the story, I wondered how many people, particularly among the illiterate and aged, were there in village after village who did not have people like us to fall back upon.
It is not just those with little learning who are in dire straits.
One of the few businessman friends I have runs a highly successful leather goods manufacturing business.
Now he has a huge problem paying his workers' wages as most of them are migrant and prefer getting paid in cash.
The odd ones who have bank accounts have had to spend the better part of a day queuing up to simply draw some money.
With these stories buzzing around in my head I went the other day for the first time after the big event to Kolkata's Gariahat market to check out if fish prices had really come down.
It was rather early in the morning and the pavement, difficult to negotiate with customers thronging the hawkers' stalls, was quite empty.
Down that pavement moved a young man in a vest and lungi, intoning the familiar cry of a raddiwala, asking for old newspapers, bottles and the like.
Then after calling out 'Purono kagaj (old papers)' a couple of times, he suddenly added, 'Purono note (old currency notes).'
I was amazed and stopped him to ask what was his rate of exchange was. He replied '450 for 500' and kept a straight face for a second. Then he burst out laughing and the stall owners around us joined him.
He was just having fun and I had made an ass of myself by taking him seriously.
I gamely joined in the laughter and thought that at least some of us had not lost our sense of humour in these troubled times.