'Interestingly, Gadkari, the sole outstanding minister in the government, handles the Iran portfolio where performance is quantifiable and challenging, while Modi personally scripts the soap opera with Israel that makes media headlines and photo-ops,' says Ambassador M K Bhadrakumar.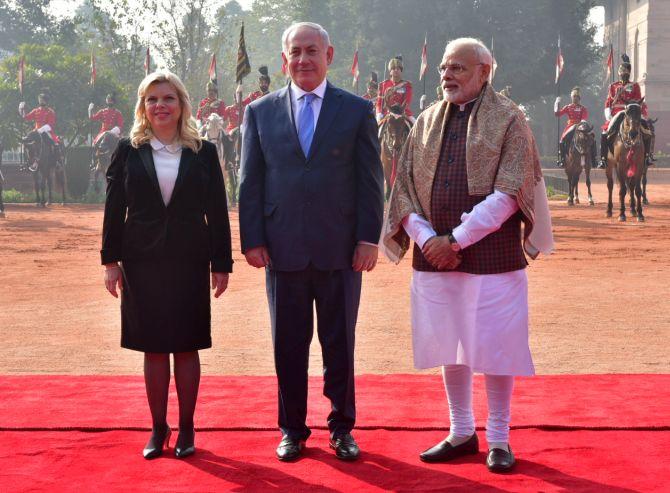 IMAGE: Prime Minister Narendra D Modi with Israeli Prime Minister Benjamin 'Bibi' Netanyahu and his wife Sara at Rashtrapati Bhavan, January 15, 2018. Photograph: MEA/Flickr
Quietly, unobtrusively, on the eve of Israeli Prime Minister Benjamin Netanyahu's visit to India, India made an assertive move in its West Asia policies that should not go unnoticed.
This has been the decision to schedule talks with Iran's Transport Minister Abbas Akhoundi in Delhi against the backdrop of the US-Israeli campaign against Iran.
The two visits -- Iranian and Israeli -- are back-to-back events, literally (and symbolically), with Akhoundi leaving Delhi on January 12 and Bibi landing on January 14.
Of course, Akhoundi didn't get a hug from PM Modi at the tarmac of Delhi airport, but the substantive outcome of his visit may even exceed the Israeli PM's.
Netanyahu's visit will be colourful given the Israeli embassy's excellent media management techniques, but its concrete outcome will be closely scrutinised.
The jury is out on how far India's national interests will be served in the emerging world order by feting a controversial personality like Netanyahu.
Reports say India will place an order worth $500 million for the Spike anti-tank missiles from the Israeli arms manufacturer Rafael.
It signifies a dramatic U-turn from the government's earlier decision to cancel the deal and instead meet the needs of the armed forces under the Make in India banner, following up on a prototype being developed by DRDO.
Once again, what emerges is that arms deals breed interest groups and fatcats.
Whether this qualifies as a 'scam' or remains yet another excessive political gesture by Modi to friend Bibi remains to be seen, but it is a sad thing that a Make in India project gets shunted out to the dog-house so unceremoniously due to a personal friendship.
Modi probably feels like a Badshah by making such impromptu gestures. His $1 billion economic aid package for Mongolia stands out as the high noon in personalised diplomacy historically by any Indian PM.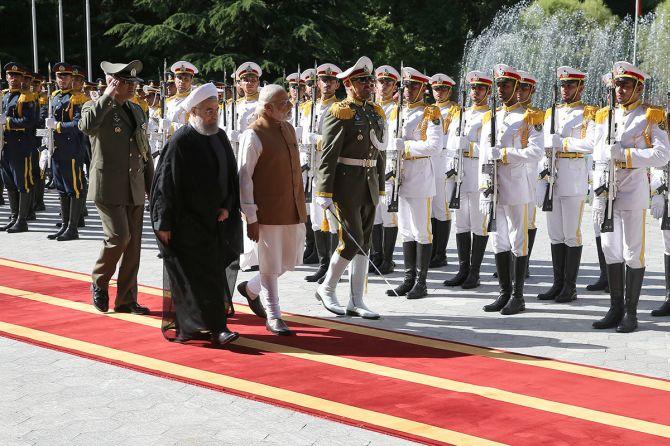 IMAGE: Prime Minister Modi, with Iranian President Hassan Rouhani, reviews a guard of honour at a welcome ceremony in Tehran. Photograph: President.ir/Reuters
At any rate, what matters at the end of the day is that the Modi-Bibi bromance has not prevented Delhi from working on the India-Iran relationship on a parallel track.
In an interview with IRNA -- the Iranian news agency -- at the end of his visit to New Delhi on January 12, Akhoundi disclosed that Iran and India have agreed to sign railway deals worth $2 billion.
The first project to be taken up will be the railway line connecting Chabahar port in eastern Iran with Zahedan on Iran's Afghan border at a cost of $1 billion.
The second project concerns the manufacture of 200 locomotives for cargo trains, which will be a significant deal. India has announced its readiness to finance the $600 million project, which involves manufacturing the locomotives both in India and Iran.
A third project concerns the joint manufacture of railway tracks in the two countries for use in the Iranian railway system.
Significantly, in the discussions with Akhoundi, Minister of Shipping, Road Transport and Highways Nitin Gadkari stressed the development of Chabahar as a 'win-win' enterprise for the two countries.
Gadkari later told the media that his discussions with the Iranian minister were 'very fruitful' and stressed that Chabahar port would be a growth engine for India as it opened up an alternate route for exports to Afghanistan and Russia as well as presented business opportunities for investors of both India and Iran.
India and Iran, Gadkari said, have sorted out 'all issues' pertaining to the Chabahar port in their discussions.
The Gadkari-Akhoundi talks took place alongside an Indo-Iranian joint business seminar attended by officials and nearly a hundred delegates from the public and private sector and various trade bodies from both countries, focusing on Chabahar port, opportunities in the free zone and transit corridors.
So, is it lucrative business with Iran versus syrupy romance with Israel?
Interestingly, Gadkari, the sole outstanding minister in the government, handles the Iran portfolio where performance is quantifiable and challenging, while Modi personally scripts the soap opera with Israel that makes media headlines and photo-ops.
Politically and ideologically, there is manifest empathy between the Hindutva ideology and Zionism. 'Islamophobia' is the life-blood of both.
Thus, Israel, albeit a tiny country, remains a closet relationship felt in the Hindu fundamentalists' inner world and felt along their beating hearts.
It is a sentimental journey from the past, evoking passions that have ancient roots.
Whereas Iran is a 'win-win' relationship of almost seamless possibilities in the 21st century which inspires India's quest to be an emerging power. It is contemporaneous and forward-looking.
Arguably, this intriguing dichotomy is a mirror image of the present elite's Jekyll-and-Hyde personality -- Gau Rakshaks cohabitating with Make in India.