'His prestige would have been enhanced by a show of mea culpa and not diminished,' says Amulya Ganguli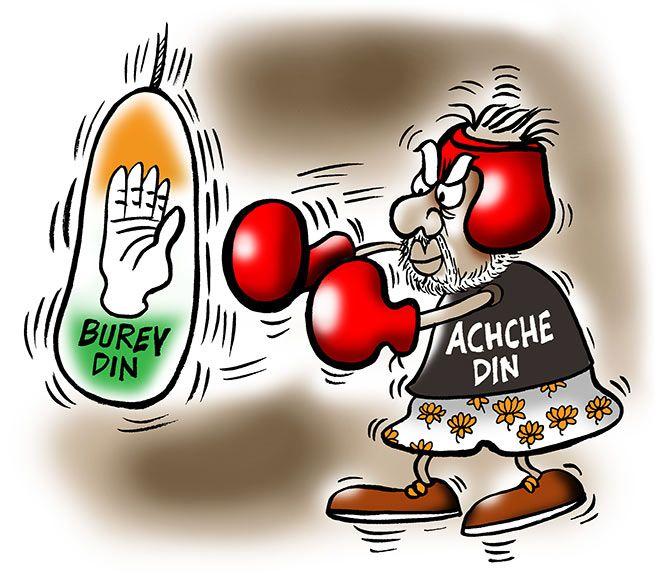 Illustration: Uttam Ghosh/Rediff.com
The bitterness of the Gujarat election appears to have taught a lesson to the two main contenders.
The fallout is the ironing out of the dispute between the BJP and the Congress over Narendra D Modi's charge during one of his rallies about the hatching of a pro-Pakistan conspiracy by, among others, Manmohan Singh and Hamid Ansari.
After a few days of disruption of the Parliamentary proceedings by the Congress over its demand for an apology from Modi, the party has now accepted Arun Jaitley's statement that the prime minister 'did not question nor did he mean to question' either Manmohan Singh's or Hamid Ansari's commitment to the nation.
The finance minister also said that 'we hold these leaders in high esteem'.
However, if the BJP thought that the matter would now be laid to rest, it did not realise that it is dealing with a far more quick-witted adversary than before who relies more on sarcasm and humour than on invectives, vide Rahul Gandhi's characterization of the good and services tax as Gabbar Singh Tax.
It did not take long, therefore, for Rahul to probe the chink in the armour of Jaitley's apology by, first, misspelling -- deliberately? -- the finance minister's name as 'Jaitlie' with the suggestion that the BJP leader was being economical with the truth, and, secondly, thanking the finance minister for 'reminding India that our PM never means what he says or says what he means.'
However, even as a truce was being worked out between the ruling party and the main Opposition party, a petition was filed before a court by a Supreme Court lawyer associated with the BJP, which called for booking the former prime minister and former vice-president for sedition.
Evidently, the lawyer believes that the PM means what he says.
In addition, a privilege motion has been filed by a BJP MP against Rahul for maliciously twisting Jaitley's name. A cease-fire, therefore, is a long way off.
Perhaps all this brouhaha would have been avoided had Modi personally apologised in Parliament and did not leave it to Jaitley to do so on his behalf.
However, such a gracious gesture would have been out of character because Modi's disinclination to say sorry has been obvious since the Gujarat riots of 2002.
It would have been unrealistic, therefore, to expect a statement of contrition from him. Yet, in all likelihood, his prestige would have been enhanced by a show of mea culpa and not diminished.
But there would also have been some disadvantages. For one, it would have confirmed that the BJP was in such serious trouble at one stage that it was ready to resort to all means -- fair and foul -- to win.
For another, it would have lent substance to Rahul's charge made at the 133rd anniversary function of the Congress that the BJP 'operates on the basic idea that lies can be used for political benefit.'
Lies and hyperbole are, of course, part and parcel of politics -- perhaps more in India than elsewhere.
But low-level barbs of the Mani Shankar Aiyar type because of linguistic deficiencies or the spread of canards and falsehoods, as Manmohan Singh said about the charges against him are not on.
It is better for those indulging in them not to outsource their apology.
Amulya Ganguli is a writer on current affairs.