'He can do wonders if only he dons the mantle of the leader, mentor and path-setter of the nation and for all its people, instead of remaining content with being a mere PM belonging to one of the many political parties,' says B S Raghavan.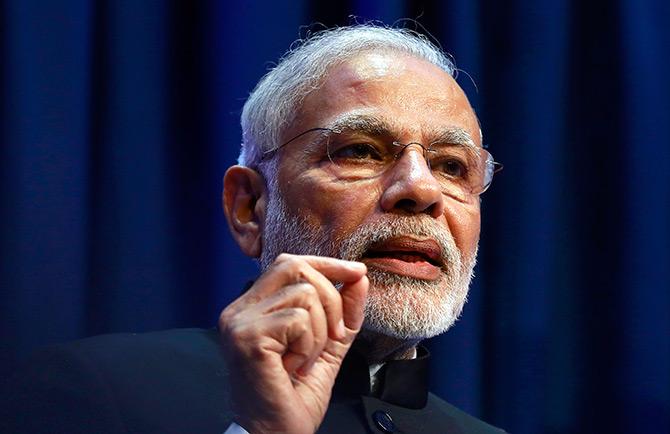 Sections of India's intelligentsia, dubbed elitist-liberal-intellectuals (ELI), presumed to be predominantly of Leftist persuasion, have been going hammer and tongs against Narendra Modi for the past few months for his silence.
Be it the killing of 'rationalists, lynching of a person for eating beef, the torching of Dalits resulting in the death of two children and the proneness of some ministers and prominent members of the BJP and the so-called fanatical fringe elements of the Right to shoot their mouths off with taunts against Muslims, the most provocative one being that 'A P J Abdul Kalam (the former President) was a nationalist, despite being a Muslim.'
Their contention is that all these incidents and statements are indicative of an atmosphere of intolerance, and even fascism, in the country, and Modi's apparent refusal to take notice of it is calculated to further aggravate the situation, by stoking the fires further.
In reply, the apologists for Modi have been vociferously asserting that the statements to which the ELI takes exception are played up by the media on purpose. That incidents such as the Dadri lynching, Dalit torching and killing of 'rationalists' are the sort of mayhem and murders that will keep happening in one part or another in a vast country like India with 1.2 billion people.
They further say that in any case, law and order, falls within the purview of the state governments concerned, and that Narendra Modi or the central government led and run by him have no duty or obligation to express their stand on them; and that any demonstration of protest on their account is a contrived, motivated one, 'manufactured' by 'sickularist' or ELI circles, out to traduce and tarnish Modi.
The boot is on the other leg, according to Modi apologists, for it is he who has been made a victim of intolerance.
To this, the counter-reply of persons like Arun Shourie broadly is that killings for gain, and similar run-of-the-mill breaches of law and order should be distinguished from incidents that have emotive or inflammatory impact on the psyche of the people.
True, a PM cannot be asked to take notice of, and publicly condemn, the usual day-to-day incidents as and when they occur, and they have essentially to be dealt with by the state governments. But a PM, by virtue of his stature as such, is also the leader, mentor and path-setter of the nation, having an educative role to play.
He should set goals for the nation in respect of norms of conduct and make his general philosophy and approach known to the people at large in respect of events and incidents impinging on national and emotional integration and social and cultural harmony.
I am no ELI, but I do subscribe to the view that it will be too technical and restricted a stance to dismiss such outrages as falling within the law-and-order responsibilities of the state governments.
By the same token, the reckless outbursts of some ministers and members of the BJP cannot also be pooh-poohed as rantings of non-entities deserving to be ignored.
Modi and the BJP will remember how on April 4, 2002, while in Gujarat, the then prime minister, Atal Bihari Vajpayee, was asked what sandesh he had for the Gujarat government and its chief minister, and he was distinctly heard to say: 'Mera sandesh hai woh (that is, Modi and state government) 'apna raj dharma palan karey...koi raja praja praja mein koi bhed nahi dikha sakta...'
He didn't try to wash his hands off what happened in Gujarat as a mere law and order issue.
If Narendra Modi were like Madame Tussaud's wax statue ala Manmohan Singh, his silence can be taken as his second nature. But he is so very profusely vocal and eloquently articulate on so many subjects and unambiguously expresses himself in public and on social media within India and abroad.
It wouldn't have cost him anything at all if, as the leader of the nation, he gives the right direction to people's thinking and attitude by educating them on what is good and proper -- as Gandhiji, Nehru, Patel, Rajaji, Kamaraj and C Subramaniam used to do.
For instance, whatever be the 20/20 hindsight about Nehru, he played this role magnificently, constantly addressing huge gatherings of 500,000 to 600,000 in every part of the country, however remote, and telling the people about politics, economics, social issues and the like.
He attuned them to what he thought was the right path by undertaking a nation-wide effort on a monumental scale. Sardar Patel too, whom Modi admires, was not second to Gandhi and Nehru in playing the role of the father-figure of the nation.
I believe that Narendra Modi has unparalleled gifts which can make a phenomenal difference in shaping the nation's destiny. In him, we have a charismatic persona who can inspire. He can do wonders if only he dons the mantle of the leader, mentor and path-setter of the nation and for all its people, instead of remaining content with being a mere PM belonging to one of the many political parties.
Modi's disinclination to do so is what puzzles and saddens me as one whose own life dates back to the halcyon times of the freedom struggle leading to India's Independence and who has seen many of those heroes of yore at close quarters.
IMAGE: Prime Minister Narendra Modi in Dublin, September 23, 2015. Cathal McNaughton/Reuters
B S Raghavan is one of India's most distinguished civil servants.