Within a week, a government reeling under charges of failing to save such massive loot, being friends and complicit with alleged thieves, allowing PSBs to be bankrupted under its watch, had morphed into the exact opposite: A government of relentless, unforgiving corruption fighters.
That's the art of politics by headline management, says Shekhar Gupta.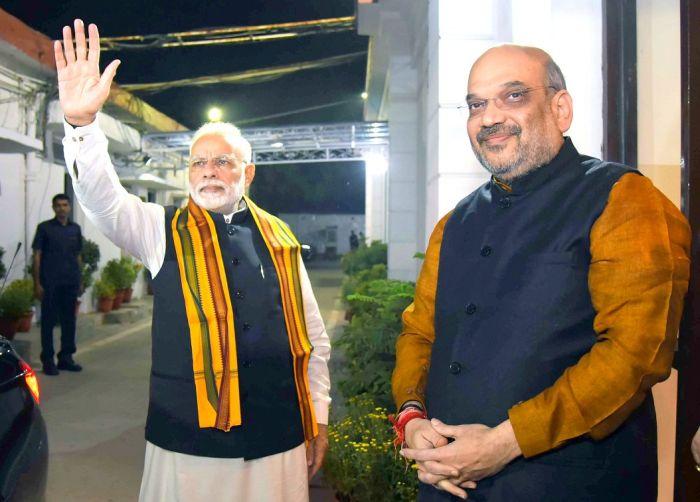 IMAGE: Prime Minister Narendra D Modi, left, and Bharatiya Janata Party President Amit A Shah. Photograph: Kind courtesy @BJP4India/Twitter
Look back at the headlines screaming out of your front pages that caused prime time shout-rage last month.
They were all about the nephew-uncle duo of Nirav Modi and Mehul Choksi, and the money they had stolen from the Punjab National Bank.
In their wake, came Vikram Kothari of Rotomac Pens and sundry others, in the sub-Rs 10 billion zone. It seemed there was a run on public sector banks.
It wasn't good for a government that came to power on the plank of fighting corruption.
Critics and the Congress were mocking Prime Minister Narendra D Modi for claiming to be the chowkidar (watchman) of public money.
Commentators were saying the Bharatiya Janata Party had lost its anti-corruption plank, especially as Nirav Modi had featured close to the PM in that Davos group photo.
Vijay Mallya and Lalit Modi, the names of two other celebrity tax/debt exiles, were added to the latest ones. The doughtiest BJP spokespersons were struggling on television channels.
Their argument -- that the theft took place under the United Progressive Alliance in 2011 -- was defeated by the Central Bureau of Investigation's own first information reports.
Those headlines were looking ugly. Then it all changed. These headlines died. New ones appeared.
No, I am not suggesting that Sridevi's death had something to do with it. That was obviously a pure and tragic coincidence. But the larger change was manmade, or rather BJP-made.
So think of the headlines: Did Karti Chidambaram take $700,000 from Indrani and Peter Mukerjea? Did his father help in striking that 'deal'?
Karti Chidambaram is denied home-cooked food while in custody, but the judge has allowed him to keep wearing his gold chains, and so on.
The discourse has changed. He could have been arrested any of these days over the past several weeks. Please note he wasn't arrested when he was leaving the country, but when he arrived at airport immigration. Because, if you want to control the message, the timing is the thing.
This was a sledgehammer blow, but check out the other, more artful stuff that has been happening. After remaining frozen for four years, the appointment of a Lokpal has made a comeback.
As expected, the Congress protested and another set of virtuous headlines emerged.
Then the latest, at a Cabinet meeting earlier this month, the decision to pass an anti-fugitive law, whereby anybody not responding to enforcement agencies within six weeks will be declared a fugitive.
You'd wonder what further difference it would make to Mallya or the jeweller Modi if they were also declared fugitive.
Besides, the question we can reasonably ask: Aren't they fugitives already?
On another day, I would have dismissed it as 'Law-lipop Politics' (throw in a law when you can't fix a problem). Not now. Because it serves the purpose beautifully.
Another set of leaks emerged saying the government may bring in new rules whereby immigration authorities will prevent all wilful defaulters of bank loans from leaving the country.
Now, in terms of just legality and fundamental rights, who would decide whether a citizen is a wilful defaulter or if it is a case of business loss?
Further, isn't it like the typical old Indian police method of posting cops outside any house that has just been burgled -- never mind that it failed to prevent the burglary?
Compare the state of politics today with just a few weeks ago when the BJP was on the ropes.
On every television channel, the BJP is back on the offensive and the Congress is defending the Chidambarams.
Elsewhere, the editorial commentary and talk is about the Lokpal, the anti-fugitive Bill, and immigration restrictions on defaulters. A new regulator has been announced to oversee the chartered accountants who, in turn, oversee the nationalised banks.
These banks have apparently been also ordered to report to the CBI all wilful defaults above Rs 500 million.
The CBI also registered a case against the promoters of Simbhaoli Sugars, including Punjab Chief Minister Amarinder Singh's son-in-law, for 'loan fraud' on a PSB.
Remember, it started with those fat-cat jewellers escaping before all this fortification was put in place, with about Rs 200 billion in all, that one of them featured in that Davos photo and another was addressed by the PM with a familiar 'Mehul Bhai', though in a light-hearted jibe.
That was bad news, so forgettable, and forgotten.
Within a week, a government reeling under charges of failing to save such massive loot, being friends and complicit with alleged thieves, allowing PSBs to be bankrupted under its watch, had morphed into the exact opposite: A government of relentless, unforgiving corruption fighters.
That's the art of politics by headline management.
List the big crisis points in the nearly four years of this government and you will see the same strategy at work.
The setback in Uri was set right soon enough with highly dramatised 'surgical strikes'.
Questioning that would amount to doubting the armed forces so the Opposition also mostly shut up and applauded.
When the pain of demonetisation seemed building to unacceptable levels, stories and pictures of several millions of cash found in different parts of the country came up.
In the course of time it became evident that most of these pictures of cash-piles were fake. But for the moment, the mood had shifted.
The Rohith Vemula suicide saw the scene shift immediately to Jawaharlal Nehru University and registration of sedition cases against 'Bharat tere tukde' speeches allegedly by Kanhaiya Kumar and Umar Khalid although nobody has as yet seen a video with either of them saying it.
The crisis in Doklam was a more urgent issue and a simpler method was used: Just 'persuasion' with television channels and newspapers to not make a big deal of it in the national interest.
None of our commando-comedians, who sound like they are itching every evening to carry out their own surgical strikes across the Kashmir LoC, even mentioned Doklam.
All governments try owning the message, but the Modi-Shah Bharatiya Janata Party has developed it into a fine art.
All new headlines conform to the three essential attributes of Brand Modi for the voters: An incorruptible corruption fighter, an unabashed protector of Hindu-ised nationalism, shoulders so broad and chest so wide that no crisis ever brings a crease to his face. Because he knows he has done nothing wrong and that he is unassailable.
That's why he has chosen never to respond to any setback.
Compare that with Manmohan Singh and his government. It would go into hiding even if it was rumoured that somebody stole tomatoes from a sabzi-wala (vegetable-seller) cart under their watch.
They must see the Modi government's performance during its crises with awe, and should also applaud its political genius.
By Special Arrangement with ThePrint