In the last one year, it looks like there were bad things that didn't take place, and there were good things that didn't take place, says Rajeev Srinivasan.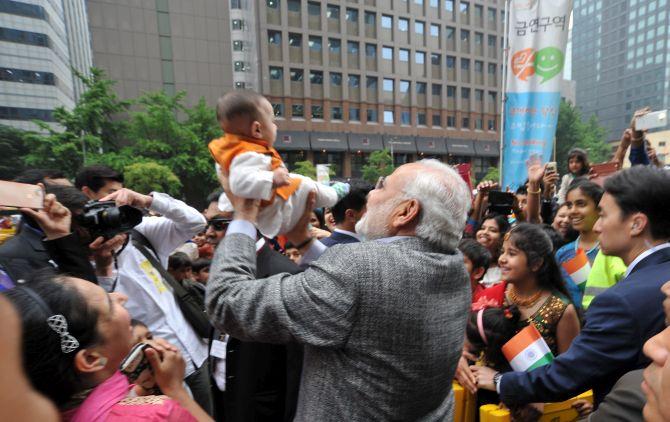 Image: Prime Minister Narendra Modi at the Cheonggyecheon Stream in Seoul, South Korea. Photograph: MEA/Flickr
Many commentators have already discussed threadbare all the positives and the negatives in the first year of the Narendra Modi administration, and so I'd like to concentrate on the 'no' issues -- that is, the things that did not happen. It looks like there were bad things that didn't take place, and there were good things that didn't take place -- sort of like the 'good Taliban' and the 'bad Taliban', a fine distinction that the USA, somewhat bafflingly, makes.
So what are the good 'No's? In no particular order:
No riots. If you were to believe certain parties such as a group at the University of California, Berkeley, serious riots would follow the ascent of 'right-wing fascists' (sic) -- see my earlier column with a pointer to the impugned group that wants to 'study' riots, whereas I wondered if their charter was to 'induce' riots.
No scams. There were none. No Bofors, no Commonwealth Games, no spectrum auction scam. The 3G spectrum auction and the coal re-auction produced many billions for the exchequer.
No pogroms against Christians or Muslims, despite much exaggerated breast-beating by the mainstream media, and many examples of anti-Hindu bigotry.
No full-page ads celebrating the birthdays or death days of certain dynasts. The fact that they were absent shows the ads in previous years were a colossal waste of public money, and were not paid for by political parties, but by the taxpayer.
No caving in to bullying by foreign powers. It was used to be a nightmare that whenever a foreign VIP visited India, or the Indian PM visited some other country, India would give things away, for instance Siachen was perpetually on the verge of being given away.
No incursions into Indian territory when the PM visited China. While it is true that when China's Xi visited India, they swarmed over the Line of Actual Control, quite strangely, they didn't do anything when PM Modi went to China. This curious event, so like 'the dog in the night time' was brought to my attention by Dr Mohan Malik of the University of Hawaii. As in the Sherlock Holmes case where the dog did nothing, Chinese inaction means that, despite the studied indifference towards India that they affect, they do care about relations with India.
No dossier drama with Pakistan over 26/11. No point pushing papers at them.
No turning the other cheek to Pakistan. When they got naughty with shelling across the Line of Control, withering counter fire with mortars quelled them pretty quickly.
No India-Pakistan equal-equal visits by foreign visitors who clubbed both in the same itinerary.
No gratuitous funding of dubious Western causes, unlike the $10 billion commitment to the EU for unknown reasons. The only $10 billion committed was to the BRICS Bank.
No shamefacedness when the US Trade Representative or the USCIRF brought out one-sided reports that clearly pushed US interests, not justice, peace, or the pursuit of happiness.
No massive purchases of American nuclear plants, despite the hoopla during Obama's visit.
No large-scale exports of thorium-bearing beach sands from Kerala and Tamil Nadu, as happened under the UPA.
No shameful treatment of refugees seeking residence. Hindus fleeing persecution in Pakistan were given asylum. I hope Yazidis fleeing genocide will also be similarly helped.
No apologies for dismissing vested interests, such as the heavily partisan advisory board of the Indian History Review.
No removal of inconvenient state governments using Section 356. I am sure it is awfully tempting to use this against the very trying Arvind Kejriwal (Nehru couldn't resist the temptation in his day).
No dramatic fall in the Rupee, which escaped from the 'Fragile Five' moniker. While it is true that the rupee did fall, it did so much less than others.
No dithering (or grandstanding) in crisis situations, as in the Uttarakhand floods. Quick, decisive action in Nepal and Yemen, for instance.
No subsidies for diesel. This is short-term pain for long-term gain, getting India off the treadmill of competitive subsidies.
On the other hand, there were some bad 'No's as well:
No jailing of high-profile offenders including politicians despite plenty of evidence.
No publishing of religious demography of Census 2011.
No publishing of the Bhagat/Henderson-Brooks report on India-China war 1952.
No actual identification and clawing back of black money held abroad.
No tejovadham and exemplary punishment for certain anti-national journalists, who deserve to be jailed for life for tax evasion, lobbying for foreign forces, and sheer cussedness; though a couple of villains did lose their jobs.
No examples were made of babus who defeat the good intentions of the government with typical 'Yes, Minister' (as in the British television series) subversion.
No dramatic changes to the Welfare State, as in no shooting of NREGA in the head to put it out of its misery.
No banning of the execrable lit-fests and other gatherings of shifty people with itchy finger(tip)s.
No detoxification of textbooks that have addled generations of students, and made them into coolies for either the West or China.
No dilution of the apartheid laws that make Hindu temples subject to government interference, while Christian, Muslim places of worship are immune from the same.
No repeal of retrospective taxation and related 'tax terrorism'.
No significant efforts to alleviate looming issue of water stress.
Well, it is good to have these bad 'No's. Something to do in the PM's second year in office.