'Unlike Dr Manmohan Singh, who quailed and turned away because the darkness was too frightening, Modi has taken a leap to the other side. He deserves applause for this fearlessness,' says Aditi Phadnis.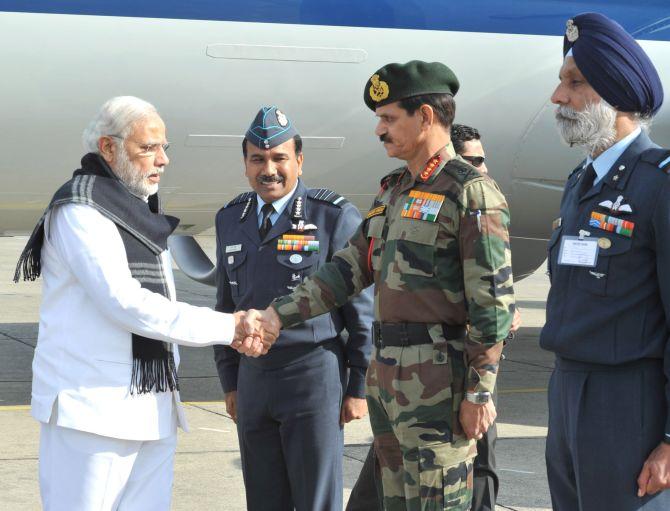 IMAGE: Prime Minister Narendra Modi being received by Air Chief Marshal Arup Raha, General Dalbir Singh and Air Commodore J S Damoon, Air Officer Commanding of the Pathankot airbase, January 9, 2016. Photograph: Press Information Bureau
There are many things that Prime Minister Narendra Modi, 20 months into his tenure, can be criticised for: His centralised decision-making style, consisting largely of summoning bureaucrats behind the back of ministers and expecting them to inform on their bosses (a PMO official even told a senior officer summoned thus quite bluntly that there was no need to keep the minister in the loop); his tendency to what one of his most senior ministers described as "self-love"; and his apparent belief that clever words and phrases (May The Force Be With You, MOM and so on) will somehow convey his trendiness -- in fact, they merely end up making his speeches sound laboured and artificial and set the listeners' teeth on edge.
But the prime minister's boldness, gritty courage and conviction in the way he has handled the issue of resuming talks with Pakistan must be lauded and supported unreservedly. He has looked into an abyss. And unlike Dr Manmohan Singh, who quailed and turned away because the darkness was too frightening, Modi has taken a leap to the other side. He deserves applause for this fearlessness.
None of the members of the Cabinet Committee on Security knew that he was going to travel from Afghanistan to Lahore. We know this because one of them confessed as much. Most of the bureaucracy (and more to the point, ex-bureaucracy, via gratuitous advice tendered through TV) was not involved in consultations either.
So while former ambassadors and retired high commissioners spluttered that diplomacy was about structure and symmetry, not about emotion and personal gesture, Modi achieved in that one visit to Lahore what 11 years of passive-aggressive structured dialogue couldn't.
True, Pathankot happened -- but not only did Pakistan concede that the attackers were from their soil, but also agreed to set up a special investigation team.
Modi's move was both calculated and artless. He has been holding quiet and extended conversations with Prime Minister Nawaz Sharif every time they have met and his assessment may have been that Sharif would respond to a semi-political gesture now, more than at any other time.
Pakistan under Sharif is getting a bit tired of being the world's bad boy and has been giving back as good as it gets. Sharif politely said 'no' to friend, mentor and financier Saudi Arabia on the issue of joining the war in Yemen against Houthi rebels when Saudi Arabia put together a coalition of the Islamic willing and asked Pakistan to send its soldiers in battle.
This, despite Riyadh's 2014 gesture (in 2014, when the Pakistani rupee was dropping like a stone against the dollar, a beaming Ishaq Dar, finance minister of Pakistan, declared that the loan of $1.5 billion from a Friendly Muslim Country that wanted to stay anonymous, had helped the Pakistani rupee stabilise. The anonymous donor was later identified at Saudi Arabia, galvanised into action after Nawaz Sharif leveraged his personal relationship with (then, now King) Prince Salman.
The text of Pakistan's National Internal Security Policy (2014-2018) seeks to institutionalise the response to domestic terrorism and puts considerable onus on provincial governments to fight it. The NISP has been ratified by Pakistan's parliament and appropriate constitutional amendments have been made to create an institutional structure to fight Islamic terror.
The latest example of Pakistan's quest to be bracketed with responsible nations is the consultation it is having with its provinces on the China Pakistan Economic Corridor, CPEC. The provinces are asking how 'outsiders' like Chinese companies could be allowed to own land in Pakistan. What would the provinces get out of the CPEC?
Without putting it in so many words, Balochistan and Khyber Pakhtunkhwa are saying they are not ready to become Chinese colonies. And the federal government is listening.
Under a civilian prime minister, however beset by pressure from cronies, Pakistan is making fledgling efforts to come into its own, struggling with the surge of refugees from Afghanistan, yielding to pressure from the military but not beyond a point, and trying to redefine its relations with India. It might succeed; it could fail. But it is trying.
Modi is responding to the urge in Pakistan towards rectification. He has ignored the jibes of Pravin Togadia and his ilk that India's 'dashing and dynamic prime minister should have brought back Dawood Ibrahim and Zaki-ur Rehman Lakhvi trussed up in the hold of his special aircraft.'
He couldn't care less about satirical comments of the Shiv Sena in Saamna. He is putting his trust in himself and Nawaz Sharif, and turning his back on years of coercive diplomacy.
Most Indians believe Pakistan is resting on a rickety edifice that could collapse any time. The PM is clearly not persuaded of this and is not ready to give up on that country.
So don't put away those candles yet, guys, and book your tickets to Wagah: India and Pakistan need you.