The best message Prime Minister Narendra Modi could bring to London is that he will return to India to focus on economic matters. Britain, on its part, should ensure that it addresses matters that concern India, instead of engaging in pomp during his visit, says Adam Roberts.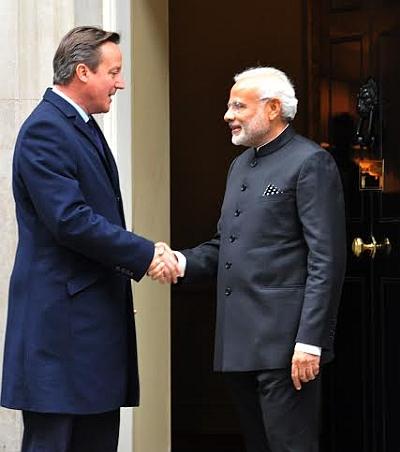 Prime Minister Narendra Modi's timing -- flitting away on a foreign trip -- looks impeccable.
He does not want to stew in Delhi over the dismal result for his Bharatiya Janata Party in Bihar's assembly elections.
BJP figures are reluctant to chat about their leader's worst setback since becoming prime minister.
As with the mauling in the Delhi assembly elections in February, anti-BJP forces united to win in Bihar. But unlike in Delhi, Modi was active and frequently present in the campaign, so he carries direct responsibility for its failure, along with his closest political ally, Amit Shah.
The Opposition, including the Congress, is cock-a-hoop.
Prospects for early BJP control of the Upper House of Parliament are receding, so doubts grow over any big legislative changes being passed without Opposition approval. Rival leaders in the BJP will see Modi as more vulnerable.
How much easier it is, therefore, to distract yourself with a foreign tour.
It used to be said that Manmohan Singh, the most unpolitical of politicians, was comfortable only among foreigners -- economist and central banker-types -- away at global summits.
His globetrotting successor also looks increasingly at ease overseas, revered but unquestioned among the Indian diaspora at rallies or hugging businessmen and fellow world leaders.
Images of Wembley stadium crammed with 55,000 supporters will be broadcast back home this week.
Modi might not get a bear-hug from the Queen, but they will meet.
Britain's most senior politicians, including David Cameron, are on the programme.
Foreign trips serve as a fillip to Modi personally -- a chance to dwell on his personal narrative, his rise from a modest home in rural Gujarat to presiding over nearly 1.3 billion people.
The visit to Britain was long postponed, despite British eagerness he should come early after his election.
A plan fell through for him to go early this year, to unveil a statue of Mahatma Gandhi in London.
One rumour suggests that the prime minister is not enthusiastic, supposedly wary of protests from human rights groups over the pogroms in Gujarat in 2002, or concerned that the Pakistani diaspora there will make a fuss.
Whatever the reason for the delay, his trip now follows hot on the heels of the late October visit by China's president.
Just as when both leaders visited America, in September, there will inevitably be comparisons of their behaviour and treatment. Xi Jinping paid a state visit, and Britain rolled out all the red carpets it could find for the authoritarian leader.
He got a ride in a golden carriage along the Mall, pulled by six grey horses, with the British Queen for company.
Cameron hosted his counterpart at Chequers, the prime minister's country home, a first for a Chinese president.
The host gushed about China's golden age but made sure not to mention pesky matters like human rights or the lack of democracy there.
Human rights protesters didn't get much of a look-in.
So anxious is Britain to win lucrative trade, investment and other relationships with China, it bowed to the point of cravenness.
Now, how will Britain behave towards Modi and democratic India?
For a start, you could not imagine a London stadium full of enthusiastic Chinese people, privately organised, cheering their leader (unless they had been corralled there).
Cameron could yet trump the treatment of China by making a more effusive gesture to India. It would not be too surprising, for example, if the British prime minister were to say he would attend the Republic Day ceremony in New Delhi in January 2016 as chief guest, following in US President Barack Obama's footsteps this year.
British business will certainly be looking at India, both as an investment destination and as a source of further investment in Britain.
One question that will be asked of Modi, however, is how the events in Bihar now affect his grand promises of economic reform and recovery, as India claims to compete with China as an emerging powerhouse in Asia.
In the face of political setbacks, Modi has not shown terrific resilience in the past, nor a steady appetite for liberal reforms.
The Goods and Services Tax, promised for April 2016 by him might well be delayed further. Modi has been so preoccupied with electoral politics, he has been distracted from promises to make it far easier to do business in India, or to improve India's tax system.
The best message Modi could bring to London, therefore, is that he would return to focus on economic matters.
He talks of building stronger economic and business relationships between the countries.
Britain should respond by promising much easier access for Indian students to its universities, and rethink its hostile and self-destructive visa system in general.
Pomp and gaudy ceremonies might suit China's leader, but down-to-earth matters are more valuable to India.
The writer is European business correspondent for The Economist and a former South Asia bureau chief