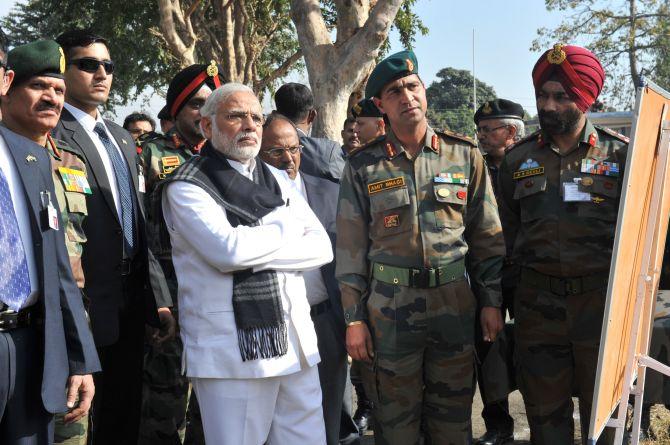 IMAGE: Prime Minister Narendra Modi at the Pathankot airbase a week after the attack. Photograph: Press Information Bureau
'The attack on the Pathankot base constituted an act of war. Yet Modi's only public comment up until now on that attack has been to blame it on "enemies of humanity".'
'Modi came to power talking tough about Pakistan. But in office, he has pursued a Pakistan policy that has lost both direction and purpose,' argues Brahma Chellaney.
Despite Pakistan's unending aggression against India ever since it was created as the world's first Islamic republic in the post-colonial era, successive Indian governments have failed to evolve a consistent, long-term, policy toward that country.
In stark contrast, Pakistan has maintained the same India policy since its establishment -- to spotlight Kashmir as the unfinished business of Partition and to undermine Indian security by whatever means, fair or foul.
Prime Minister Narendra Modi came to power talking tough about Pakistan. But in office, he has pursued a Pakistan policy that has lost both direction and purpose. Worse still, Modi has failed to learn the lessons from the Pakistan blunders of his predecessors.
It has taken less than three months for Modi's Pakistan policy to unravel, thanks to the boomerang effect generated by his Lahore visit on Christmas Day.
By paying a surprise visit with little preparation to a State whose hostility toward India is inborn, Modi ingenuously thought he was making history.
Yet what the trip yielded is a continuing series of terrorist attacks of Pakistani origin on Indian targets -- from Pathankot and Mazar-i-Sharif to Pampore and Jalalabad.
In fact, after Modi's much-publicised bear hug of his Pakistani counterpart, Nawaz Sharif, in Lahore, it took barely a week for the terror masters controlling Pakistan to thank him for his visit by carrying out terror attacks through surrogate Jaish-e-Mohammad on India's Pathankot air base and on the Indian consulate in Mazar-i-Sharif, Afghanistan.
The Pathankot attack was the military equivalent of the 2008 Mumbai strikes on civilian targets by terrorists from Pakistan.
After New Delhi began pressing the Sharif government for action against Azhar Masood and other JeM terrorist leaders for carrying out the New Year's terror attacks at Pathankot and Mazar-i-Sharif, Pakistan used another terrorist proxy -- the Lashkar-e-Tayiba group -- to carry out an attack in Pampore, India. Afghan intelligence and former Afghan president Hamid Karzai have also linked the Jalalabad attack on the Indian consulate to Pakistan.
Yet the Modi government is preparing to welcome a Joint Investigation Team from Pakistan that was set up to supposedly probe the Pathankot attack. It is like accepting arsonists as firefighters. Indeed, the JIT openly includes one officer of the rogue Inter-Services Intelligence agency.
In truth, the JIT was set up not to bring the Pathankot masterminds to justice but to investigate the operational deficiencies of the Pathankot strike and to ensure that the next surrogate attack leaves no telltale signs of the involvement of Pakistanis.
This is why Pakistan is seeking even more evidence from India. It was naive of India to think that by supplying Pakistan communication intercepts and other evidence linking the Pathankot attackers with their handlers in that country, the terror masters there would go after their terror proxies.
Still, the Modi government continues to play into Pakistan's hands.
The latest example is the terror alert it has sounded across western and northern India after receiving a 'tip-off' from Sharif's national security adviser that 10 Lashkar and Jaish terrorists had infiltrated into Gujarat state from across the international border.
The LeT and JeM are nothing but front organisations of the ISI. No cross-border infiltration of LeT or JeM terrorists happens without help from the Pakistani military. The alleged tip-off from Naseer Khan Janjua -- an army general appointed as Sharif's NSA at the military's behest -- helps to advertise Pakistan's 'cooperation' on terror while putting India knowingly on a wild-goose chase.
It is significant that the alleged Pakistani tip-off was leaked to the media not by the Pakistani government but by New Delhi.
By leaking it in order to highlight Pakistan's 'cooperation' on terrorism, the Modi government might be seeking to create political space at home for a Modi-Sharif meeting in Washington this month-end on the sidelines of the Nuclear Security Summit.
Creating political space for further top-level engagement with Pakistan has become necessary because Modi's famous hug of Sharif in Lahore on Christmas Day backfired. That hug, like Atal Bihari Vajpayee's hug of Sharif at the Wagah border in 1999, brought not peace but greater terrorism.
Make no mistake: Pakistan has little interest in honouring international norms or its own solemn commitments.
When Sharif visited the White House in October 2015, the joint statement said the visiting Pakistani leader apprised US President Barack Obama about Pakistan's resolve to take 'effective action against United Nations-designated terrorist individuals and entities, including Lashkar-e-Tayiba and its affiliates, as per its international commitments and obligations under UN Security Council resolutions and the Financial Action Task Force.'
Obama did not question Sharif about the public activities of Hafiz Saeed, Azhar and other terrorist proxies or about Pakistan's violation of the Security Council and FATF requirements in the case relating to Zaki-ur Rehman Lakhvi, a LeT leader whom Pakistan arrested and charged with involvement in the 2008 Mumbai attacks. Pakistan failed to investigate the source of funds used to bail out Lakhvi in April 2015.
Obama, however, has exerted Pakistan-related pressure on India. After Obama's New Delhi visit in early 2015, Modi's Pakistan policy transformed conspicuously. He resumed bilateral dialogue with Pakistan, only to invite new terror attacks in Punjab and Kashmir states. Still, he paid an unannounced visit to Pakistan.
The attack on the Pathankot base by Pakistani gunmen constituted an act of war. Yet Modi's only public comment up until now on that attack has been to blame it on 'enemies of humanity.' Even when he visited the base after the attack, Modi said nothing.
If Obama had said nothing when he visited San Bernardino, California -- where a married couple of Pakistani origin killed 14 people in December -- he would have been roasted by his critics.
Modi has stayed mum on Pakistan even in Parliament despite Rahul Gandhi's taunt that he has 'singlehandedly' bailed out the sponsor of terror by messing up Pakistan policy.
In fact, despite the Pathankot attack, the Modi government allowed the Pakistani high commissioner in New Delhi to meet a hardcore Kashmiri separatist, Ali Shah Geelani. Will Pakistan allow an Indian diplomat to meet a Pakistani separatist?
Today, Modi's Pakistan policy looks little different than his predecessor's, indicating that the more things change, the more they stay the same in India.
It is a false argument that India has only one choice -- to continue useless talks with Pakistan or wage a full-fledged war. An extension of that argument is that India has no option but to keep battling Pakistan's unconventional war on Indian territory.
Such a self-injurious approach means treating cross-border terrorism as an internal law-and-order problem and bringing yourself under siege.
Wisdom actually lies in fighting an unconventional war with an unconventional war that is taken to the enemy's own land so as to drive home the message that the foe's aggression is not cost-free.
According to army chief General Dalbir Singh, 17 terrorist-training camps in Pakistan close to the border with India are still operating. If India remains directionless, further acts of cross-border terrorism will follow.
Unfortunately, India's Pakistan policy has become unhinged and directionless. It remains unmoored in reality, even though the Indian public is sick and tired of the national leadership's acts of commission and omission that have made the country repeatedly relive history.
If India wants history to stop repeating itself, it must tether its Pakistan policy to reality and develop a credible counterterrorism strategy.
Brahma Chellaney, a geostrategist and author of nine books, is Professor of Strategic Studies at the New Delhi-based Centre for Policy Research.