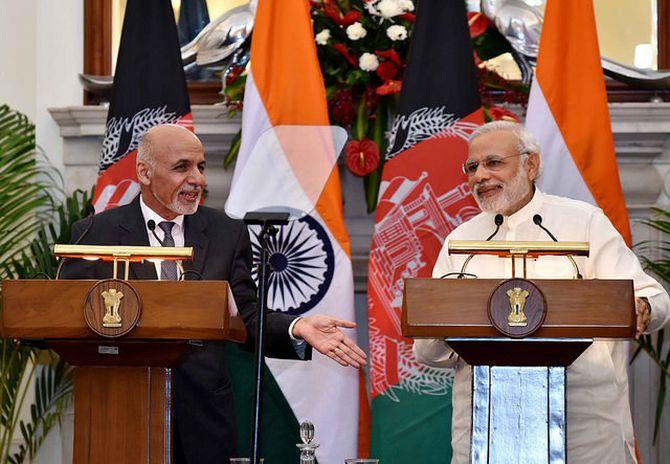 IMAGE: Prime Minister Narendra Modi with Afghan President Ashraf Ghani.
In diplomacy, a prime ministerial visit should be viewed as a rare event, not a routine one.
But Modi wants to do everything himself, says Rajeev Sharma.
Prime Minister Narendra Modi's decision to visit Afghanistan on June 4 is inexplicable.
He had visited Afghanistan in December. Of course, a prime minister can visit a country as many times as he wants to. But the prime minister must know that he can't go everywhere and pay another visit to a neighbouring country as strategically important as Afghanistan just because a major project in Afghanistan, funded and built by India is ready to be operational.
Modi will visit Afghanistan for a few hours on June 4. He will travel to Herat province in western Afghanistan to inaugurate the Salma dam project, which is finally ready after missing several deadlines.
Everyone familiar with India's strategic affairs will appreciate the importance of the Salma dam project and appreciate that India is finally ready to deliver the finished project to the Afghans, a project that may win many friends in that land-locked country.
But Modi should realise that the success of foreign policy is not predicated on the number of visits an Indian prime minister undertakes to a country, no matter how sensitive and important that country is for Indian national interests.
After all, the Salma dam, constructed by the Indians at a budget of almost $275 million (about Rs 1,850 crore/Rs 18.50 billion) will produce only 42 MW electricity. By comparison, the peak daily power consumption in Delhi is over 5,000 MW.
Granted that for a country like Afghanistan, which has been ravaged by bloody internal strife and political instability for close to 40 years, 42 MW power is significant and crucial. But then the Indian prime minister is not required to visit Afghanistan for this purpose alone as it dilutes the significance of the visit.
Modi could have, and should have, entrusted this job to any of his Cabinet colleagues. External Affairs Minister Sushma Swaraj would have been most ideal for the purpose and if she was unavailable on health grounds then the power minister or water resources minister could have done the honours.
Modi's decision to do it himself shows his penchant for indulging in event diplomacy.
Afghanistan is not a part of the Indian Union which presents the prime minister with a ribbon-cutting opportunity or where the prime minister stands to gain electorally and politically by inaugurating a developmental project.
It shows that Modi the politician does not want to let go any opportunity to visit a neighbouring country to make a song and dance about the dam project the construction of which was begun by the United Progressive Alliance government in right earnest a decade ago.
Moreover, Iran has always looked at the Salma dam project with suspicion as the Iranians somehow believe that the dam will reduce the river water flow into Iran.
In diplomacy, a prime ministerial visit should be viewed as a rare event, not a routine one, which should be taken recourse to only when other options like ministerial visits are not available.
But Modi has a different style of functioning. He wants to do everything himself.
From June 4, Modi will embark on a five-nation trip, the other countries being Qatar, Switzerland, the United States and Mexico in that order. He will visit a sixth nation in June when he travels to Uzbekistan to attend the Shanghai Cooperation Organisation summit on June 21-22.
He could have easily kept this number to five by sending a Cabinet colleague to Herat. After all, he was in Afghanistan in December to inaugurate the Afghan parliament building, another construction project funded and handled by India.
Afghanistan will be the second South Asian country which Modi will visit twice. Nepal is the other one.
And look at the current state of India-Nepal relations! Nepal continues to poke a finger in India's eye even after Modi pampered it by paying two visits.
The moral of the story is simple. Prime ministerial visits to a country are not directly proportional to the state of bilateral relations.
Rajeev Sharma, an independent journalist and strategic analyst, tweets @Kishkindha