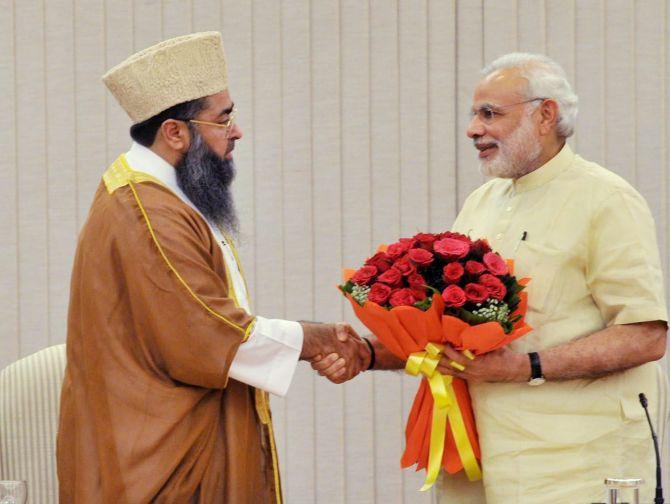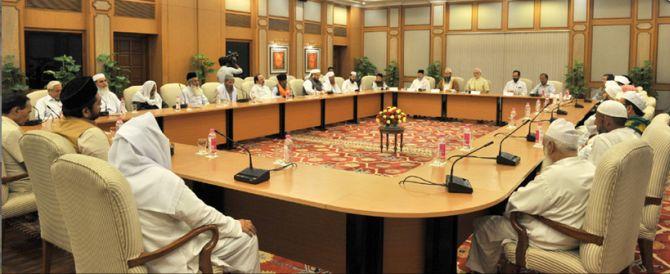 Image: Muslim community leaders with Prime Minister Narendra Modi in New Delhi, June 2, 2015. Photograph: Press Information Bureau.
The least the leaders who met Modi could have done was to highlight the plight of Muslim riot victims, but they chose to ignore it, so privileged they must have felt to be in the prime minister's presence, says Syed Firdaus Ashraf.
In 1993, I stayed in a camp for riot victims, following the Mumbai riots. My uncle's home had been attacked by Hindus. My family feared we would be targeted the next day as our home was located only a lane away.
Slogans like 'Mussalmaan ke do hi sthan, Pakistan ya Kabristan (Muslims have only two places: Pakistan or the graveyard)' echoed through many streets as Hindu mobs torched Muslim homes and shops in the north-west Mumbai suburb of Malad where we -- my father then worked for one of India's leading State-owned petroleum companies -- lived.
Twenty-two years later, Pakistan is where Union Minister of State for Minority Affairs Mukhtar Abbas Naqvi wants Muslims to go if they want to eat beef!
In 1993, we took sanctuary in a family friend's home in Millat Nagar, a Muslim-dominated area in Andheri, north-west Mumbai, part of the now famed Lokhandwala Complex. A relief camp had been set up for thousands of Muslims displaced from their homes -- helpless citizens of India.
No politician visited the refugee -- we were refugees fleeing a hateful time -- camp. The police kept its distance from the camp as there was much anger among the riot victims against the Indian State for failing to protect lives and property.
I realised then that once you are targeted for your Muslim identity during a riot, no one comes to your help. Be it the police, politicians, the ruling party or the Opposition parties.
No one gives a damn, really.
The only people who ask after your wellbeing are the media.
Only one politician came to the camps at that time, to ask after the wellbeing of the Muslim victims of Mumbai -- Sunil Dutt, then a Congress member of Parliament. For this -- for inquiring about the conditions at these camps -- Mr Dutt was abused by Bharatiya Janata Party and Shiv Sena politicians.
I saw Mr Dutt distribute relief material and plead with Muslims to believe in Indian secularism which was maimed in the Mumbai riots.
Ten years later, when, as a journalist, I met Mr Dutt, I told him how impressed I had been that he had stood for the cause of secularism in those horrific times.
I had to ask him a question that had been gnawing at me all those years: How do you recognise whether a person is secular or not?
'Secularism is in the eyes of people,' Mr Dutt replied without a blink. 'You don't have to prove it. You just see in people's eyes and you realise it instantly.'
People like Sunil Dutt are above religion, they will stand up for secularism till their last breath. He was one of a kind, a truly secular politician.
Twelve years later, when Prime Minister Narendra Modi met with 30 Muslim 'leaders' last week to highlight his government's secular credentials, I recalled what Sunil Dutt had told me.
These 'Sarkari Mussalmaans' -- that is what these 30 'leaders' are in my mind as they certainly did not articulate the community's concerns -- did not ask Modi about the plight of Ballabgarh's Muslims.
Ballabgarh, located just 30 kilometres outside Delhi, is in Haryana, a state where the BJP is in power. The Muslims of Ballabgarh fled their homes and took refuge at a police station after Jats from the village torched their homes following a dispute over constructing a mosque in the village.
This mosque was being built after the Jats had taken the Muslims to court over the dispute and the court had ruled in the Muslims' favour. For 10 days, the Muslims stayed put at the police station, the only sanctuary for them, fearing for their lives. It was during this time that these 'Sarkari Mussalmaans' met Modi in New Delhi.
It would not been so bad had Modi had not told these leaders, 'Judge me by my actions.' The least these 'Sarkari Mussalmaans' could have done was to highlight the plight of the Muslim riot victims to Modi, but they chose to ignore it, so privileged were they to be in the prime minister's presence.
The prime minister utilised the occasion to grandly state that he did not believe in politics that divides.
The fact is that the Muslims of Ballabgarh were rendered homeless, precisely because they were Muslims living under a BJP government. This fact did not seem to bother either the Muslim 'leaders' who met Modi nor did it bother the prime minister apparently.
In the 19th century, the famous Urdu poet Akbar Allahabadi wrote:
Qaum ke gham mein dinner khatey hai Hukkam ke saath
Ranjh leader ko bahut hai, magar aaram ke saath.
(In grief over the sad state of the community, our leaders dine with the authorities
Filled with sorrow they are, but sunk in their comfortable ways.)
Akbar Allahabadi wrote these trenchant words after witnessing the plight of Muslims in the 19th century. He meant the verses to taunt leaders who spoke to the hukkam (the British) about the community's sorry state.
What an irony! More than a hundred years later, the scene has changed so little. A group of 30 self-styled Muslim leaders meet the prime minister to build bridges between the community and him, and the least they can do is ask him what he has done to protect the lives of ordinary Muslims, in Ballabgarh today, elsewhere tomorrow.
Ideally, these Muslim leaders should have visited Ballabgarh along with Modi, met the village's terrified Muslims and reassured them that the prime minister would be available for them even if they 'knock on his doors at midnight,' to use Modi's own words.
To do that, I guess you need to have the heart and soul of Sunil Dutt.
MUST READ