'India resembles not just the more turbulent bits of its own past, but other 'managed' democracies, where all institutional strength and independence have been hollowed out to serve political power,' notes Mihir S Sharma.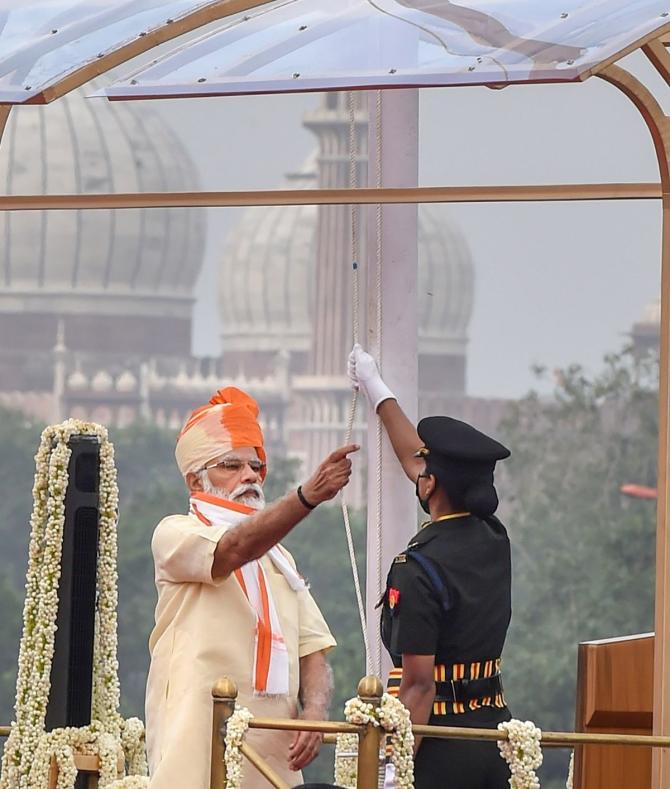 Independence Day has always been a time for optimism.
This is partly because the India story has always been somewhat optimistic? this was after all a young republic, with great potential.
Yet, now that this country is in its 70s, perhaps it is no longer fair to think of it as young.
And, certainly, there appears to be less and less optimism and more darkness in how we think of each other and our country's place in the world.
This has crept upon us slowly over the past decade and some.
Even as recently as the decade of the 2000s, it seemed clear that we as a nation were on the cusp of accelerated development, the deepening of our democracy, and ever greater vibrancy in our public sphere.
The fact is that these hopes have been belied.
The India of Independence Day 2020 has not lived up to the expectations of Independence Days in decades past.
Consider first our economic trajectory.
We have grown accustomed to the notion of steadily increasing prosperity. Yet, even before the pandemic, our growth engine had stalled.
These were the growth numbers for the quarters before the pandemic hit: From 7 per cent growth, to 6.2 per cent, then down to 5.6 and 5.7 per cent, then 4.4 per cent and finally 3.1 per cent in the quarter that began this calendar year.
This is more than a cyclical slowdown. The fact is that, with every up and down over the past decade, we have stabilised eventually at a lower plateau of growth.
In terms of human prosperity, measured through per capita consumption and wage rates, it is also clear that a previous trend of improvements has stalled.
The reasons for this are manifold, but it is wise to consider, at a moment like this, those that go beyond the ephemeral.
The problem is not just that the banking system cannot lend, or that non-banking financial institutions are in crisis, or that producers are plagued with overcapacity, or that infrastructure finance is still bottlenecked.
These are all various symptoms of the larger problem that there appears to be no coherent growth story, no leading sectors pulling the economy forward and creating the profits, income and wealth that would help flush out the financial system and enthuse investors.
Our government finances are also strained, with debt likely to rise to dangerous levels, a deficit that leaves little space for further borrowing, and tax revenues that are proving almost impossible to raise.
We are accustomed to thinking of economic crises as cliff-edges ? a sudden, sharp shock that makes the adrenaline flow and drastic policy remedies possible.
But what we have been faced with over the past years is a steep downward incline and not a cliff.
This sort of crisis is not one we recognise, but it is a crisis nevertheless.
The other trend that we have long assumed is upward is that of India's institutional strength.
Following their near-destruction by Indira Gandhi, various forms of the soft infrastructure that underpin a liberal polity and economy were slowly strengthened.
The judiciary found its feet; new independent institutions were created such as the markets regulator, Sebi; the Reserve Bank of India secured its independence and a clear mandate; even governorships began to thought of as what they are, a sinecure except in times of crisis.
A few short years ago pages such as this would run well-meaning editorials actually engaging with attempts to secure institutional independence for the CBI, assuming that such a thing could actually happen.
There has since been a sharp reversal in this trend.
Nobody now questions the notion that legislature speakers are partial, governors are once again mere instruments of New Delhi, that the CBI is a political tool.
Even the assumption that legislators will be bought, which would once at least have been a scandal -- remember the JMM case? -- is now little more than a prime-time punchline.
The judiciary, which should be civil society's watchdog, has abdicated its role.
It has been harshest on those who tread on its own toes, rather than on those subverting the Constitutional order. Witness the depressing action it has just chosen to take against Prashant Bhushan.
Institutionally, India resembles not just the more turbulent bits of its own past, but other 'managed' democracies, where all institutional strength and independence have been hollowed out to serve political power.
Let us accept, without any equivocation or whataboutery, that this is backsliding.
Finally, there is politics itself, and the society that it mirrors.
Till fairly recently we could have hoped that national integration, social liberalism, and inter-community relations were progressing, albeit slowly.
Today we have a crisis of federalism, of State-sanctioned Islamophobia, and of near-universal illiberalism of mind and temperament. On that front, things will only get worse.
Independence Day should be a day for celebration and optimism. But what is there, in 2020, to celebrate?
Feature Presentation: Aslam Hunani/Rediff.com