'Her tussle is a different ballgame from what it was when Farooq Abdullah and Rajiv Gandhi were the main players at the two ends of the power game.'
'The shadow of the party in power in New Delhi over J&K affairs in 1987 was not as menacing as it is in 2018,' points out Mohammad Sayeed Malik, the doyen of Kashmir commentators.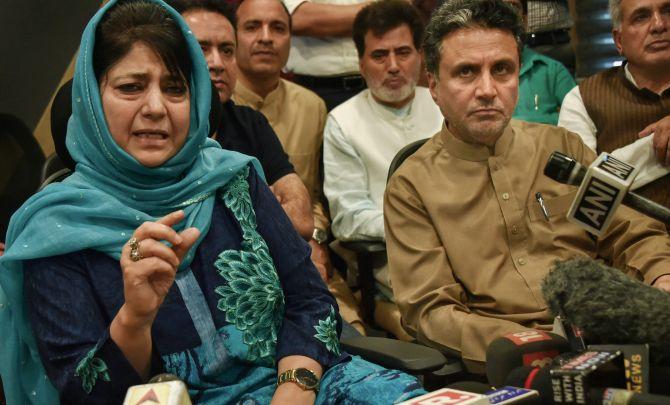 It took Mehbooba Mufti less than 22 days to learn the hard lesson that took her incomparable predecessor, Sheikh Mohammad Abdullah, 22 long years to digest: The lesson that the main lever of power politics in Jammu and Kashmir is located at -- and operated remotely -- from New Delhi.
Indeed, the long story of Kashmir's chronically troubled politics, on this particular account, starts from August 9, 1953 when the then duly elected prime minister of the state, Sheikh Abdullah, was unconstitutionally deposed and unceremoniously thrown behind bars.
Quite a few dubious milestones along this route stand out in bold relief.
This is a three dimensional feature:
1. At the local level this intervention amounts to virtual disenfranchisement of the electorate.,
2. At the central level it is the most convenient tool for getting rid of an inconvenient/intransigent face at the helm and eventual disempowerment of the local political system and,
3. Lately, it is being tested as unabashed, brick by brick de-politicisation of whatever may be left of emaciated 'Kashmir politics'.
Back in 1953, New Delhi had to use a sledgehammer to demolish the myth of constitutionally guaranteed 'semi-autonomous' status of J&K.
65 years later, in 2018, it was just a remote control click that did the trick.
In between, all sorts of variants have been employed, by whosoever was in power at the Centre -- irrespective of their ideological colour or creed.
As a result, generational change in the local (mainstream) leadership has seen a steep fall in its stature, influence and durability, making it easier for 'New Delhi' to make and break the contraption at the helm in the state from time to time.
Mehbooba Mufti's sudden, unceremonious, ouster on June 19 from the PDP-BJP coalition, announced over the public address system, as it were, without any inkling to her, marked a new low in this game.
Perhaps it was calculated to cause 'shock and awe' in her ranks and create disarray within her loosely held flock.
And that was what precisely happened.
Mehbooba took her time to absorb the sudden shock and weigh its impact by which time the simmering uneasiness within her flock began to burst into open.
Not that there was any big revolt or visible exodus, but fence-sitters, disgruntled and genuinely aggrieved in the PDP camp were gifted an opening to ventilate their accumulated anger in public.
Suddenly, things seemed coming apart from the PDP edifice.
Obviously, the weakest point in Mehbooba's defence was against the accusation of family domination in party and government affairs.
Till the time her father, Mufti Mohammad Sayeed remained at the helm, his family was not visible in the party as well as in the government.
Mehbooba's weakness on this score was sought to be used by her detractors as the cutting edge of their attack.
Appearance of about three or four genuinely aggrieved legislators along with the fence-sitting disgruntled lot created confusion in the PDP ranks and gave out the impression that the party was falling apart.
It was in this background and with wildly speculative television news reports compounding it that her party appeared to be falling apart and augmenting a numerically viable alternative combination to Governor's Rule that was imposed after the BJP abruptly pulled the rug from under the Mehbooba-led coalition.
The BJP has since refuted her allegation, but voices coming from her own camp continue to sustain speculation that something is brewing in the background.
The possibility or even probability of any such development would eventually depend upon how the BJP leadership assesses its fallout on two fronts: The Lok Sabha election (the BJP won both Jammu seats in 2014) and upon the next election to the J&K assembly (due in 2020).
The proposed panchayat elections are seen as a dress rehearsal for the eventual combat.
It is against this dicey backdrop that Mehbooba is giving vent to her fears that the BJP is trying to break the PDP and wean away its legislators.
Technically, J&K's strict anti-defection law should deter floor crossing as it entails summary disqualification.
But, over the years, almost all major players in power politics have not only trampled the anti-defection law with impunity, but have also made sure that the guilty legislators are protected against its implications.
Effectively, the anti-defection law has been defanged.
This frightening legacy has been a visible streak of New Delhi-controlled manipulation of power politics in J&K.
Historically, when Sheikh Abdullah was deposed in 1953 he enjoyed total support of the 75-member constituent (legislative) assembly.
Overnight, all but one, Mirza Afzal Beg, switched their loyalty from the (imprisoned) Sheikh to his successor, Bakshi Ghulam Mohammad.
Since then this 'loyalty' factor and New Delhi's covetous eyes on it has been a constant worry for successive rulers in Srinagar.
As a result of its manipulation from time to time and due to certain related local factors, the legislative arithmetic is such that none of the major contenders for power, the National Conference, the Congress, the BJP or PDP has legislative 'self-sufficiency' in the 87-member House.
Poaching has been virtually legitimised.
Interestingly, a group of erstwhile BJP legislators who rebelled and crossed the floor to support the then Omar Abdullah-led National Conference government are still under a legal cloud.
Nearly two decades have passed and their case is still awaiting the speaker's decision.
Meanwhile, a few of them are back in the House. That was when the BJP was at the receiving end of this dirty game.
Today it is at the opposite end. And that must only compound Mehbooba's fears over desertion within her ranks.
Even so, her fear seems to have thrown her overboard. Today the ground situation is vastly different from 1987 to which she ill-advisedly alluded while pointing her finger at her former coalition partner.
Her tussle is a different ballgame from what it was when Farooq Abdullah and Rajiv Gandhi were the main players at the two ends of the power game.
The shadow of the party in power in New Delhi over J&K affairs in 1987 was not as menacing as it is in 2018.
Mehbooba's allusion to 'Salahuddin and Yasin Malik' was totally uncalled for.
Besides, Mehbooba, though a grassroot worker, is conscious of the reality she is not like her father whose grip on the rank and file was constantly firm and who had the ability and capability to ward off stronger rivals in the field.