Last year, Maryam Nawaz accompanied her father to Washington, but played a role beyond being the dutiful daughter.
She was 'discovered' by the White House, and was hosted by Michelle Obama, reports Aditi Phadnis.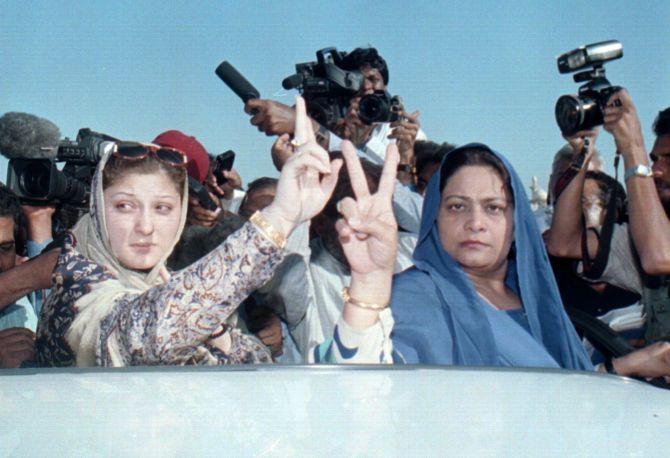 IMAGE: In this April 6, 2000 photograph, Maryam Nawaz, left, then ousted Pakistan prime minister Nawaz Sharif's daughter, and her aunt Nusrat Shahbaz -- Nawaz Sharif's brother Shahbaz Sharif's wife -- flash victory signs as they leave court in Karachi.
Nawaz Sharif was then sentenced to life imprisonment on charges of terrorism and hijacking while Shahbaz and five others were acquitted on all charges.
Saudi Arabia later brokered a settlement with military dictator Pervez Musharraf to grant Nawaz Sharif amnesty and exile in the kingdom. Photograph: Reuters
Maryam Nawaz, daughter of Pakistan Prime Minister Nawaz Sharif, is in the news for all the right reasons. Last week, she acted as the main host to Queen Maxima of The Netherlands, who was visiting Pakistan to understand that country's policies on the empowerment of women and their financial inclusion.
Last year, she accompanied her father to Washington but played a role beyond being the dutiful daughter. She was 'discovered' by the White House, and was hosted by Michelle Obama. Maryam Nawaz spoke to an invited audience about education for the girl child in Pakistan.
The Dawn reports that the invitation to the White House was delivered by none other than Peter Lavoy, US President Barack Obama's point man on South Asia: Which means Washington was also cautiously watching the succession plan unfolding in the Pakistan Muslim League (Nawaz).
It was to Maryam Nawaz's daughter's mehendi ceremony that Prime Minister Narendra Modi went over during Christmas last year. Maryam Nawaz is currently enrolled for a PhD degree in political science at the University of Cambridge. The topic of her thesis is 'Post-9/11 Radicalization of Pakistan.'
Maryam Nawaz made her political debut in Pakistan in November 2011, addressing a convention of women from the party. She strongly defended her family during the siege of Islamabad by Pakistan Tehreek-e-Insaf chief Imran Khan. She handles the social media on behalf of the party -- where incidentally she has no formal role but is still seen sitting in at all important party meetings.
She was put in charge of an important credit programme for the youth in Pakistan -- until the court told her that she had no qualifications to head the programme and had to step down.
Nevertheless, public exposure is giving rise to a degree of speculation in Pakistan's chatterati: Are we seeing the rise of the political heir to Nawaz Sharif?
There is another claimant: Hamza Sharif, Maryam's cousin. The eldest son of Shahbaz Sharif, Hamza Sharif was the only one left behind in Pakistan when his uncle Nawaz Sharif and father Shahbaz Sharif were in exile in Saudi Arabia during the tenure of Pervez Musharraf.
Known as Punjab's poultry king because of his investments in the business, Hamza Sharif is thought to have a good grip on the affairs of the Pakistan Muslim League (Nawaz) and a first-mover advantage.
On the other hand, Nawaz Sharif's wife Kalsoom, herself not really a force in politics, is presumably pushing her daughter towards a bigger role because she wants the inheritance to stay in her own immediate family.
Why is all this so important? Because general elections will be held in Pakistan in 2018 and it is possible that a succession plan might be rolled out before that in the PML-N.
In the Pakistan People's Party, Bilawal Bhutto and his sister Aseefa Bhutto are already playing public roles. However, the succession is not as clear-cut in the PML-N. And if a civilian government endures, it is important to understand the personalities.
Earlier it was Hamza Sharif, who was thought to be the natural heir -- Nawaz Sharif's two sons, Hassan and Hussain, are reportedly not interested in politics, opting to run the family business.
But grubbiness and allegations of corruption, combined with a messy personal life -- rumours started circulating about a second wife and he dismissed them vehemently until his alleged second wife Ayesha Ahad came on YouTube claiming she was his legitimate wife; claims of other women, at least four, that he had married them, have also surfaced, leading to considerable ribaldry on social media -- caused a fall from grace.
However, Hamza Sharif is still better accepted by the party in a culture where peccadilloes are not really a disadvantage.
It is hard to work out whom the mantle will pass on to and whether the succession plan will be rolled out smoothly.
In a culture of politics where political parties are dominated by families, as in India, in Pakistan too, nobody is really questioning the fact that the PML-N's political legacy seems to be appropriated by one family.
Obviously this stems from the strength of the family in Punjab where Hamza Sharif's father and Nawaz Sharif's brother Shahbaz is the current chief minister.
It is possible that the rivalry between the cousins, both in their 40s, might come to nothing. On the other hand, with all that India has recently invested in the civilian government in Pakistan, it is essential to understand the individuals who could play a dominant role in the future.
The party will probably take Hamza Sharif more seriously. But at this point, the balance of advantage is in Maryam Nawaz's favour.