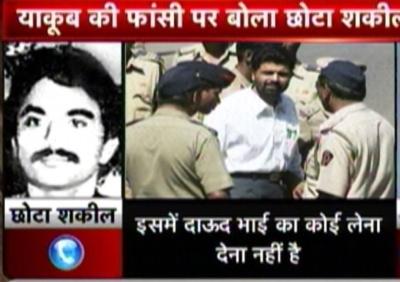 That most newsrooms, high on the 'exclusive' interview with a fugitive living overseas, are not able to perceive this distrust is a reflection of the disconnect today's media has with reality, says Jency Jacob.
"The media seeks accountability from politicians. Who is the media accountable to?" This is a question a school friend asked me a few days ago on WhatsApp, referring to the blanket coverage Yakub Memon's hanging and his burial received in Friday's newspapers.

Normally, like most other journalists, I must admit that I become defensive when it comes to defending the perceived ills of our profession. It is my firm belief that while readers and viewers have the right to question media coverage, they often analyse editorial decisions simplistically.

That Memon's hanging needed coverage cannot be denied even though one might differ on the scope and scale of the coverage. This time, though, the anger was not completely unjustified.
Most media houses were running a parallel campaign for abolishment of death penalty using Yakub Memon as a crutch -- which was unfortunate because they ended up projecting him as an innocent man paying for his brother's sins at a time when his offences had been proven in court after court, all the way to the top, the Supreme Court.
In doing so, the media may have also done irreparable damage by adopting this route to build public opinion against capital punishment.

But more than the coverage given to Memon's hanging, what troubles me more is the interview of underworld fugitive and Dawood Ibrahim acolyte Chhota Shakeel that some newspapers and TV channels ran post the hanging.

Sample some of his quotes

Chhota Shakeel: "Woh (consequences) to hoga hi" (Times of India)

Chhota Shakeel: We don't believe in the court. This is not justice, this is vengeance. Revenge has been taken on this man. (Aaj Tak)

Under normal circumstances, any such warning about 'consequences' (read revenge) that clearly indicate provoking violence between religious communities would be self-censored by the media. Editorial checks do mean that we edit out portions that could incite communal violence.

But providing an open forum for a fugitive who has been on the run for the past two decades to air his inflammatory views without any fear of the law is clearly a sign of the new lows that the profession has hit.

This is also significant as Dawood Ibrahim -- the alleged mastermind of the 1993 Mumbai bomb blasts -- has himself been under the radar ever since.
This means when we air Shakeel's views, we end up giving space to a man who has refused to face charges for one of the most dastardly acts of terror modern India has witnessed and still continues to live under the patronage of Pakistan and its intelligence agency, the Inter Services Intelligence or the ISI.

That he can mock Indian agencies and the law and lecture on morals and ethics does not seem to disturb reporters or their editors who routinely conduct and publish such interviews.

It is not anyone's case that the underworld does not need coverage. After all, they are part of the same society that we belong to and are products of the corrupt nexus that exists between politicians, law enforcers and our systemic inability to enforce the law (not to mention a broken state that fails to intervene in a humane way when they are young).
Also, the media can't always become one with the state in holding back information that is in public interest. A journalist often walks that thin line, sometimes passing on information to the police while at other times choosing to publish that information, both in in public interest. Chhota Shakeel's interview threatening of 'consequences' does not fall in either category.

The Mumbai media's fascination with the underworld has not been properly documented.
Knowing a gangster (I will not use the term 'Don' or 'Bhai' as it is often used with a tone of respect, thanks to its glorification by Bollywood) is a badge of honour that some journalists are proud of.
Anecdotal accounts abound of how many have used these connections for reasons far beyond their line of duty to enrich themselves.
Factions exist among reporters covering the underworld and many are openly identified as belonging to rival camps depending on who one is closer to -- Dawood or Chhota Rajan. So it is not surprising why the interview of a gangster is more about what he wants to say rather than getting him to answer any tough questions.

Ask any young aspiring journalist and most dream of making a career in crime reporting.
It cannot be denied that the fascination of speaking to underworld gangsters and being in their core circle is a big attraction, and newspapers and TV channels who routinely do these interviews that border on PR exercises fuel these ambitions.
That honest crime reporting is full of unseen dangers, hard work and long hours of sweat and grime are often lost on such aspiring hacks, thanks to how they see their seniors almost identifying themselves with the gangland.

There is much to introspect for the Editor's guild and Broadcast Editor's Association on the need for the industry to identify and prevent such clear ethical breaches. A few years earlier, the BEA had arrived at an informal consensus on providing less airtime to gangsters but as happens with every self-regulated industry, someone decides to violate the guidelines and then it degenerates into a free-for-all in the race for scoops and TRPs.

In a book released in the US in 2011, author Jonathan M. Ladd gives some good insight on 'Why Americans hate the media and how it matters'. Citing a 1956 study carried out in America that "found 66 percent of Americans thought newspapers were fair," the situation changed for the worse in 50 years. By 2004, when a similar study was conducted, "only 10 percent of Americans had 'a great deal' of confidence in the 'national news media', he writes.

Public anger against the media in India is rising.
Suffice it to say that a similar study in India will show that trust in the media is at an all-time low.
Whenever any attempt is made by the government to regulate the media, the industry is up in arms, and rightly so. But when you lose the trust of your readers and viewers, you pave the way for the government to bring in curbs.
That most newsrooms, high on the 'exclusive' interview with a fugitive living overseas, are not able to perceive this distrust is a reflection of the disconnect today's media has with reality. That is the saddest face of all.