R K Narayan's house has been preserved as a simple museum with his memorabilia, thanks to the imagination of a commissioner of Mysore, who stopped its sale by the author's successors to a property developer and purchased it for the government.
Ambassador T P Sreenivasan on an interesting day spent in Mysore.
Illustration: Uttam Ghosh/Rediff.com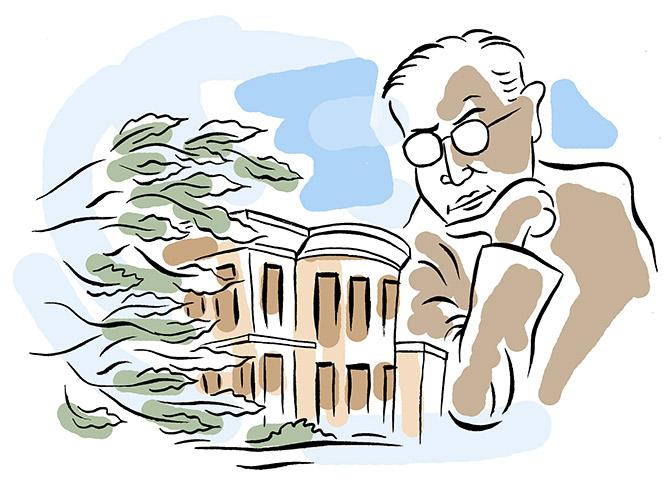 A quick visit to Mysore was on the cards for me ever since I heard the disturbing news that my senior and highly respected colleague, Ambassador A Madhavan, had fallen sick a year ago.
Though he had recovered and was back to normal, I kept my date to visit him and his wife Girija, who live in Yadavgiri, a highly desirable residential area in Mysore with a magnificent view of the Chamundi Hills.
As I turned into the road given in the directions, I saw an unostentatious sign, 'R K Narayan's House' on the same street.
Three hours with Ambassador Madhavan and Girija, including a delicious Karnataka breakfast, a great conversation and a visit to R K Narayan's newly renovated home were a sheer delight.
First of all, I was very glad to see that Ambassador Madhavan is fully back to normal, having recovered from brain surgery, which had, at one time, wiped out his memory.
His enigmatic smile with a glint in his eyes has come back and there is no sign of the agony he suffered.
In his characteristic style, he said that the return of memory meant he remembered many things he had conveniently forgotten.
He has the same simplicity and humour, which won him friends in many countries like Japan, Germany, Russia, China, Burma and the UK. He has begun to write those marvellous tales he used to write occasionally for publications in India and abroad.
I worked closely with Ambassador Madhavan during my tenure as the special assistant to Foreign Secretary Jagat Mehta.
Ambassador Madhavan, as the joint secretary in charge of Western Europe, had a heavy desk, but he handled it with his characteristic precision and efficiency.
The foreign secretary relied on him for policy guidance and execution and trusted him fully.
We were together at the Commonwealth Summit in Lusaka in 1979, where Foreign Secretary Jagat Mehta faced a grave crisis in his career on account of his candidature for the secretary generalship of the Commonwealth.
An inexperienced external affairs minister created a confrontation with President Kenneth Kaunda on this issue and the blame went to Foreign Secretary Mehta.
Ambassador Madhavan handled the issue deftly and saved the situation as much as possible. A little notebook he carried must be a gold mine for researchers on the issues he handled.
Later, we were together in the US when he was at Harvard on a short course and I was at the Permanent Mission of India to the United Nations. We had opportunities to visit each other and I benefitted from his erudition and sense of humour.
Later, he went to crucial ambassadorial appointments to Japan and Germany and also served as director of the India International Centre with great distinction.
His wisdom, diplomatic skills and easy informality are legendary. Comparing notes with him on the past and the present was a wonderful experience. Ambassador Madhavan continues to be moderately active intellectually and socially.
The media had recently reported a significant speech he made on 'Cosmopolitanism in Contemporary Fiction,' in which he called upon thinkers and sociologists to come out with indigenous solutions for the Indian conditions and for the problems faced by urban India.
Girija Madhavan, daughter of a well-known painter and poet, is herself a painter and writer. Her columns on quaint aspects of her early life in Mysore and reminiscences of her diplomatic life have been much appreciated.
Her elegant taste and sense of style are evident in her uncluttered and well-appointed apartment in Yadavgiri, not to speak of her culinary skills. More than anything else, she is a noble and compassionate human being.
The Madhavans escorted me to the newly opened R K Narayan Museum in memory of one of the most famous and widely read Indian novelists.
R K Narayan's stories are grounded in compassionate humanism and they celebrate the humaneness and energy of ordinary life.
RKN (1906 to 2001) lived in the house for nearly twenty years before he moved to Chennai. It has been preserved as a simple museum with his memorabilia, thanks to the imagination of a commissioner of Mysore, who stopped its sale by RKN's successors to a property developer and purchased it for the government.
The idea was to develop it like the Shakespeare Museum on Stratford-Upon-Avon, but it remains a humble tribute to a giant and a genius, whose Malgudi stories have captured the imagination of readers and earned him the Sahitya Akademi Award in 1989, a Padma Bhushan in 1964 and a Rajya Sabha membership in 1989.
The museum preserves some of his prized possessions and clothes, but much more could be added. It would be an attraction if the museum could stream some of the movies made on his novels, particularly the Dev Anand classic, Guide.
It would also be a good idea to create a model of Malgudi, the fictional village in which his characters lived ordinary lives, but conveyed extraordinary messages. The museum brought me nostalgic memories of reading his novels to which I could relate very well.
With a flight to catch from Bengaluru the same evening and a lunch with my golfer friend, Eapen Chacko and his wife on Chamundi Hills, I had to say goodbye to the Madhavans and the RKN museum by noon.
Thanks to Eapen, I did not miss a darshan of Chamundesawari and a view of the whole of Mysore from a vantage point. The delicious meal with the Eapens made up for the golf game I missed and managed to reach Bengaluru airport on time to catch the flight back home on which I relished the extraordinary experience of a hectic, but wonderful day.
T P Sreenivasan, IFS, is a former ambassador to the United Nations, Vienna, and former governor for India, International Atomic Energy Agency, Vienna.