Aveek Sen on how the Lashkar-e-Tayiba looks at the world while focusing on India and Afghanistan.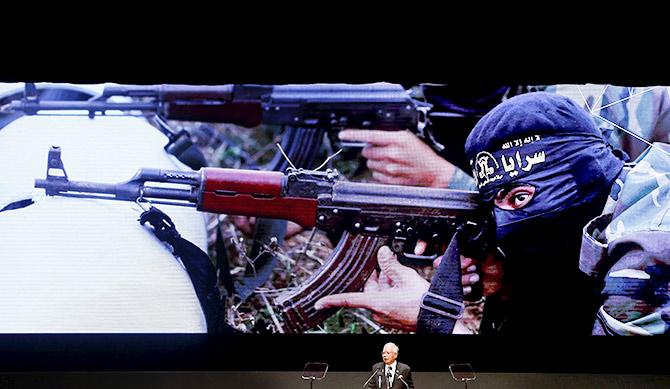 On Wednesday, October 31, Malaysia arrested its first Lashkar-e-Tayiba operative, pointing to a worrying spread of a terrorist outfit whose main area of operation, at least in public perception, has been India and Afghanistan.
Here's a backgrounder on the terror outfit, and how it has spread its tentacles:
According to the South Asia Terrorism Portal, 'Formed in 1990 in the Kunar province of Afghanistan, the Lashkar-e-Tayiba (also known as Jama'at-ud Da'awa) is based in Muridke near Lahore in Pakistan and is headed by Hafiz Muhammad Saeed. Its first presence in Jammu and Kashmir was recorded in 1993 when 12 Pakistani and Afghan mercenaries infiltrated across the Line of Control in tandem with the Islami Inquilabi Mahaz, a terrorist outfit then active in the Poonch district of J&K.'
A senior analyst provided a background to the LeT. According to him, Saeed had his orientational training in Saudi Arabia during the US-Saudi sponsored terror campaign against then then Soviet army in Afghanistan.
LeT grew out of the Jamaat ul Ahl-e-Hadees. The Markaz-ud Dawa-wal-Irshad (MDI) was formed during that time.
The founders of MDI was also involved in the siege of Mecca in 1979.
In his book, Call for Transnational Jihad, US-based Pakistani journalist Arif Jamal has correctly linked the leader of the siege, Juhayman al-Otaybi, and his fellow practitioners of Salafism to LeT.
According to Jamal, some of the Juhayman's Ikhwan -- Syed Allama Badiuddin Shah Rashdi, Hamid Mohammed Bahaziq, Mahmood Bahaziq, Hassan As-Sareehi, Ahmad Saad al-Ghamdi and their Pakistani followers -- established the Markaz-ud-Dawa-wal-Irshad in 1987.
The MDI was renamed the Jamaat-ud-Dawa in 2001; the LeT is the armed wing of the JuD (external link).
Initially, the militant wing of the Jamaat-e-Islami, Hizb-ul-Mujahideen, used to be at the forefront of the anti-India terror campaign in Kashmir. But after 1989, with the Afghan theatre dominated almost completely, Pakistan's Inter Services Intelligence devoted its almost full attention towards India and the LeT grew into prominence.
Today, the LeT receives most of its funds from the ISI and Ahl-e-Hadees oriented groups in Saudi Arabia -- however, these funds come from charities and not the Saudi government.
According to Mohammad Omar Rana, the expenditure on the LeT militia alone is around Rs 35 crores (Rs 350 million) per annum.
LeT has also been working in Bangladesh with HuJI and is eagerly waiting for a regime change to exploit the situation in its favour.
I spoke to Ajai Sahni, counter-terrorism expert and executive director of the Institute for Conflict Management which maintains the South Asia Terrorism Portal focusing on terrorism in South Asia.
"From its very origin," Sahni explained, "LeT has had an international agenda. It has an international wing. One of the three founders of LeT was Abdullah Azzam from Palestine, who was also the founder of Al Qaeda. There are very fundamental linkages. LeT has footprints in Spain, other parts of Europe, America, Iraq, Afghanistan, Syria and Myanmar."
"It sent FeI (Falah e Insaniyat) for 'relief works' during the Rohingya crisis to try and recruit but wasn't very successful," Sahni added.
"It has an outreach to Sri Lanka and many parts of South-East Asia, especially financial activities."
"In Bangladesh," Sahni pointed out, "it works with HuJI Bangladesh. All these groups came into existence in Pakistan. Most of them were raised or had origins in groups fighting the so-called jihad in Afghanistan. Their ideology is a supremacist Islamist one."
"HuJI is the parent organisation of JeM which split after the Indian Airlines hijacking (in December 1999) and Masood Azhar's return to Pakistan," Sahni said.
"Though most of these groups largely restrict their activities to Kashmir, they have a global agenda and future power projection."
"The FeI -- the LeT's charity outreach wing -- for example, is active in Syria and Iraq for basic recruitment purposes. They provide food aid and medical support. Financial support is targeted towards widows, children and orphans. This is a basic recruitment tool, especially where orphans are involved," Sahni said, adding. "Once they warm up to them due to the aid, they are brainwashed as part of the radicalisation process."