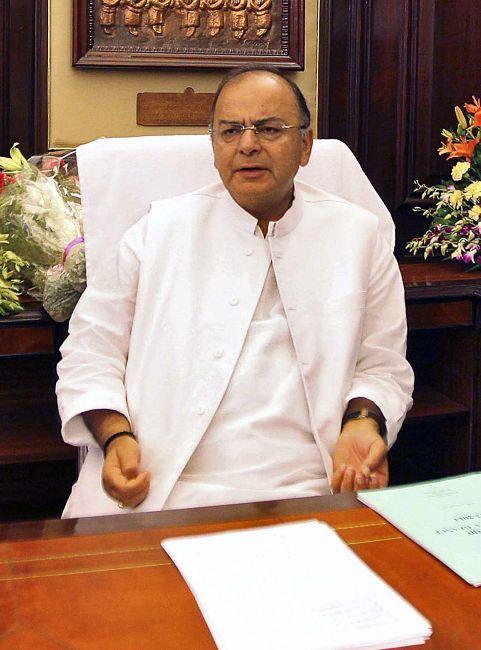 'Power sits lightly on Arun Jaitley's shoulders. Just because earth-shaking election results have brought his party to power, he has not gone recklessly ambitious. "Too soon, too fast" is not what he likes,' says Sheela Bhatt/Rediff.com about Budget 2014.
'I want to give you more, but I don't have money.' That was Finance Minister Arun Jaitley's candid message. A tough situation confronted Jaitley when he began planning the Budget about 40 days ago.
The Indian economy is passing through tough times, inflation is high and the people's expectations are sky-high. The National Democratic Alliance government has been in power for just 45 days. In such a short time Jaitley has done the best he can.
Chutney-sized fund allocations, pickles of a few varieties as he launched new projects across the Himalayas and the North-East states, and new subzi in the form of help to women, farmers, defence, tourism and the insurance sector.
The dal-roti-chawal, the staple diet of all past Budgets remains: Subsidies, allocation of welfare schemes like MNREGA and the mid-day meal scheme. Jaitley has not touched the basic framework of the earlier United Progressive Alliance government's subsidies.
The finance minister presented a conventional tiffin on Thursday, not the sumptuous chhapan bhog many expected.
The Budget bears the mark of the quintessential Jaitley in some sense. The finance minister was advised to speak in Hindi, but Jaitley preferred English since he wanted to appear 'natural'. Unlike his predecessors, there were no proverbs, couplets or quotations from poets like Thiruvalluvar or Tagore during his long presentation.
Jaitley's speech was direct and business-like. The references to Prime Minister Narendra Modi were minimal; only once or twice did he mention the prime minister.
Power sits lightly on Jaitley's shoulders. Just because earth-shaking election results have brought his party to power, he has not gone recklessly ambitious. 'Too soon, too fast' is not what he likes. No big bang reforms nor complex presentations. Understandably, he said the steps suggested in the Budget are the 'beginning of the journey.'
The finance minister has played safe by not unveiling the long-term plot of Prime Minister Modi's government so quickly. Within 45 days, he could grasp that the government coffers are empty. The first thing he decided was to ensure that no big-ticket project should be announced which would transfer the burden of paying back to future generations. Very precisely he said, 'We cannot spend beyond our means.'
The first 20 pages of his speech are the most important where he says emphatically, 'Fiscal prudence to me is of paramount importance because of considerations of inter-generational equity. We cannot leave behind a legacy of debt for our future generations. We cannot go on spending today, which would be financed by taxation at a future date.'
Jaitley's Budget is once more like the Railway Budget, giving the feeling of 'continuity'. The Budget concentrates on tourism, agriculture and promises new avenues in the defence and insurance sector. The defence budget last year was Rs 203,672 crore. This year, it is Rs 229,000 crore.
Since Jaitley is a lawyer he cleared many legal anomalies that any previous finance minister should have done with the law ministry's help. To attract new Foreign Direct Investment he has said no corporate would be charged tax 'retrospectively'. He may not have helped Vodafone in its long tax battle with the government directly, but he has done enough to create confidence in future investors.
The current issues between corporates and the government about application of tax laws will be expedited, the finance minister said, and no new cases will be added. The old quarrel with Vodafone will be settled in the courts. Also, he clarified the distribution of dividends. The tax is 15 percent on Rs 100, but some companies deduct tax on Rs 85. The clarification won't make any difference to shareholders who receive dividends, but companies won't be able to play games anymore.
This is a political Budget, no doubt. In 45 days no finance minister or prime minister can bring about a quality change in the financial system, so Jaitley has 'chutney-fied' allocations. Take up each class, community, region and sector and give them some promise.
And tell them to wait for the next Budget.
When a Salman Khan film rakes in Rs 100 crore (Rs 1 billion) Jaitley has gone for allocation of budgets of Rs 50 crore (Rs 500 million) to Rs 500 crore (Rs 5 billion) for some good and some average ideas. Give IIMs, IITs and AIIMS to different states like some laddoo in each lunch plate.
When asked why he provided just Rs 100 crore each for schemes like Himalayan studies, organic food farming, youth leadership, the Manipur Sports University, ghats on the Ganga etc, his explanation was that any new project takes four months to take off and spending starts a little later. The funding looks small in this delayed Budget, but it is enough for this fiscal year.
The new Budget makes the MNREGA scheme conditional. Although the rural employment gurantee scheme has not been scrapped or its funding reduced, it is now linked to 'productive, asset creation, substantially linked to agriculture and allied activities.'
The Communist Party of India-Marxist complained that 'The Budget proposes a decline in subsidies to petroleum by Rs 22,054 crore which would impose more burden on the people and further increase inflationary pressure. Moreover the Budget has no concrete proposal to check double digit food inflation, especially when there is a possibility of mounting pressure on food prices given the projections of a bad monsoon.'
Businessman Rahul Bajaj had the answer to that when he declared, 'This is all Jaitley can do in view of the state of the economy.'
Rs 10,000 crore (Rs 100 billion) has been allotted for start-ups in micro, small and medium industries. This is the best feature of the Budget.
Gujarat, Andhra Pradesh-Telangana and pilgrimage sites all over the country have gained more than others. Gujarat's diamond merchants, semi-precious stones exporters and the Alang shipping yard's ship dealers have gained. The Rs 200 crore (Rs 2 billion) for Sardar Vallabhbhai Patel's 'Statue of Unity' over the Narmada river will change the economy of the area completely.
The Bombay Stock Exchange Sensex may have gone topsy-turvy after the Budget, but it is a short-term indicator. Arun Jaitley always stands for the long term.
Jaitley created a flutter when he complained of back pain while delivering his Budget speech. He has cervical pain when he stands for a long time. His back started aching after 45 minutes on Thursday. These days, the finance minister is unable to take his daily walks in New Delhi's Lodhi Gardens because of his heavy responsibilities.
For the last 45 days he shuttles between the finance ministry in North Block and the defence ministry in South Block; Jaitley is, after all, also India's defence minister. His request to Speaker Sumitra Mahajan to sit down and read the Budget speech was unusual, but human and moving. It is probably the first time in the history of India's Budgets that a finance minister has sat down to read his speech.
What touched many journalists was his conduct after the Budget. He went to his room in Parliament House and ordered lunch for all visitors. Roomali roti and chicken curry. He chatted freely with journalists and politicians. He explained the nuances of the Budget as only he can. In the midst of all this he mentioned how amused he was to see a VIP in a small BMW protected by two police vans when he went to see President Pranab Mukherjee on Thursday morning.
Before leaving for his interview on Lok Sabha television, he asked a reporter of a Hindi television channel with smile, "Did you gain today?"
The smugness the media encountered in the UPA's finance ministers was gone for good on Thursday.