The future of the Make in India campaign looks bleak with a generation of ill-educated jobseekers -- and especially dark if they are cannon fodder for caste riots or put behind bars for breaking India, says Sunil Sethi.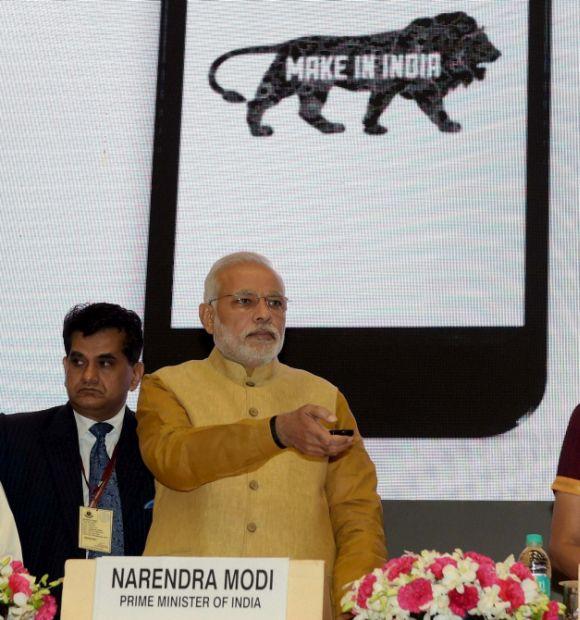 A week of Make in India razzmatazz ended in Mumbai recently, and opinion was divided on if it succeeded in setting the Arabian Sea on fire. There can be no two opinions, however, that other parts of the country are ablaze with charges of sedition, discrimination, assault and arson. But who is bent upon breaking India?
About Rs 2,000 crore of property was destroyed, and more than two dozen died, in rioting by Jats in Haryana this week demanding quotas in colleges and government jobs.
Was it any coincidence that, geographically, the spread of the agitation was restricted to central districts -- Rohtak, Jhajjar, Bhiwani etc -- while the rest of the state stayed quiet?
These are the bailiwick of Jat leader, former Chief Minister Bhupinder Singh Hooda, heavy-duty Congress party fundraiser and dutiful patron of Robert Vadra's real estate fortune.
With the fires lit by his supporters, Hooda rushed post haste to Delhi to go on a peace fast at Jantar Mantar -- his hometown Rohtak, 60 km down the road, was too dangerous, he disingenuously declared.
This raises questions both serious and frivolous: the negligence of the Bharatiya Janata Party Chief Minister Manohar Lal Khattar and the Haryana police, and the incompetence of the BJP leadership in Delhi which played Nero till the capital's water supply was cut off.
And can a bulky 69-year-old diabetic leader fast for long, in Delhi or Rohtak, beyond the call of a few photo-ops?
Who is breaking India would be a farcical question were the consequences not so tragic, ever since Jawaharlal Nehru University student leader Kanhaiya Kumar was arrested on charges of sedition on February 12.
Bedlam has prevailed on the capital's streets, courthouse, campus and in Parliament, over his "anti-national" utterances.
Much worse has been spoken, written and recorded against the nation-State in the past; in the present case, video evidence of the slogans raised have proven unreliable.
Had Home Minister Rajnath Singh not leapt into the fray, with a ham-handed police commissioner making arrests at his command, no one would have heard of Kanhaiya Kumar.
Yet he is now a protest hero in jail, whose name and fame is known abroad. He has been successfully out-trending Narendra Modi's Make in India extravaganza for days.
India's political, academic, legal and chattering classes are splitting hairs over 50 shades of nationalism.
Two foreign postgraduate students at JNU in the Indian Express this week expressed astonishment.
The German sociologist said, "For us nationalism is a strange word, given our history", implying its horrific connotation had all but wiped out usage.
The Oxford historian added the most "outrageous" thing was the use of a "backward, colonial-era sedition law".
Kanhaiya Kumar's mother Meena Devi, a village social worker in Begusarai, Bihar, spoke the most horse sense when she urged the prime minister to "rise above politics and treat students as students".
The opposite is happening.
Political leaders of every hue from Rahul Gandhi (who has visited Hyderabad University twice and camped at JNU) to Human Resource Development Minister Smriti Irani's fire-and-brimstone speech in Parliament and have found a new battlefield on campuses.
The lines will be drawn as five states go to the polls this year, with Dalit scholar Rohith Vemula's suicide and JNU's seditionists red-flagged as election issues.
Exerting control over centrally-funded universities and institutions -- the Film and Television Institute of India, Indian Institutes of Technology, the Nehru Memorial Library -- as hubs of patronage and political support has been part of every government's agenda, Congress or BJP.
Long seen as a Left-liberal stronghold, the JNU seemed out of the BJP's grasp. It has stumbled badly. The fallout of the arrests -- street marches, protests and violence -- has alienated students, lawyers, judges, the media and the public.
The campus cauldron is on the boil with every incendiary ingredient thrown in -- caste, gender, minority classification and quota reservation. Most things, except a reasonable standard of education.
Many of the youth who set the towns of Haryana on fire to demand quotas said they were unable to pass college entrance tests or were unqualified for government jobs.
In parts of south India, private engineering colleges are closing down because they produce unemployable graduates.
In Delhi, despite strict procedures laid down by the high court, arbitrary quotas for nursery school admissions grow more alarming each year.
"There are all kinds of quotas -- management quota, sibling quota, this quota and that quota," complained Chief Minister Arvind Kejriwal last month.
He pointed out that children were being turned down if their parents were non-vegetarian, or taken in if they had art or music training.
The future of the Make in India campaign looks bleak with a generation of ill-educated job-seekers -- and especially dark if they are cannon fodder for caste riots or put behind bars for breaking India.