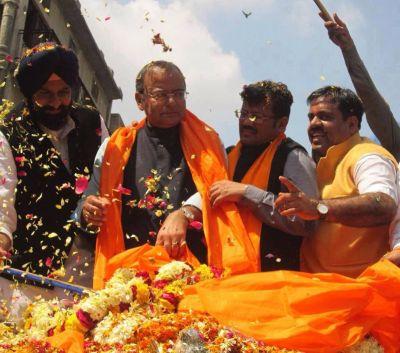 Dolly, who is leading from the front in Amritsar, wakes up early, plans things for her husband's campaign, oversees resources, does nukkad meetings and keeps busy -- all without getting into the limelight.
When Rediff.com asked her, "Isn't an election campaign like handling an Indian marriage?" "Yes," Dolly replied, "but like handling 30 weddings together."
Sheela Bhatt/Rediff.com's fascinating insights into the battle for Amritsar!
One of the constituencies most talked about in the national capital is, probably, not Varanasi or Sivaganga, but Amritsar.
Arun Jaitley, the politician most well connected to New Delhi's media tribe, is fighting his first Lok Sabha election against Amarinder Singh, the former chief minister of Punjab, from the city.
Jaitley is a heavyweight in contemporary Indian politics, but the media and party leaders always felt that the ace political strategist is too comfort-oriented to fight a Lok Sabha election.
Jaitley has now entered the battlefield, but early reports suggest he is facing stiff odds after the Congress pitted Amarinder Singh against him.
Singh, known as Captain due to his army background, appears laidback (he is the former maharaja of Patiala), but is nevertheless an aggressive Congressman who believes in high-spirited actions and blunt talk.
Jaitley, in contrast, is anything but a risk-taker. He writes a daily diary which is too soft for a Punjabi audience accustomed to 'Patiala pegs', masala food and colourful language.
In every single constituency in India, behind every politician in the fray, there is a shrewd campaign manager or the party leader's strategic support or wife or another family member who stands like a rock, working 24x7, providing much-needed psychological support to the candidate.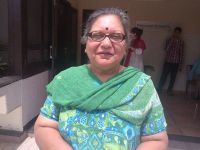 In Jaitley's case, his wife Dolly, image, left, is leading from the front in Amritsar. She wakes up early, plans things for the campaign, oversees resources, does nukkad (roadside) meetings and keeps busy -- all without getting into the limelight.
When Rediff.com asked her, "Isn't the election campaign like handling an Indian marriage?" "Yes," Dolly replied, "but like handling 30 weddings together."
So many family members, relatives and friends work tirelessly to campaign for candidates all over India. It is impossible to record how many people help a candidate win; it is certainly not an envious life. The door-to-door campaign is the most difficult thing to do under the scorching sun.
Jaitley has friends from his morning walks at Lodhi Gardens, New Delhi, lawyer friends, his family, and his extended family. Sangita, his daughter, is also campaigning in the lanes and bylanes of Amritsar. Dolly was born in Amritsar. Rohan, Jaitley's son, studies at Cornell University in the US.
Dolly is politically savvy in the way she is handling a battle that finds her husband in a tight spot. She is the daughter of a well-known Congressman from Jammu and Kashmir, Girdharilal Dogra, who was the state's deputy chief minister from 1948 to 1975 and who presented the maximum number of budgets in J&K history.
While speaking to Rediff.com, Dolly was a picture of poise, even better than the unflappable Jaitley. She knew her turf and was walking her talk. She did her MA in English from Jammu University. The couple married in 1982, when Jaitley was already in the BJP and an established lawyer.
Their wedding was attended by then prime minister Indira Gandhi, Atal Bihari Vajpayee and L K Advani.
"Arun is a straight-forward and hard-working person and that's what is reflected in his life as well," she says. "He doesn't have a love for money. If he wanted money, he would not have come into politics. He was doing so well in law, he could have gotten any amount of wealth he wanted. But he feels, and even I feel, that you don't need money beyond a point. You need money so that you can live very comfortably and all your needs are fulfilled, and once you've had that, I think it is time you give back to society that has given you so much. And that is the thought behind him coming into full-time politics."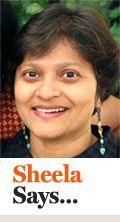 Dolly, who was brought up in a Congressman's home, says, "Now I totally support the BJP, because what is happening in our country now is totally unthinkable. I think of all those great leaders who were associated with the Independence movement, they must be turning in their graves seeing the present condition of the country. They did not struggle or give up their lives or go to jail to see the country in this situation. Seeing the present condition of the country, I'm all for Mr Modi."
Asked if she doesn't find Modi having dictatorial qualities, Dolly said, "He is not a dictator. He is strict where work is concerned, he is strict when people don't deliver, he's strict when the work is supposed to be done in 15 days and the person takes 20 days. He's a workaholic and asks other people to work as well."
She dismisses talk of lack of time in marrying a politician. "It is not an issue," she says. "I think it is the understanding we have. What is marriage? A marriage is to understand each other, that's it. Whenever I have needed him he has always been there by my side. He is very cool. I have not seen him tense."
The Amritsar battle, she says, doesn't bother her. "Oh, I'm so used to elections, it is nothing new to me. My father contested elections since my childhood. So I am capable of handling elections."
When asked whether winning Amritsar would be difficult for her husband, she said, "Listen, no election is a cakewalk. It is just media hype. Any constituency, any candidate, takes elections very seriously. When Rahul Gandhi filed his nomination so many people had gone along with him, but even he cannot say it is a cakewalk. There are other contenders over there, even they are doing their job. Ultimately he may or may not win, even Smriti Irani is a serious candidate, so is Mr Kumar Vishwas."
Asked what kind of problems the voters shared with her, Dolly said, "The number one issue is sanitation. The city needs proper sanitation, which I think is already being done, they are already laying sewers, but it has to be speeded up. The other thing is unemployment. Something has to be done so that jobs are created, and Arun has a very good vision for it. He wants Amritsar to be a tourist hub. People come here for a day and go back, but create such good infrastructure so that more hotels come up. According to me, it can be a very good wedding destination, provided the infrastructure is there."
"In Amritsar, people are looking up to Arun to deliver. They know that if they elect him, they'll get a good voice in the Lok Sabha, someone who will get projects to Amritsar, who will get money for Amritsar. In fact, if Amritsar improves, the whole of Punjab will improve."
"When I talk to the women, the biggest issue here is of gas cylinders. Electricity has become expensive, as it is produced from coal here. That is what I explained to the women, that when coal becomes expensive, electricity will also become expensive."
Arun and Dolly differ on one issue. Her all-time favourite film is Silsila, the 1981 film directed by Yash Chopra starring Amitabh Bachchan, Jaya Bachchan and Rekha, but Arun loves Mughal-e-Azam, the 1960 K Asif classic.
Image: Arun Jaitley campaigns in Amritsar: Photograph: Courtesy Jaitley's Facebook page.
Don't miss Arun Jaitley's interview on Monday, and Captain Amarinder Singh's interview on Tuesday!
Will anti-incumbency against the Akali Dal affect Arun Jaitley's chances of victory in Amritsar? Vote below!