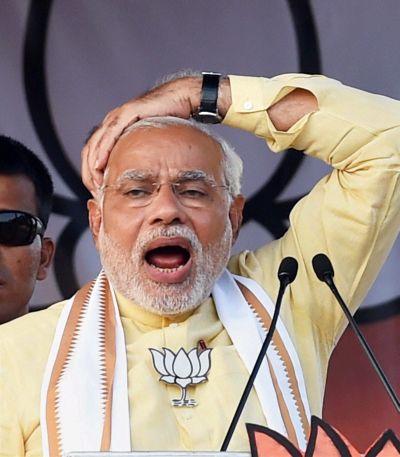 'I was never interested in politics. I'm only interested in Modi. You can say I am a Hinduvaadi person. But I have no interest in politics.'
'To preserve one's identity one has to do something. I am not from the RSS. I have never been to their shakha. I don't think this country should be a Hindu rashtra, but in this country at least we should be respected.'
'After the 2002 riots when the media and other political parties started blaming Modiji, thousands of people like us -- now it must be crores of us -- started becoming staunch supporters of Modiji. The more you blamed him, the more of our support he gained.'
Pramod Singh of Bilaspur, Chhattisgarh, is a member of Modi's India272 Web initiative, spreading the leader's message on social media and the Internet. Sheela Bhatt/Rediff.com spent a day with him.
All over India, many people including intellectuals, secular souls, Congressmen, leaders of regional parties and many senior editors hope that the television media will be proved wrong in giving Narendra Modi unprecedented coverage and disproportionate time.
They seriously hope that on May 16, it will be conclusively proven that there was no Modi wave in the country. A senior educationist from Delhi University called to say that the media's "surrender" to the "communal agenda" is painful to see for people like him. These people who have a revulsion for Modi expect that the Bharatiya Janata Party will not get more than 180 seats.
Sometimes in a volatile society like India, who wins or loses is less important than the trends that emerge out of such a gigantic political event like Election 2014.
The changes that Modi's emergence from a regional stage to the national stage are bringing in are far more complex and will take time beyond May 16 to understand. From serious activists like Medha Patkar to intellectuals like Prakash Karat to ambitious leaders like J Jayalalithaa, all will be interested to know how Modi wove his spell.
They can dismiss it as hype and marketing only at their own peril. Hype is the new real. True, Modi and his party have shown shocking money power and have manufactured an aura around Modi's leadership, but without critical mass in the form of genuine support of some sections of voters Modi could not have woven his own story around it.
What is the profile of the typical 'Modi fanatic'? What will Modi's victory or defeat leave behind? How is India of the 21st century responding to the magical connectivity of the Internet? How are urban and rural voters joining hands to make their favourite leader stronger?
To understand the mind of a representative Modi fanatic, I flew to Bilaspur in Chhattisgarh. In a way it was a blind appointment. Till I met him I had no idea who Pramod Singh was. Ajay Singh, who I met while reporting on the United Progressive Alliance government's coal scam, had spoken to me casually about Pramod Singh and given me his phone number.
We were talking about how Modi has attracted so many young people across India when Ajay said Pramod won the highest points for his postings on Modi's www.india272.com in the latter's support.
Both Ajay and Pramod are members of the select 272 team that is working for Modi. Pramod is already in Varanasi doing his bit to ensure Modi's win, while Ajay has already done his bit in Mathura, from where yesteryear's Dream Girl Hema Malini is contesting on a BJP ticket.
Bilaspur is a 90-minute drive from Raipur, the capital of Chhattisgarh. It is a relatively prosperous city if compared to the tribal districts of the state. It is an education hub, has a distinct Hindi-Indian culture, and has one of the oldest rail lines in India.
It is one of the highest revenue earning rail zones of India due to the coal mines in the area, and is a busy centre for electricity power generation.
The town of less than a million people boasts of malls, discos, farmhouses, ancient temples, Indian and foreign car showrooms and multiplexes. Its university campuses and colleges boast of wi-fi connectivity and its students are invariably on Facebook and Twitter.
Chhattisgarh is often associated with Maoism and violence, but Bilaspur and Raipur are one of the fastest-growing towns producing millionaires like any other fast-paced Indian town. Within the state, incredible contrasts exist in the living standards of people in different districts.
In a city where the mineral-rich mines of India have brought prosperity in spite of the shocking levels of disparity, Pramod Singh, 38, runs a small travel agency. Manjula, his wife, helps him from home while taking care of their two school-going daughters. They live in a small independent building painted in deep bright colours.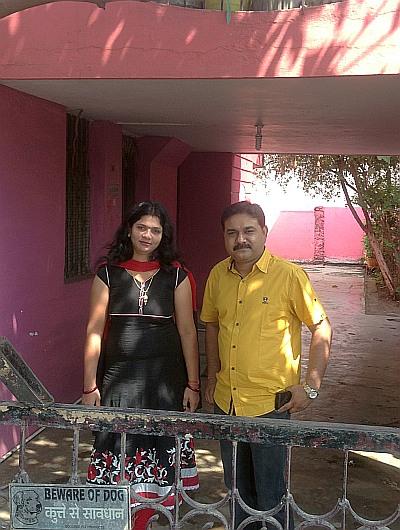 Pramod, left, with wife Manjula, is not much exposed to metropolitan towns like Mumbai or New Delhi, nor is he widely travelled. But he is one of the most fanatical Modi fans in India thanks to television and the Internet. To understand how Modi arrived in his life and how he became a Modi agent determined to spread his message, I spent a day with him in Bilaspur.
Pramod is a young Indian voter from middle India, belongs to the typical middle class segment and has the tastes of a small town man, with a lot to share. He is neither from the Rashtriya Swayamsevak Sangh nor the BJP. The elder son of a Gandhian father is an out and out Modi man.
A first person account:
"I have done my bachelor's in mathematics and master's in history. I am from Bilaspur where I have my tours and travels business. I organise tour packages and taxis. I always wanted to be a businessman.
Ramnath Singh, my father, was native of Kanpur, Uttar Pradesh, and a forest ranger. One thing that used to bother me a lot as a child was that we were never stable at one place. My father's job was transferable. Whenever we shifted, my friends would be left behind. This used to bother me a lot. There was hardly any stability.
Since then I had it on my mind that I will never do any job, I will do my own business.
My father was a man of Gandhian principles. He was non-corrupt. I had seen that in India if you have a job and if you want money you will have to do wrong things, but in case of business, it is your own hard work that matters. The more you work hard, the more you earn. In all my life I have never filled a job application form.
I have so far voted three to four times. I have never voted for the Congress. Somehow I always feel that the Congress could never represent Indian-ness. I have seen that the party always had a dual policy on national issues.
When the BJP grew to be a national party it looked like that it is our party. It must have been around 1997-1998 when Narendra Modi was the spokesperson for the BJP that I saw him for the first time. Later, due to the Gujarat riots. I came to know Modi better.
There are lakhs of people in India who sympathised with Modi because without knowing any details, any evidence, Modi was blamed for the riots. We saw it all on television and its debates. There are any number of people who thought that Modi was wronged.
How much the man must have suffered, can you imagine! For the past 12 years Modiji must have tolerated so much.
See, now he has been given a clean chit in all the cases. Where are all those people now who have been shouting for the past 12 years? I only read Hindi newspapers. At home I get the Dainik Bhaskar. I watch mostly Hindi news channels. I don't read English newspapers, I don't watch English news channels. These days I have stopped watching Aaj Tak because it is against Modi.
I watch more than an hour of news and television debates, every day, round the year. Let me add, I was never interested in politics. I am only interested in Modi. You can say I am a Hinduvaadi person. But I have no interest in politics.
To preserve one's identity one has to do something. I am not from the RSS. I have never been to their shakha. I don't think this country should be a Hindu rashtra, but in this country at least we should be respected.
Today the most helpless people are Hindus in India. In Kashmir people burn Indian flags. Only in India can such things be considered normal.
After the 2002 riots, when the media and other political parties started blaming Modiji, thousands of people like us -- now it must be crores of us -- started becoming staunch supporters of Modiji. The more you blamed him, the more of our support he gained.
People like us got into the network when Modiji started his Web site. Today all of us, the volunteers named 272 plus club, are doing all those things which we need to, to make Modiji prime minister.
In August 2013, Modiji launched India272.com. Through this Web site we came in direct contact with Modiji. It was the best thing to happen to Modiji's fans in towns and villages across India in different regions speaking different languages. From Kerala to Assam, we are talking and talking daily.
See, when Modiji launched this Web site to network with the youth of India, I registered myself along with some three lakh others. My online postings helped me to get selected among 272 members. I earned the highest points in India.
Modi's team gave me points. Like if I shared something on Facebook or Twitter, I earned one, two points for that, if you are posting something important, there were five points for that. If I post your article saying that you have said this about Modiji, there were points for that posting. I used to get five points, daily, for such activity. I made famous the 'Namo Namah' mantra on the Web site.
Modi is not a person, he is the ideology we follow.
On the India272 Web site there were many groups to select from. India272.com was a campaign that we had started for Modiji. The start of the 272 club gave our work a direction. Before that we were using our FB pages only to get connected.
For the 272 mission we invited young people to work with us. Some months back we had started a campaign to stop commenting or reacting to the people who were speaking against us because their TRP was also because of us.
In fact my telephone number was posted on FB, and I used to get threat calls even at 2 am. No matter how much anyone speaks about Modiji, we don't answer anymore nowadays.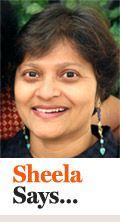 From IT specialists to doctors we can select any group on the Web site. I selected the group called NaMo Brigade, languages followers, social activists and lead writer groups.
There are groups like 'UP supports Modi', 'IT specialists of India tomorrow', 'Researchers of good governance', 'Idea of India' and other different groups in which members expressed their ideas. We share our ideas about the India that we want. We set our agenda. What all we can do, we shared. We fixed tasks for ourselves and the Web site administration approved it through e-mail.
IT specialists, businessmen like me, everyone gave our ideas, our views, through this Web site. Our voice reached Modi, easily. We got marks for posting on the 1ndia272 Web site only. I got more than two lakh marks, because I had a passion for Modi. I participated in the open forum.
When Modi held the Hunkar rally in Patna we expressed our views on the special page of the Patna rally. Likewise, we gave inputs for Modi's rallies, inputs for his speeches at various places. Thousands of us were posting our views on these pages.
They requested us to post 140-word views, but we used to express more. There was one 'Sapno ka Bharat' group. We were supposed to upload images and videos. I uploaded many videos about Modi. I interviewed the people of Bilaspur and their views on India, Modi and their problems. Most of them talked about corruption and price rise, I got many Likes.
There was a panel of judges. Paresh Rawal, Navjot Sidhu, Kirron Kher, Dr Chandraprakash Dwivedi and Vivek Kant Singh who is a Modifier. Those who were selected in the competition were taken to Delhi to meet Modi.
The biggest day for us was September 13, 2013, when Modiji was declared the PM candidate in Goa. That day we felt the happiest. I'm on social media for five years but I was delighted on that day talking about Modi online.
India needs Modi's leadership and we will work hard for it. It was my good luck that I was selected to be a member of the 272 club through my postings online. You can say it was my fate that I got a chance to join Modi and also to meet him face to face.
Sitting in Bilaspur, every single night, I was writing in support of Modi on Facebook. I got noticed by Modi's team who approached me and others like me. We were invited to a dialogue programme which was organised on January 9, 2014 in Delhi's (the BJP's national) Ashoka Road headquarters.
All the young online fans of Modi who had come there were from different regions, only one fan was from Gujarat. There were South Indians also. K P Haridas from Kerala, Dhairya, a Gujarati boy from Mumbai, Kuldeep Kataria from Rajasthan, Gautam from Delhi, Arvind from Kolkata were also invited by Modi's team.
Much before the election campaign started we believed there was a Modi wave outside Gujarat. Today when I talk to our people in Tamil Nadu, Maharashtra, Karnataka and even West Bengal, there is not a single state where the BJP is not going to get votes.
Since the last six to eight months we talk daily late at night. From all states young people join us on Google hangout, chat rooms etc. Our friends from UP repeatedly say that in the history of their state this will be the first election where voting will not be done on the basis of caste. This is the biggest change in UP and the only reason for it is NaMo.
We don't think he is an autocrat. We ask a counter-question: What is the Gandhi family all about?
We are not blind followers of NaMo. We were blind to the problems affecting India since the last 10 years. Don't you know how the railway minister's nephew and the minister himself were involved in a bribe case? Still, Mr P K Bansal is made only a prosecution witness.
We are not RSS members nor do we know anything about the BJP. We are online fans of Modi. Till recently I was unaware of any local BJP leaders. In the meeting we met Modi and we were addressed by him and also by Smriti Irani and Piyush Goyal. Piyush Goyal's speech was very impressive. When I met Modi I found him to be a Divya Purush (divine man) , I said 'adabhoot (wonderful) .'
Team 272 is led by Arvind Gupta in New Delhi. He also addressed us at the event.
After my first meeting with Modi, I became an offline fan too. All online fans of Modi started working on the ground. I was in charge of Bilaspur constituency where I was supposed to make a team of volunteers. I am called the 'parliamentary seat coordinator' of Bilaspur.
I am also on the Bilaspur IT team. We are working hard to collect the database of voters's ID numbers. We request people to sms their voter's ID to 7820078200. In the entire state my ranking is the first in collecting voter IDs. I am among the top 10 people in the country too, in doing so.
Initially, on the India272 Web site, only 16 fans were registered from Bilaspur. I started operating from my own office. In less than a month around 150 volunteers were recruited by me. They are with Modi and not the BJP.
We follow the India272 mission. We don't follow the BJP's programme. Before recruiting volunteers we asked them how much time they can devote for Modi. I have decided to give my entire time to Modi till the election. All of us, lakhs of people, are not looking at our own profit and loss, we are looking at the future of India.
If Modi becomes PM we know for the next 10, 15 to 20 years we will have a leader who will work day and night to make India stronger. He has set an example by governing Gujarat well.
The Bilaspur Lok Sabha seat has eight assembly seats and we have prepared teams for each. Their only job is to ensure that people go out and vote. As the election came closer team 272 contacted the local BJP offices all over India. In my case, I found that they were welcoming of us. We were not concerned about our local candidate, our candidate is NaMo.
I would like to tell everybody that you will know Modi only in 2019! When he will do great work for India. There is no question of Modi losing this election. The BJP and fans of Modi are working alongside. We have worked too hard.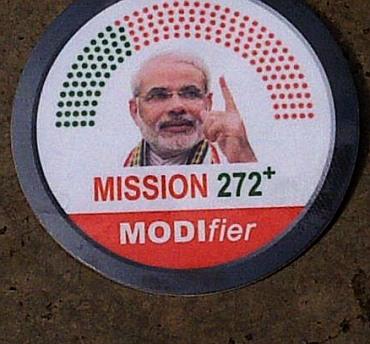 We, India272, are called Modifiers, we are in lakhs. We have got our badge, image, left. All top scorers were given badges. Most of us believe that development is the biggest of all issues. Hindutva is something personal. In our online chats we don't talk about Hindutva.
I personally think in 2002 Modi's appeal was Hindtuva-centric, but today Modi attracts due to his idea of development. Maybe you can say, a man like me in Bilaspur gets connected to Modi in Gandhinagar because I feel he is a nationalist. I am also a nationalist. That connects.
In fact, those who get registered on phone number 7820078200 to join the 'Modi for PM' campaign are not typical BJP people. The BJP may be working hi-tech, but in Bilaspur it took two days for me to explain to potential volunteers what India272 stands for.
In a poor country like India the Internet is growing slowly, but still it does matter. I at least don't find it difficult to spread the word on Modiji because people know about him already through television. A five-year-old boy in Bilaspur may not know who the prime minister of India is, but he knows Modi.
I am in Team Bilaspur, likewise, there is Team Chennai, Team Mathura, Team Kanpur etc, and each team has a minimum of 150 people who work for NaMo.
Our teams are not in all the 543 seats of India. We have selected those seats where the BJP has a higher chances of winning.
Don't ask me again and again about ifs and buts... We are going to win. NaMo is the next PM of India.
If, as critics claim, Modi gets only 170 seats, then we are going to die!
You know, not only don't we think about Hindus and Muslims in a different tone, but in my case I even like Rahul Gandhi. But only after 15 years will he be good for India.
To know India well you don't need to pick up mud or eat in a poor man's house or travel in local trains or metros. Are you a foreigner? It is shameful to see that to know India you are doing all this. Haven't you lived life on this dharti (land)?
When Rajiv Gandhi became the real Rajiv Gandhi, he died, unfortunately. When he was out of power he was very likeable. If in 1992 had he come to power,, India would have been a different country.
Similarly, Rahul Gandhi is not old and the way he works, it seems he needs 15, 20 years more. Then he will come to know what India is. Right now, he has no opinion of his own.
Those young people who support Modi are convinced that NaMo will bring in a second freedom struggle. We want to become an economic power. NaMo will do it.
Today, only if you are economically prosperous are you the world leader. So we should head in that direction.
What did the Congress do in the past 10 years? How hopeful we were in 2004! Where are we now? Modiji will take 5, 10 years but, at least after those five years we will be back in the race to compete with China.
The US will be standing in a queue with a visa and we will have the audacity to refuse it.
Image: Narendra Modi addresses an election meeting. Photograph: Ashok Bhaumick/PTI Photo.
Will online support for Modi convert into votes on the ground? Vote below!