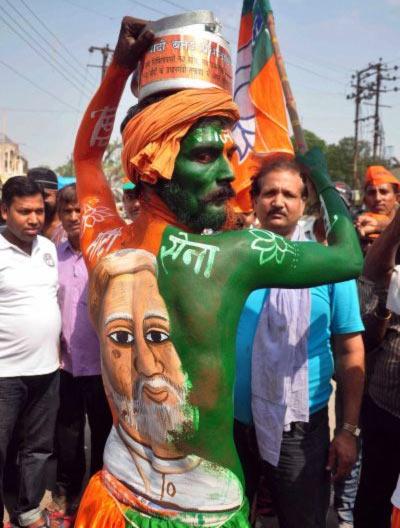 It is unusual to see Narendra Modi highlight his OBC status -- something he has never done in his long political career.
Sheela Bhatt/Rediff.com examines Modi's compulsions for bringing his caste to the foreground.
Narendra Modi has been chief minister of Gujarat since 2001, but he has never ever identified with his caste.
As the Bharatiya Janata Party's prime ministerial candidate he was not in a position to overtly play the Hindutva card because he carries the baggage of the 2002 Gujarat riots, but the modern development card has its limitations in the caste-ridden and emotional society of Uttar Pradesh and Bihar where 120 Lok Sabha constituencies are at stake.
Modi waited for an opportunity to redefine his public identity for the sake of the last two phases of the election.
The Congress party gave him the opportunity to be opportunistic with 41 seats still to go to the polls.
Some months ago, Amit Shah, who is in charge of the BJP's election campaign in Uttar Pradesh and a realist politician, started pushing Modi's OBC caste card in the interiors of UP, but sources claim Modi was opposed to it.
As the election entered a critical phase, while speaking in Lucknow, Bihar and earlier in Orissa, Modi started speaking about his caste, but didn't repeat it with emphasis. He clubbed it with his 'chaiwallah' identity.
The Rashtriya Swayamsevak Sangh, once a Brahmin-dominated organisation, has quite clearly changed its social-political policy and has started believing that to unite Hindus society it wopuld have to get rid of the caste divide. Modi, too, believes so.
But, in love, war and Indian elections, anything goes.
At a public rally in Uttar Pradesh this week, Modi asked: 'Is it a crime to be born in a lower caste?'
For the last few weeks Modi has been desperate to highlight his caste identity.
One of the stalwarts of caste-based politics in Gujarat and a former chief minister is surprised to see Modi talk about his caste. He told Rediff.com in an off-the-record conversation, "The man (Modi) who never uttered a word about his caste in the last 10, 12 years is talking about it. It shows his desperation. (raghvayo thayo che!)
Modi's caste is known as 'Modh Ghanchi' in Gujarat. Please click here (external link) to know more about it.
Modi has merely said that he is born in a neechli jaati, meaning low caste. He has not clarified anything more.
This round of controversy started when Priyanka Vadra issued a statement condemning Modi's 'neech rajniti'. Modi is right when he says that in Gujarati popular parlance the word neech refers to the 'lower caste' and not necessarily 'low level'.
Technically, Modi took refuge behind the excuse that he has studied in Gujarati and he took it as an insult that he was referred as 'neech. The Congress is crying foul because Priyanka had used a Hindi word neech.
In Gujarati neech is used as an abuse too. Bahujan Samaj Party leader Mayawati cleverly asked Modi to define his exact neechli jaati because she feels her loyal Dalit-Jatav votes are getting divided horizontally after Modi's aggressive campaign. A percentage of Jatav youth is siding with Modi, her party leaders claim in UP.
Mayawati wants to ensure that Jatavs don't buy Modi's neechli jaati claim. Neechli jaati is a vague term and Mayawati wants to ensure that her loyal supporters understand that Modi is an OBC, and not a Dalit.
Brajesh Shukla, a senior journalist based in Lucknow, says, "Modi is gaining immensely as the 'Modi is an OBC' story is spreading in villages too. He understands the local mindset and his identity has clicked."
However, a day after Modi's claim of being born in a neechli jaati, the Congress is seriously contesting the claim. The Congress alleges that Modi is an upper caste and can be clubbed only with the powerful 'Baniya-Brahmin-Patel' political alliance in Gujarat which fought violent battle against caste-based reservations in the early 1980s and any kind of affirmative action to uplift the neechli jaati.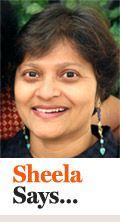 In the 21st century, such a post-mortem of Modi's caste-DNA is nauseating, but since Modi himself has declared he was born in a neechli jaati he cannot escape the debate now.
The moot question is -- is Modi an OBC?
"Yes!" says Achyut Yagnik, co-author of The Shaping of Modern Gujarat and a staunch critic of Modi.
Yagnik, an Ahmedabad-based thinker and social activist, says, "The Modh Ghanchi community is part of the Other Backward Classes in Gujarat. They are NOT upper castes."
Explaining the background of the community, Yagnik says the Modheshwari Devi temple is near Vadnagar, where Modi was born, and his family has lived there for generations. All the followers of Modheshwari Devi are known as Modhs.
"Mahatma Gandhi was a Modh Vaniya. I am a Modh Brahmin," says Yagnik. "Those who indulged in the small business of oil extraction are known as Modh Ghanchis. They were engaged in oil pressing till the early 20th century, but as modern oil mills came up they started dealing in other commodities."
"As far as I know, one of Modi's family members was in a village-level small-scale jaggery business, so they are known as 'Modi' (merchant). Traditionally, they were small-time traders dealing in one or two items in their villages."
From North Gujarat, Yagnik says the followers of Modh Devi spread to other parts of Gujarat.
Kadir Peerzada, a Surat-based religious head and the Congress's leader of Muslim Ghanchis, says like the Hindu Ghanchis, even Muslim Ghanchis are part of the OBCs in central Gujarat and they enjoy reservations. They too have been involved in the oil extraction business and they are in large numbers in Godhra.
Peerzada has presided over many Ghanchi Muslim social function; they benefit from reservations as they are OBCs, he says.
In Gujarat, during the government headed by of Babubhai Patel, a commission was formed under Justice Baxi's chairmanship to fix castes under the Other Backward Classes. The Baxi Commission came up with a list of just 82 castes as OBCs in 1978.
As expected, this list created heartburn among those who were not included in spite of their claims. Some 38 communities, including Modh Ghanchis, were added to the state list in 1994.
Modi's Modh Ghanchi community was included in the official OBC list of Gujarat under the Baxi Commission norms by the state social justice and empowerment department's government resolution on July 25, 1994, when Chhabildas Mehta was chief minister and Shaktisinh Gohil was a minister in his cabinet.
But now Gohil, a senior Congress leader, is against Modi's claim.
Ahmedabad-based newspapers have quoted Gujarat Finance Minister Nitin Patel as saying that the Government of India included the Modh Ghanchi community by notification in the extraordinary gazette no 246 dated September 6, 2001 (one month before Modi became chief minister).
After the inclusion of the Modh Ghanchi community in the central OBC list, the Gujarat government's Social Justice and Empowerment department issued revised the central OBC list in January 2002, which Gohil is referring to.
This creates doubts that Modi did the ground work to counter Keshubhai Patel's upper caste identity with his own OBC card, says Gohil.
Gohil's facts are correct when he says that after Modi became chief minister the government resolution dated January 1 2002, was presented before the media which established that the Modh Ghanchis were on the OBC list.
'By acquiring OBC status for his selfish motives, Modi has in fact encroached on the rights of OBCs,' Gohil told the media.
'Modi is a man born into an upper caste and is indulging in low-level politics,' Gohil added.
Yagnik disagrees. "In the social pyramid of Gujarat, Ghanchis were always considered a backward community."
In 1985, Yagnik was the founder member of a pro-reservation committee and continues to be its trustee.
Caste is an anthropological issue. The Supreme Court's Mandal judgment has clearly said that the time factor has nothing to do with the recognition of castes. Meaning if tomorrow a new caste is added to the OBC list, then those born into that caste can't be considered as born into a rich upper caste community only because at the time of their birth the state had not included them in the OBC list.
One of the senior-most social leaders of the Modh Vanik Samaj based in Bhavnagar told Rediff.com, "Narendra Modi was a joint secretary (of the BJP) in New Delhi in 1998-1999 when he, as an upper caste Baniya, helped bring out the Modh Puran Shastra. Not only that, he knows he is an upper caste Baniya and accordingly represented the Modh Modi (external link) (and not Modh Ghanchi) community in our function to launch the well-researched volume on the Modh community's ancient history in Bhavnagar in 1999."
"At the same function Modh Brahmins were represented by Kathakar Ramesh Oza. In our mind there is not an iota of doubt that Modi is an upper caste Baniya," says the office-bearer of the upper caste Modh Vanik Samaj.
Another proof of Modi's upper caste credentials, he adds, is that most of his brothers and sisters are married into the 'Modh Vanik' community.
Gohil held a press conference questioning Modi's OBC status that the latter is so eager to highlight. And he has a political story to tell.
When Modi wanted to overthrow Keshubhai Patel to become chief minister of Gujarat he plotted a theory. Since Keshubhai belonged to the politically most powerful caste in Gujarat, he wanted to pitch for the OBC card to counter Patel.
Modi asked Bharat Barot, then a minister in Patel's cabinet, to send a request to the central government to include Modh Ghanchis in the central list of OBCs in Gujarat. Then, the Atal Bihari Vajpayee-led government was in power.
'Modi got the Centre's approval for the Modh Ghanchis as OBCs,' Gohil says, 'and in 1999-2000 the resolution was issued.'
In this political twist, an interesting thing to remember is that in Gujarat, Modi's youth was shaped by his party's participation in the anamat andolan (movement against caste-based reservation) against the strong OBC leader Madhavsinh Solanki, chief minister of Gujarat in the early 1980s.
Solanki was credited with the KHAM theory that energised the social-political alliance of Kshatriya, Harijan, Adivasi and Muslim. It was an envious and unbeatable combination that gave a thumping majority to Solanki that even Modi has never been able to rival.
Due to KHAM's domination, the Brahmin-Baniya, upper caste Kshatriyas and Patels felt frustrated. They were acquiring economic might, but their political power was shifting away from them under Solanki's charismatic leadership. In his caste-centric politics he was fully backed by then prime minister Indira Gandhi in New Delhi.
Then, the Gujarat BJP became a natural ally of the upper caste war against 27 percent reservations for OBCs that Solanki was awarding those communities. The BJP opposed it tooth and nail. Modi was a leader in the making and acting as an RSS pracharak. He was one of the backroom boys at the RSS headquarters in Maninagar, Ahmedabad, working against caste-based reservations, alleges Arjun Modhawadia, president, Gujarat Congress.
Modi worked under the leadership of Ashok Bhatt, then a stalwart of the Gujarat BJP during the heady political times of the anamat andolan. Even then, Modi was shrewd and highly focused.
In Gujarat, throughout his eventful career, Modi has publicly never spoken about his own caste, or against or in favour of any caste.
Post-Mandal politics has forced Modi, his party and all saffron forces to declare their faith in reservations because it brings votes.
Once the BJP opposed V P Singh's caste politics, but now everybody, including the BJP, is a Mandalite.
Does it matter if Modi is an OBC? Vote below!