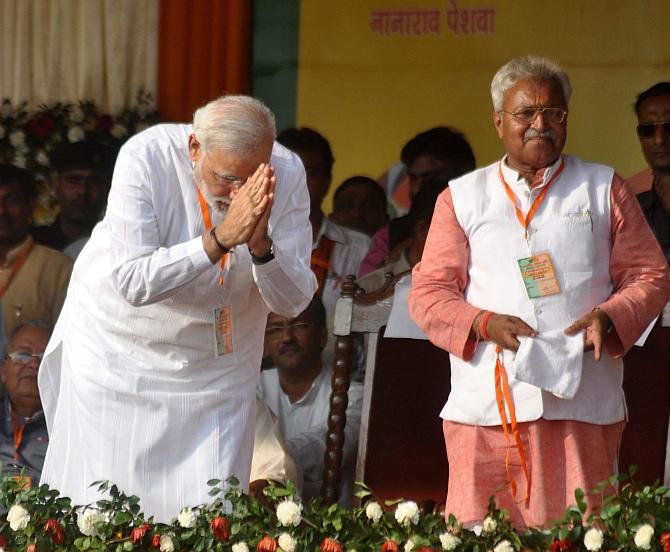 'There was an overt campaign and there was a covert campaign. The overt campaign may be development, government, and all this nonsense. But the covert campaign, which Mr Amit Shah was doing, was far more important with the help of RSS cadres. This has been an RSS election. From day one I have been saying, this is not Congress versus the BJP, this is Congress versus the RSS.'
Sheela Bhatt/Rediff.com asks Jairam Ramesh, one of the key strategists of the Congress party, what lies ahead for his party, and the nation.
ALSO READ: 'Modi represents the T20 generation'
On May 15, with less than 24 hours to know the final results of Election 2014, Minister for Rural Development Jairam Ramesh met Sheela Bhatt/Rediff.com. For the last many years he had refused to meet Sheela, but on his last day in office, with just a few hours left, he agreed to discuss the Congress campaign, Narendra Modi's marketing, and the future of the Congress.
Jairam Ramesh helped Rahul Gandhi formulate some of his strategies before and during the election. He is considered adept at scripting speeches and is also well-versed in world affairs, economics and global trends, and even on the latest gossip in New Delhi.
Jairam Ramesh is a versatile man, but not really a political leader. When he articulates the Congress' politics he sounds more like a brilliant lawyer speaking about his client.
He is neither a mass leader nor does he know the idioms that caste-based voters understand, but Rahul Gandhi likes Jairam Ramesh.
Throughout the last 10 years Ramesh has enjoyed disproportionate power if compared to his political base. He could do so on the sheer strength of his capacity to study issues, draft formulas and prepare speeches for his leaders. He handled the Telangana issue in its later stage.
Within the Congress he has few friends, but he had the best of ministries and the best of budgets because of Sonia Gandhi and Rahul Gandhi's support.
In a conversation with Rediff.com, while continuously fiddling with his mobile phone, Jairam Ramesh puts his best foot forward to defend the party that has given him so much.
We are at a very interesting day and time. Do you think India is witnessing a tectonic change in Delhi?
You know, the election campaign has been fought. It has been a long and acrimonious election campaign. It is also an election campaign that has been marked by an extraordinary degree of individualisation by the Bharatiya Janata Party.
The BJP was the ultimate party of equals where you functioned as a team. But in the 2014 election the BJP was completely invisible and it was one man, one individual, whom the party projected, and who projected himself.
Jawaharlal Nehru, Indira Gandhi were all charismatic individuals, but it was still the party that carried them, you know. But this time, in 2014, I think the party has been reduced to a zero. And it has become a cult of one individual, on which this election campaign was run. So I think to that extent this campaign is a different kind of a campaign.
But Jairam, you and us (the media), all of us knew one year back that this is the way it is going. Why then was the Congress caught unawares?
No, the Congress is not caught unawares. The Congress knew from day one. We've been saying that the Congress strategy was that we have a parliamentary system of government. We have a system in which parties fight elections on the basis of their manifestos, their achievements, their promises, their values, their ideologies, their history.
Parties get election symbols, individuals don't get election symbols. And we, consistently, from day one, have been saying this, that the bedrock of Indian democracy is the party, not individuals.
The BJP campaign was not a party-centric campaign. Our campaign was a party centric campaign.
But wasn't it your duty as a mainstream party, to fight back?
Of course, we fought back.
Actually, you know, whatever you have said, it seems that it is a kind of an admission that your strategy didn't work.
If you're looking for a headline...
No, I'm asking you... You didn't want Rahul Gandhi to be pitted against Narendra Modi.
But that was (so) from day one. We were very clear that we were not in this game for electing a PM. We wanted the mandate for the party. If you elect Mr Gandhi, well and good.
One shouldn't trivialise a very serious issue. This is a very serious issue. The nature of democratic elections in India, this is not the American system. This is not a presidential form of government where you vote for one individual.
You vote for a party, the party gets the mandate. What the party does with the mandate is the responsibility of the party.
But in 2009, we had an incumbent PM. You know that a question was asked of Mrs (Sonia) Gandhi during the manifesto release, what happens to the incumbent PM? She said he'll continue to be the PM. That is what she said.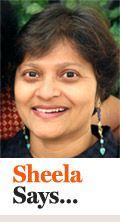 I understand your point. But can you tell me why the Congress failed? Why the media feels and a lot of people feel, that the Congress didn't fight it well. There was a lack of killer instinct.
Killer instinct doesn't mean you go and kill. So killer instinct... Certainly many of our opponents have a killer instinct by that definition. Even though they may get clean chits here and there.
But, no, I don't think so. I think we ran a campaign. Our campaign was based on certain principles. Our campaign was a positive campaign. It was not a negative campaign to keep A or B out of power. Our campaign was to get the mandate for ourselves.
In that process we had to not only highlight what we had done, but also expose what the opponents' claims were, you know. The claims were not what they were meant to be. The claims were highly exaggerated. That has been our campaign and I think there is nothing wrong with the execution of it, with the principles on which our campaign was founded.
Then what did not work?
Who said it did not work?
Do you find India is changing and that's why they are welcoming Modi? Modi has got support.
It is by no means certain that he is welcome everywhere. He is welcome in certain parts. There is a lot of buzz about Mr Modi, because of the social media and the extraordinary amounts of expenditure that he himself has incurred.
It is marketing. He has marketed himself, marketed himself aggressively. And that marketing has taken place almost over a period of one year.
He has spent huge amounts of money. Where this money has come from, I don't know. Who is funding this, I don't know. I don't have any inside information. This has not come for free.
Nobody has done this out of love or altruistic instincts. It has cost a lot of money. This whole projection, the multimedia projection, this constant bombarding of messaging through different media, has not come for free. It is a hugely expensive proposition, marketing in today's day and age.
But you are also part of the Congress leadership. Don't you think you did not foresee these things? Of what Modi is up to... Even that much general intelligence you guys didn't have.
So what were we supposed to do? I don't understand.
Counter it.
Are you the strategist or are we the strategist?
I'm asking you.
I'm telling you, we had a campaign. Our campaign was from, a positive point of view, a party-centric campaign. We did not want to reduce it to a tu-tu mein-mein kind of a campaign. We wanted to keep it at one level, and let me also say that contrary to all the claims being made by Mr Modi and his lieutenants, particularly Amit Shah, the campaign was, there was only one subtext to Mr Modi's campaign and that was communal polarisation. Particularly in UP and Bihar.
Not development?
No. Where was development in UP and Bihar? The day Muzaffarnagar happened, the day Mr Amit Shah was made in charge of UP, and the day Mr Modi declared himself the candidate from Varanasi, it was clear that development was a mukhota, a sort of a facade.
But the real strategy was that there is an overt campaign and there is a covert campaign. The overt campaign may be development, government, and all this nonsense, you know. But the covert campaign, which Mr Amit Shah was doing was far more important with the help of RSS cadres. This has been an RSS election.
From day one I have been saying, this is not Congress versus the BJP, this is Congress versus the RSS.
When you look back, do you feel that if Rahul Gandhi was declared the prime ministerial candidate, it would have been much better?
No, it would have been a complete negation of our democratic ideals and principles. It would not have helped the Congress party. This is not a election; Kaun Banega PM? Kaun Banega Crorepati is okay for Star News, but kaun banega pradhan mantri is not what makes our democracy run.
What makes our democracy run is: Kis party ko janadesh milega? Kis party ko bahumat milega?
The way Priyanka Gandhi got adulation and how the media went crazy in Amethi, don't you think...
Ms Priyanka Gandhi didn't seek it out. It's the media that went after her. You know, the media also has to introspect. It requires buzz, it requires masala. Modi provided the masala. Priyanka provided the masala for a couple of days when she was campaigning in Amethi and Rae Bareli.
What will happen to the Congress party if Modi becomes PM?
The Congress party has been around for 128 years. And it is going to survive. It is going to be part of the Indian system. The Congress party is governing in many states of India. And I don't think anybody, nobody, should underestimate the resilience of the Congress party.
Rahul Gandhi has not been accepted as much as he should have been because you know the states result also...
I don't make such sweeping generalisations that he has not been accepted or he has been accepted. He's a young man. He is 44 years old next month, he has got a long, many years ahead of him.
Do you think due to the social media buzz and the way India is changing, this particular dynastic tag and dynastic leadership is a problem?
So Badal is not dynastic? Thackeray is not dynastic? M K Stalin is not dynastic? Naveen Patnaik is not dynastic? Who are they? Even Mamata Banerjee is able to field her nephew in South Calcutta and says mein parivaarvaad ke khilaaf hoon! That is not dynastic? What is all this?
There is nothing automatic in a dynasty. Remember that. You have to renew yourself through a democratic process. Indira Gandhi lost an election. She lost, you know, for heaven's sake! And she came back. I mean, that is the democratic principle.
So what went wrong when you look back?
That is a very premature question to ask.
It is just few hours left, Jairam.
No, it is a very premature question to ask.
But there are some problems, some issues with the Congress. Do you accept that?
The Congress party... Certainly we have to become stronger in Tamil Nadu, we must regain our strength in UP. Mamata Banerjee has taken away a bulk of our vote bank after a coalition in Bengal. Yeah, we have to get these in shape.
We have been out of power for 10 years in Chhattisgarh and MP. Rajasthan, of course, you know it vacillated.
But MP, and even Gujarat, although we get 40 per cent of the vote, we've been out of power for 13, 14 years.
Do you think Modi can be a good PM?
Frankly, the model he has adopted in Gujarat, his management style, political autocracy and social divisiveness, it will be a disaster for India. You know, if he is going to continue in the way he managed Gujarat and a lot of the hype that is associated with Gujarat.
I mean, Gujarat was a developed and advanced state long before Mr Modi became chief minister. Gujarat is where it is not because of Mr Modi. Gujarat is where it is because of Gujaratis. And successive chief ministers Balwant Rai Mehta, Jeevraj Mehta, Hitendra Desai, Madhavsinh Solanki, Chimanbhai Patel, Keshubhai Patel, Amarsinh Chaudhury, you go back in time.
And it is the nature of Gujarat society. Trade, entrepreneurship, commerce, pragmatism.
Huge public investment that went into Gujarat. People forget. Refineries, petrochemicals, gas pipelines.
So Gujarat, from the 1960s onwards, you look at the 1960s or the 1970s or the 1980s or the 1990s or the 2000s, you look at any indicator of economic growth, Gujarat was on top.
In fact, if you do a comparative ranking, Gujarat used to be number two or three in the 1970s. It has become number two now. Not a great movement from number three to number two. But you look at Tamil Nadu, it has come from number nine to number five. There are other states that have done far better than Gujarat in its totality. Not just in business, but in education, health, sex ratio, so on so forth.
But in the last 10 years the way things have gone, people seem to be very unhappy and people also think that when you came to power in 2004, India was taking on China as if India was competing with China, but right now...
The pendulum can't swing from one end to another. What you need is not macho... India cannot be governed through macho men, India has to be governed compassionately, sensitively, but effectively.
It has to be effective governance, it has to be sensitive governance. It has to be responsive governance, but also responsible governance.
And it is not at all clear to me that Mr Modi as CM of Gujarat has demonstrated the necessary capability for running a complex country like India. He is a very divisive personality.
Why then is the youth of India connecting to him?
Not all of it. There is a novelty factor. There is a 10-year incumbency factor. There is also a huge marketing factor.
Who stopped you from marketing your party?
We are marketing a party, we are not marketing an individual. That is the difference. We are marketing our party's achievements. Whereas in the case of the BJP the party has ceased to exist.
Is secularism dead?
No, no. If secularism is dead, India is dead.
Don't you think the Congress needed to reinvent the entire issue of secularism...
Secularism means different things to different people. What is secularism ultimately? Secularism is not a Hindu-Muslim issue alone. Secularism is also about how Hindus think about their own worldview and their own society. The majority of Hindus are secular. They are liberal, open-minded, they're tolerant. That is also secularism.
But still many of them support Modi.
Fine, so they are different. People have their own expectations. So many people are supporting Mayawati. Many people are supporting the Samajwadi Party. I don't want all people to support only one party. We don't want one party rule in this country.
So I think there is intense political competition. All political parties are vying for their place in the sun. And each party tries to have a plank on which it seeks the support of the people. But there are certain planks that are given. And secularism is one such plank.
If you are going to question secularism, you are going to question the very basis of India.
You are questioning the basis of the Constitution.
,p>You are questioning the basis of India.
Do you think people have thought we will take care of secularism later, let us have roti kapda makaan and for that they are shifting?
No, that is a completely wrong approach.
Why? People want water in the house. You yourself said once that we have more mobiles than toilets.
You can't have development if there is no social harmony. Social harmony doesn't come by fear. Social harmony comes from confidence in the people. That the government is going to be fair, that administration is going to be fair, that there won't be any discrimination against you on the basis of religion or caste or language or your region.
We take for granted that people who are voting for Modi or the BJP-NDA, they are not all communal people. They are Indians. So they must have thought well.
I am the first one to say that not all who are supporting the BJP are communal, no, it is not. But the BJP is a communal party. The BJP's ideology is a communal ideology. They may try to reinvent themselves. They may try to give new labels to themselves, but fundamentally the ideology of the BJP, rooted in the RSS, (RSS founder Dr Keshav Baliram)Hegdewar, (The RSS's second Sarsangchalak, Madhav Sadashiv 'Guru') Golwalkar...
You know, Mr Vajpayee was a moderate liberal. Mr Modi makes Mr Advani out to be very secular and very liberal, I mean that is a great achievement as far as Mr Modi is concerned. But yes, not everybody who votes for the BJP has got a communal agenda.
So, according to you, why are they still voting for a communal party?
Maybe their expectations from that party are more. They are expecting that that party will deliver. Maybe they want a change, maybe the Congress has not come up to their expectations. There are various explanations.
Why could the Congress not come up to their expectations?
I have not sat down and done a psychological analysis of why... These are alternative explanations ... That the Congress did not come up to their expectations, if the expectations from themselves have changed.
Was there an anti-Congress vote or a pro-Modi vote?
I don't believe in these sharp distinctions. Pro this or anti that. I think the situation is far more complex than what it is. I am not saying they didn't vote for them, they voted against us. I don't subscribe to this theory. It is a combination of factors. Why is Mr Modi unable to make any dent in Kerala? Why don't you ask yourself that question?
They might get some percentage of votes.
They've always been getting percentage of votes. It is not as if... The RSS is quite strong in Kerala.
Narendra Modi did not speak in a Hindutva language, he talked about development plans.
What are you talking? This is factually not true. You look at the last phase of the UP campaign. Look at the Bihar campaign. Look at his statements on the Bangladeshi issue.
That is a foreign policy issue.
It was not. It was to incite. Distinction between refugees and infiltrators, what is it? No. He tried to make development and governance the mukhota.
But the game was clear. From day one. And Muzaffarnagar was the public face of the strategy. And what is unfortunate about Muzaffarnagar is that the same type of cynical politics the BJP played, the Samajwadi Party also played. This is unfortunate.
But the BJP thought we will gain from majority communalism and Samajwadis said okay, we will gain from minority. It is cynical, both parties, the BJP and Samajwadi. In many ways the Samajwadi Party is a mirror image of the BJP.
There is a kind of scare about Modi. Is there?
Mr Modi, unlike Mr Vajpayee who was a product of a certain era, he was part of a Nehruvian/Gandhian era, there was a certain broad consensus on how the country should be governed. Mr Modi doesn't come from that stream. Mr Advani also comes from that stream although he has his own problems, but he comes from that stream.
So Mr Advani, when he goes abroad, has no compunctions about praising Indian democracy and Nehru and all that. He comes from a certain era.
But remember that Mr Modi, probably India's first PM aspirant, a man who wants to be PM, was born after Independence. Mr Rahul Gandhi is also born after Independence but he is also a product of a certain environment where these things are taken for granted. Secular values are taken for granted. Mr Modi doesn't come from that environment.
He is a hardcore RSS man. And the RSS ideology negates Tagore's ideology, Gandhi's ideology, Nehru's ideology. It even negates Patel's ideology although now they are trying to appropriate Sardar Patel.
Image: Narendra Modi in Kanpur. Photograph: Sandeep Pal