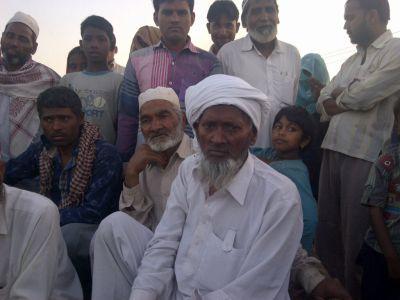 'Even if Akhilesh Yadav opens up the entire state treasury for us we will not vote for the Samajwadi Party.'
'I don't want to return to my village, my head will be chopped off. They want me to press the button on the lotus.'
Caught between an aggressive BSP cornering Dalit votes and the BJP cornering other Hindu votes, the Muslims of Muzaffarnagar have nowhere to go, no one to turn to.
Rediff.com's Sheela Bhatt presents the grim situation on the ground in western Uttar Pradesh.
Read the first part here: In Muzaffarnagar, it is one man versus the rest
On April 8, sitting in the main bazaar of Shahpur village, Umesh Malik, the Bharatiya Janata Party leader who lost the assembly election from Muzaffarnagar district in 2012, says something that gives me goose bumps.
We are discussing the communal riots of September 2013 in Shahpur, Khatauli and surrounding villages, its impact on the Muzaffarnagar Lok Sabha election and the people's aspirations in small towns like Shahpur.
While discussing the image of the BJP and its leader Narendra Modi in small hamlets and in the vast stretches of sugarcane farms, Malik says, "After the riots, in sugarcane farms, I saw the family of a poor farmer who planted a small BJP flag in the soil with a saffron cap with the line, 'Vote Modi for PM' on it. While cutting cane under the sun, they said, 'We keep our eyes on the cap thinking THIS is Modi. He is present here. Modi is giving security to us. When we work looking at it, we don't feel tired'."
This is the terrifying level of insecurity among people in hundreds of villages in western Uttar Pradesh. Since the communal riots last September, the people's anger has turned into anguish, and it is aggressively reflected in the BJP's feverish political campaign to corner and convert Jat and Dalit anguish into votes.
When you prod further, the Hindu farmers are not angry with Muslim farmers of the area anymore. They have lived in the same neighbourhood for generations and own farms side by side. The fury of September 2013 has gone, but the divide is visible due to the election season.
Just 30 minutes before the election campaign for the Muzaffarnagar Lok Sabha seat ended on April 8, young voters, children and shopkeepers in Shahpur town took out a procession dedicated to Modi.
'Modi... Modi... Modi...' the crowd chanted in lyrical rhythm for one hour, with victorious smiles on their faces, in this well-off town of 40,000 that boasts of a 40+ per cent Muslim population.
Bunty Baliyan, a graduate in computer applications who has a business in costly farm equipment, tells Rediff.com, "Madam, I swear, all these people are spending their own money to ensure that Modi becomes prime minister and Akhilesh Yadav's Samajwadi Party loses the election."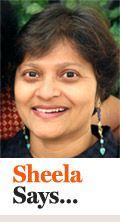 In Muzaffarnagar, Sanjeev Baliyan, the BJP's candidate, has a PhD in veterinary anatomy. He is trying to evict the sitting MP, the Bahujan Samaj Party's Qadir Rana. Muzaffarnagar is one of the highest revenue earning districts in UP and has a strong economic base of paper, steel and sugar industries.
Local Hindus and Muslims are both furious with Akhilesh Yadav's Samajwadi Party government for different reasons.
The Hindus think there is a clear-cut Samajwadi Party agenda to appease Muslims and corner their votes this election. So the Hindus of Jatland must vote against the Samajwadi Party to send a strong message to Lucknow.
Muslims think the Samajwadi Party played a game by exposing them to the aggression of the Jats when communal tension flared up in the area. The Muslims' political vulnerability here is to be seen. They feel the BJP has became a formidable power due to Modi's challenge to the Congress, Samajwadi Party and BSP in Uttar Pradesh.
Bunty, who wears an expensive linen shirt (he shops for big brands in Meerut's malls) takes us to his village where Dr Sanjeev Baliyan is to address a small gathering.
"You are an outsider. You will not understand how and how much we have suffered for the last 10 years," Bunty says. "Our bahu-betiya (daughters-in-law and daughters) live in fear. We don't want Muslim boys to set their eyes on our sisters."
To understand how polarisation between the Hindus and Muslims always works wonders for the BJP can be gauged from this constituency. Much before the election there was no BJP presence in the area. The BSP and Union Aviation Minister Ajit Singh's Rashtriya Lok Dal benefited with Dalit-Muslim votes going to the BSP and the Jats voting for the RLD.
The Samajwadi Party won those seats where their candidates were much stronger than all the other contenders put together. Shahid Manzoor, the MLA from Kithore in Meerut, has won thrice from Jatland. He was made a state minister after the riots when the Samajwadi Party lost ground here overnight.
In Muzaffarnagar, with an estimated 200,000 Dalit voters and an estimated 500,000 plus Muslims out of an electorate of over 1.6 million, the BSP has always been a strong contender.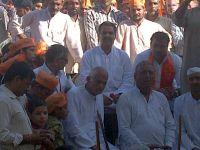 Dr Sanjeev Baliyan, left, centre, is what Modi's Uttar Pradesh politics is all about. A Jat with prosperous businesses, he expresses his views in English with clarity, without losing confidence.
A real estate developer, he was arrested after the riots and was in jail for some 15 days. He is a partner in a company building thousands of square metres of construction on the outskirts of Muzaffarnagar, where you can find a gated community and all the luxury that goes with it.
He is rustic and well-rooted in his hometown and touches a chord with the people. He has clarity of how his ideas of development should work in villages and towns.
Modi or Amit Shah could not have found a better candidate to represent Modi's politics. Dr Baliyan speaks in a mix of development and, as the Hindi newspapers put it, 'Hindutva ka tadka maarke (the language of development laced with Hindutva).' It is difficult to pin down the BJP candidate.
Rediff.com asked him the most aggressive questions possible in a taped interview, but he stuck to his guns. Of course, he surfs the Internet, and is not your typical Jat that has been ossified in the public perception.
He didn't agree that he is benefiting only because of the ugly polarisation between the Hindus and Muslims. Without getting defensive, he says, "This is a total lie. I am not taking advantage of the riots. Who told you? We are living fine with Muslims. We have no issues with them. The media is interested in talking about danga (riots) only. We are not."
"Why did you never come to my village when the Samajwadi Party government didn't pay money to our farmers? Do you have any knowledge what's happening inside Hindu and Muslim homes in Muzaffarnagar? Farmers of both communities are waiting for ganne ka paisa (the money from reaping sugarcane)"
"Our children are not going to schools. Hindu and Muslim farmers have cancelled marriages that were scheduled. We don't have the money to fund our children's education. There are families where there is no electricity because the bills are unpaid for six months."
"I am fighting this election on the plank of development, not riots. Can't you see the condition of roads here? Much before the riots I organised the biggest-ever Ganna Kisan Panchayat. So many media men rushed here to cover the danga, but none came when our families were in despair due to the Centre and state government's economic policy."
"If elected, I will get the dues of sugarcane farmers who are Hindus and Muslims, both. I will work for all. What's the issue?"
UP has not paid the dues for sugarcane purchased by mills, the price of which is guaranteed by the state government.
"Main Delhi nahin ghumta (I don't make frequent rounds of Delhi)," Dr Baliyan declares. "I work here with the people."
When asked about the BJP's attempt through the Jat Panchayat, just before the riots, to polarise Hindus and Muslims, he says, "I surely say the Samajwadi Party government helps only one community all the time. What do you think of a government that filed 6,250 riot cases against us? Have you seen any government ever who pushes the people to migrate away from their homes?"
"The government has engineered the migration of Muslims from Jat villages. I know for sure that when they gave a compensation of Rs 5 lakhs (Rs 500,000) to the victims' families it was conditional. They took it in writing from the victims that they would not return to their villages. The Samajwadi Party's appeasement of Muslims has crossed all limits."
Then, he says smugly, "The Samajwadi Party tried to benefit from Muslim appeasement to win Lok Sabha seats, but things unfolded in such a way that they have somehow damaged themselves."
The Congress candidate from Muzaffarnagar is Pankaj Agrawal, chairman of the local municipal council. Being from the baniya caste, he can't attract Jat votes and the Muslims don't find him a strong candidate; the political math is as simple as that.
It was so difficult to locate Agarwal's support base. He enjoys a clean image, but there is no party structure to win the confidence of Muslims or take them to the polling booths.
In this part of India, to win Muslim votes, the candidate of non-BJP parties must demonstrate the backing of enough number of Hindu votes.
The competitive politics reached its climax when BSP chief Mayawati did not visit the riot-torn Muslim community even once, so that the Dalits, her loyal caste group, didn't get upset. In many areas, more than the Jats, it is the Dalits who have social tension with Muslims who are generally richer than the Dalits in some villages.
One Dalit family in Shahpur village could not take out a baraat due to a quarrel with the Muslims that created waves for many days here.
Qader Rana, the sitting MP who is in the fray again, is a super-rich businessman who never speaks to the media. He says he has Dalit votes thanks to 'Behenji' (Mayawati) and the Muslims know that no other candidate has a bloc of guaranteed Hindu votes, so he is confident of winning.
Umesh Malik feels a "Modi tsunami" is sweeping the Jat farmlands of Shamli, Khatuli, Kutba, Kakada, Shohrum and Shahpur and it will divide Dalit votes, too.
Modi did not hold a rally in Muzaffarnagar, although he came to neighbouring Meerut.
According to the Centre, some 62 people -- 42 Muslims and 20 Hindus -- died in communal violence in 2013. UP saw 93 riots in the first nine months of 2013, along with 108 incidents of tension.
In Muzaffarnagar itself, at least 48 people were killed and more than 50,000 displaced from their homes.
A shopkeeper in Shahpur town tells Rediff.com, "Muslim faces look grim in this town. The Hindus have got Modi, but they (the Muslims) are feeling lonely."
In Muzaffarnagar's villages ransacked properties stand without a roof and doors.
Just half-a-kilometre from Umesh Malik's office is the area called Islamabad. Filthy, underdeveloped and forlorn looking, the Muslim-dominated area saw an influx of some 1,200 Muslims from surrounding villages like Kakda, Rasalpur Jatan, Dulehara, Kutba. Their homes and shops in their villages burnt down, these Muslims don't want to return home.
The huge refugee camps have been dismantled and the refugees have been forced to take the compensation and move on. The well-to-do Muslims returned home or found their own way, but those who have no jobs, no homes and no shelter are trapped in grimy corners of villages like Islamabad in Shahpur.
Rediff.com spoke to a group of around 30 Muslims in Shahpur who claim their Hindu neighbours attacked them in their ancestral villages. All of them refuse to return. They say the Akhilesh Yadav government is trying its best to whitewash the riots which killed 60 people, a majority of it Muslim.
Gayoom of Kakda village says, "Even if Akhilesh Yadav opens up the entire tijori (state treasury) for us we will not vote for the Samajwadi Party."
Salim of Kutba village, to which Dr Sanjeev Balian belongs, says, "I don't want to return to my village, my head will be chopped off. They want me to press the button on phool (the BJP's election symbol, the lotus). Hamari marzi (my wish)! I will decide where I should vote."
The anger against Samajwadi Party founder Mulayam Singh Yadav is a common factor among Hindus and Muslims. They refute strongly what the Jats claim, that 'nuksan dono ka hua (both the Hindus and Muslims suffered)'.
They think that the conspiracy to provoke both sides unfolded around the Lok Sabha election. The Muslims votes are scattered now and many Muslims don't have voting cards.
Abbasbhai, a local cleric who runs a madrasa, looks tense. It is very difficult to describe in words how important the value of each vote is for people in these villages. Abbas is worried because he doesn't want the Muslims to waste their vote by getting divided.
When asked who the Muslims will vote for, Abbas responds, "Whatever is the order from Deoband (the Islamic seminary)." The Muslim victims of Muzaffarnagar, he feels, will find peace only after the election.
Before leaving Shahpur, after traveling half a day with Bunty Baliyan, he delivers a jolt. He confesses with a dry smile, "I held a gun against Muslims in the riots. Me and my friends were trapped in a crowd of Muslims on the highway and to get away from the place I fired at a Muslim crowd using my friend's pistol."
"You have no idea about our social problems," he says. "The Muzaffarnagar riots would have been much more violent. We are not surprised by the riots. Things erupted when the Samajwadi Party asked the police to file cases against two dead brothers of the girl from the Jat family who was harassed by a Muslim boy in Kawal village."
It was a chilling moment, because all along, Bunty had presented himself as an educated, well-behaved and wise boy from a small town in UP. At 25, he presented a decent picture of the future of Indian youth.
During those five, six hours we spent with him he told us his personal story. He said he had not married because, "I am making money. I love making money."
Then, he added, "Those boys who are focused on education or building up businesses don't flirt around girls. I get a kick out of making money."
Image: Muslim residents of Islamabad in Shahpur, UP. Photographs: Sheela Bhatt.
Is there an anti-Samajwadi Party wave in UP? Vote below!
Check out: Sheela Bhatt's fascinating columns on Election 2014
Check out: Poll Gupshup here