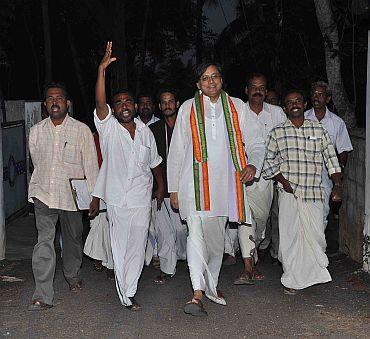 Thiruvananthapuram did not give Shashi Tharoor a resounding victory, but did not abandon him either. If he learns his lessons and avoids the pitfalls of the past, he will have a bright political future, says T P Sreenivasan.
After trailing for several hours behind the Bharatiya Janata Party's O Rajagopal, Shashi Tharoor has emerged victorious in Thiruvananthapuram constituency in Kerala by a margin of 14,501 votes.
This is a remarkable victory when the Congress party was devastated in the rest of India and some Congress leaders lost in Kerala itself. But from a majority of nearly a lakh of votes in 2009 to a margin of below 15,000 votes is a setback.
The Congress will, however welcome his win as the leadership in Delhi has lost many stalwarts and a member of Parliament of his calibre will be a great asset. Tharoor may well become more important in the Congress hierarchy at the national level even though he has suffered a setback in Kerala.
The official explanation that Tharoor was a victim of caste politics in Kerala is only a part of the story. In fact, he was the beneficiary of consolidation of the Muslim and Christian votes in his favour because of their anxiety to save secularism.
There was no evidence that the community of the Leftist candidate rallied around him. It turned out that the votes that went to the BJP candidate were from the Leftist bastions. The performance of Rajagopal was on account of his personal acceptability, his record of service to Kerala as a minister at the Centre, his impeccable political record for half a century and the expectation that he would be a member of the Modi Cabinet.
One reality Tharoor had to contend with from the start was the disillusionment over United Progressive Alliance 2 and the resultant loss of popularity of the Congress party. In 2009, there was a Congress wave as against the Modi wave in 2014, which did not bypass Kerala completely.
But one reason for his poor performance was that the image of Shashi Tharoor today is different from the image he had when he came to Kerala as an international diplomat, a reputed writer and a messiah for change. As A K Antony described him at that time, Tharoor was 'pure gold.'
In the last five years, his personality suffered a battering on account of the various controversies he got involved.
As the veteran journalist, T J S George wrote about him, 'That is what politics does to people: It dulls human sensibilities and makes the paraphernalia of power look more important than they are.' What sustained him and gave him victory even this time was the conviction of the general public that he is more intelligent and less corrupt than many others.
Another factor was that the campaign team that led him to victory last time was conspicuous by its absence this time. The last team consisted of intellectuals, writers, artists and enthusiastic supporters, who came from such far off places as New York and Liberia. This time, it was a group of faceless people, many of them sycophants, who kept giving him a false sense of security.
He probably never heard the murmurs about his ego, his disdain for people and the perception about his involvement in his wife's death. Much more experienced politicians have similarly suffered on account of the company they kept.
Though he became fluent in Malayalam in the last five years, Tharoor did not realise how conservative Thiruvananthapuram is. His anxiety to look and behave differently from others was seen as extraordinary pride. Many of his statements betrayed his presumption that his support in Delhi will far outweigh his losses in Kerala. He made no secret of his influence with the Gandhi family. His refrain was that he had used his power and influence in Delhi and abroad for the benefit of Kerala.
A lesson that Tharoor should learn is that in politics, it is important to remove suspicions at the earliest opportunity. No one had any doubt that his Indian Premier League involvement was suspicious, but instead of clearing the charges legally, he found his way back into the Council of Ministers as though nothing had happened.
Similarly, if he had resigned and sought a time-bound investigation to clear him of any guilt the moment the needle of suspicion turned to him in the case of his wife, he would have won much approbation. He did not realise that there were many unanswered questions regarding Sunanda Pushkar and no amount of private grief or lack of complaint by her relatives could place him above suspicion.
Those of us who stood by him and told the world that Pushkar had a serious illness, which could have led to a natural death, could not answer the many questions posed to us by inquisitive people. He offered us no briefing to enable us to defend him. Silence, he thought, was golden in this matter.
The Tharoor campaign ignored the popular sentiment against corruption and some of the programmes of the central government of which he was part and focused on his own achievements in the constituency. The long lists of development activities on flex boards related to spending of the development funds of the MP, which is more an obligation than an accomplishment.
Many hundreds of people who had worked hard for the Vizhinjam Port and the high court bench in Thiruvananthapuram were offended by Tharoor's claim that he had singlehandedly advanced those projects. Many of them had faced the police and even observed fasts, while the MP had only held meetings with authorities.
Having spent several hours of gloom, as Tharoor seemed to appear on the verge of defeat, his friends and well-wishers are relieved that he will continue to represent Thiruvananthapuram in Parliament. He had brought the city into national and international prominence.
With his increased relevance in the Congress party, the voice of Kerala may be heard with greater attention because of him. His victory is creditable when strong Congress leaders like P C Chacko and K Sudhakaran fell by the wayside.
Thiruvananthapuram did not give him a resounding victory, but did not abandon him either. The general tendency of Kerala to stick to the Congress party when it faces total rejection in the North went in his favour.
His many talents, qualities and record of service at the UN are still recognised and admired by a very large number of people. If Tharoor learns his lessons and avoids the pitfalls of the past, he will have a bright political future ahead of him.
Image: Shashi Tharoor on the campaign trail. Photograph: Sreeram Selvaraj.
T P Sreenivasan is former Ambassador of India and Governor for India of the IAEA; Executive Vice-Chairman, Kerala State Higher Education Council; Director General, Kerala International Centre.