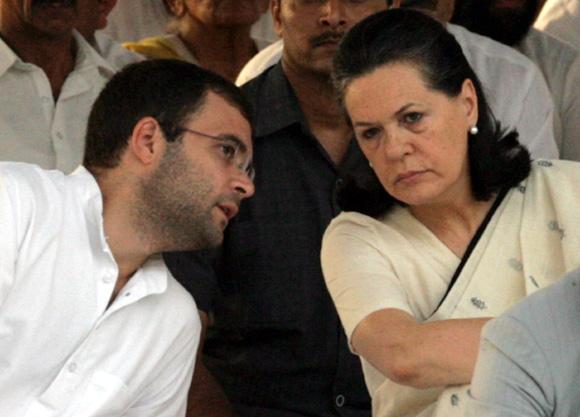 In the coming days, there will be loud calls for a greater role for Priyanka Vadra who, party leaders think, has a greater voter connect and appeal than her brother who has been pushed into the forefront by their mother, says Saroj Nagi.
It couldn't be a bigger humiliation for the Congress than this. Narendra Modi, the man it loved to hate, has done the unthinkable. He has singlehandedly demolished the 128-year old party in one fell stroke, washed away its ministers and top leaders who braved a one-sided election while others fled the field and pushed the grand old party to its lowest ever tally that is half of the 114 seats it had got in 1999.
There are a number of alarming, if not ominous, signs for the Congress in the electoral rout it has suffered on Friday.
One, it threatens to underline that the appeal of the Gandhi charisma, name and dynasty has faded and the Bharatiya Janata Party's battle cry of a 'Congress mukht Bharat' -- even if it is part of a bitter election rhetoric -- has resonated with the voters looking for an alternative and a change. But then both Sonia and Rahul Gandhi need to share the blame for such a situation; Sonia for blindly investing Rahul with authority and power despite his many failures and the Amethi MP failing to live up to the responsibilities invested in him.
Among Sonia's biggest worries is that Modi has pummeled her party to pulp and shattered her dream of using coalition tie-ups as a stepping stone to the future where it saw itself in a position to lead a single party government at the Centre.
That scenario no longer belongs to it -- at least for the next few years -- with Modi succeeding in giving his party a simple majority on its own strength three decades after Rajiv Gandhi stormed to power with 400 plus seats.
Alarm bells would also ring at Sonia and Rahul Gandhi's homes on Janpath and Tughlaq Lane at the fact that the BJP has become a pan-India party which the Congress had until now claimed for itself. The BJP has found a footprint in almost every state and across different sections of the population -- barring Muslims -- either on its own or with the help of allies who have come on board.
Indeed, there are now fears that the BJP may displace the Congress as the new dominant pole in India's politics while Sonia's party is relegated into the background and reduced to a marginal force.
Modi rubbed it by delivering a clean mandate that not only overtook BJP leader Atal Bihari Vajpayee's record of 182 seats but also allowing comparisons with Rajiv Gandhi's achievement of 400 plus seats which he had got because of the sympathy factor working in the Congress's favour following Indira Gandhi's assassination.
In Modi's case, it was because of his ability to whip up a huge pro-Modi wave without any sympathy factor at work. He forced the Congress into an uneven battle in which his focus was on exceeding his target of 272 plus while pushing Sonia's party to battle the spectre of slipping below the 114 seats it had won in 1999.
The Congress is now staring at a barren landscape where it does not have any support base to call its own. It was first crippled by the emergence of regional and sectarian parties which whisked away its traditional support base of Brahmins-Muslims-Dalits.
Under Sonia, it managed to overcome this setback by reaching across divisive caste votes to build a social coalition of the poor, the middle classes and the youth by presenting herself, Manmohan Singh and Rahul as a trimurti, with each one of them cultivating one section.
But that is now a thing of the past. The party has its back to the wall and has no option but to reinvent itself and go for a drastic makeover if its wants to claw its way back into the reckoning. It appears a herculean task at the moment.
The big question is who will lead such a transformation. Dr Singh is a spent force. Rahul has proved to be a non-starter despite a decade in active politics, with his attempts at revamping the party through the frontal organisations doing more harm than good.To rub it in, the 63-year-old silver haired and silver bearded Modi who prefers to speak in Hindi has emerged as the latest icon of Young India, much like Gandhian Kisan Babudao 'Anna' Hazare had done during his agitation for a Jan Lokpal bill or the comparatively younger Aam Aadmi Party's Arvind Kejriwal had done.
Despairing Congressmen looking for a way out of the dark tunnel could raise their voices against the party's straitjacketed functioning and demand a greater role for themselves. Until now, the Nehru name has been a unifying factor for the party even at the worst of times. Whether it would still be the same remains an open question in the changed scenario where a proclaimed OBC chaiwallah questions the Nehru dynasty and gets to become the prime minister.
In the coming days, there will be loud calls for a greater role for Priyanka Vadra who, party leaders think, has a greater voter connect and appeal than her brother who has been pushed into the forefront by their mother.
Indeed, the first of these slogans was raised outside the Congress headquarters on Friday as the trends showed the party hurtling towards its worst-ever performance. 'Waqt ki pukaar, Priyanka Gandhi,' they shouted as they waved placards which also carried photographs of Rahul Gandhi.
Clearly, they were looking for succour in the Priyanka-Rahul-Sonia trinity in which Rahul does not hold a preeminent position. And given the electoral washout, the party may even find it difficult to claim the position of Leader of the Opposition for Rahul Gandhi in the Lok Sabha.
Saroj Nagi is a senior journalist based in Delhi.