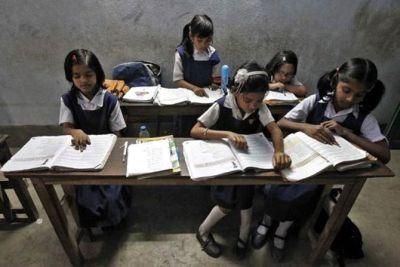 The hurdle that remains with every government announcement is implementation. We don't lack ideas; we lack either the will or the competence to implement them, says Anjuli Bhargava
A recent National Human Rights Commission report painted a pathetic picture of schools in the national capital. The report said that almost 720 of the 1,000-odd schools in the capital under the government sector lacked clean drinking water and toilet facilities.
These schools had either no computers or one for the entire student strength. Security was found to be lax. Teachers were in short supply.

While none of that comes as a shock, I was nonetheless shocked to read that among the teachers present, NHRC found some who were consuming alcohol during schools hours. Worse, teachers and principals have been found to verbally abuse students and parents -- I presume as and when the occasion demands. What the students or parents do to evoke such response in the people who are expected to set an example baffles me, but the report claims it happens and I take its word for it. Cases of violence by teachers and principals -- both sexual and otherwise -- against students have been on the rise as newspapers often report.

However, change is ostensibly in the air. In the last few months, the Aam Aadmi Party and its leader Arvind Kejriwal have been making several noises in the education space. In its annual budget, the Delhi government has set aside a much higher allocation for the education sector, almost doubling the present spend.

In addition to building 236 new schools in the capital, the chief minister has promised to set up 50 "model" schools in Delhi. These schools would be in the government sector but at par with private schools in the city. They would have a lower student-teacher ratio. They will be better equipped. The idea is to make them better than private schools so that principals and teachers of government schools send their own children to these free government schools and not to private schools, which is the norm at present -- clear evidence of failure of the state system.

Two ideas of Kejriwal's echo strongly with me. One is the intention or desire to set up a new board (as opposed to the present CBSE and ICSE boards). He must be the first politician to have woken up to the fact that education in India has failed to keep up with the times and that we need a new, modern board with a syllabus that is relevant to today's day and age.

And two -- almost for the first -- I have heard a politician speak of performance and the need to link it with pay. The chief minister has promised that principals who can achieve the targets set will get a "hefty amount of double increment as performance allowance each month for a year". This is good news because unless we link the two, those who must lead the change - teachers and principals - will have no incentive to do so.

But even as the chief minister and his deputy put the finishing touches on the "model" schools, the sceptic in me has a few questions. One, what happens to these existing 700-odd schools that NHRC found woefully inadequate? Who will fix these? How will they induce some degree of accountability in the teachers who are found to be drinking on duty or engaging in verbal battles with students? The chief minister has promised to hire 20,000 additional teachers but do we really need 20,000 more of the same kind.

Then with all such announcements, the details remain hazy. Just like a smart city, what exactly is a "model" school ? Very few children in a classroom and an attentive eager teacher at the helm? A curriculum that sparks curiosity? Low on pressure and high on excitement? An institution filled only with high performers? Less time in classrooms in front of textbooks and more on the sports field, in the art room and in music lessons? I am not sure a "model" anything exists -- just like I strongly suspect a smart city doesn't.

And, as usual, the hurdle that remains with every government announcement is implementation. We don't lack ideas; we lack either the will or the competence to implement them.