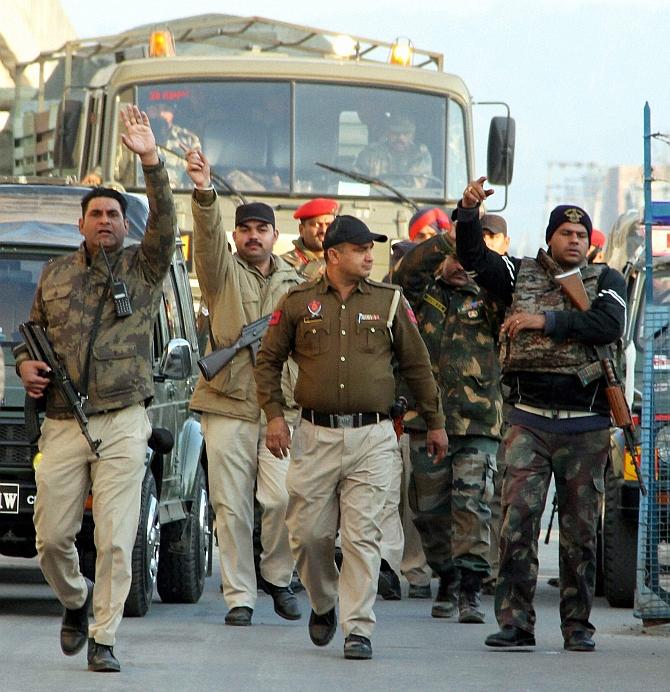 IMAGE: Security personnel during the attack on the Pathankot air base.
India cannot aspire for great power status unless our leaders truly understand the meaning of national security.
Cricket can wait and so can people to people contacts, book launches and Bollywood camaraderie, says Group Captain Murli Menon (retd).
It is a by now familiar pattern. First a terror attack, then denials and obfuscations, then sham inquiries, excuses, further denials ad infinitum! One wonders how a country like Pakistan continues to test the gall of the international community by its brazen state sponsorship of terror.
Guiled and motivated support from other such opportunistic players (China's veto of the Masood Azhar ban at the UN last week is galling too) perhaps encourages such failed States to ramble along, further buttressing its military junta's clout each day and trampling its poor and minority communities under the boot increasingly.
Indian governments over the years have been unable to find a suitable counter to dissuade the Pakistani mindset. One of being convinced that terror instruments under a garb of establishment deniability could help in its 'war by a thousand cuts' against India.
The Pathankot returned Joint Investigation Team has told the Pakistani media that India has failed to provide evidence. Also that their visit to Pathankot was too short to collect meaningful evidence.
Our own National Investigative Agency has meanwhile been crowing about how all evidence has been shared with the JIT. We should have smelt a rat the moment the Kulbushan Jadhav spy saga unfolded. All has not been divulged on this matter yet.
The implausibility of a 'serving' Indian naval commander being engaged in spawning anti-Pakistan terror financing and planning inside Balochistan is befuddling alright, but the cognoscenti can clearly call the bluff.
Why should India need an agent inside Pakistan to offer support to the Balochistan nationalists? In today's technology driven world of instant international money transfers and several third country options, why should India risk its credibility to expose a serving or even retired defence official in such an apparently naive and foolish espionage conundrum?
India's request for consular access was ignored or turned down as expected. Whilst India says it has nothing to hide, the Pakistanis are concentrating on what they do best -- orchestrated media events to prove their point.
It may not be remiss of me here to bring out an interaction I had with a very senior Inter Services Intelligence functionary some years ago. The time was just after their Kargil debacle and the Pakistanis had been caught with their pants down literally.
This serving Pakistan army major general was at pains to tell me how they admired four strengths of the Indian State -- our democratic political system, our vibrant national and private media, our holistic educational system and, of course, our prowess at information technology.
I could have told him a hundred more areas to illustrate how the Indian experiment had scored over that of Pakistan, but suffice to say that one can well imagine their angst at having been unable to stop the Indian juggernaut despite their best efforts at 'non-State' terror campaigns.
It appears that Pakistan is now concentrating on some of these aspects -- its controlled media and technology offered by modern day cyberspace -- to further its ambivalent designs against India.
Political reformation and educational modernisation are too far fetched for that country to aspire for.
Without adopting a hawkish attitude on the issue, one often wonders what goes through the minds of our decision makers when non-stop terror is dished out across the border. And this in an era of 24/7 international media coverage wherein every aspect of national activity is being analysed threadbare.
How come countries like Israel and America react as they do to terrorist attacks and why do yet others like India and France adopt such reactionary approaches to terror?
The citizen, of course, would be the final arbiter in this. The primary objective of a ruling entity is to provide physical and environmental security to its citizens. Without that there cannot be any 'sab ka saath, sab ka vikas.'
India cannot aspire for great power status unless our leaders truly understand the meaning of national security. We need to take a call on this sooner than later or else the nation will not forgive its masters of their combined destinies.
Cricket can wait and so can people to people contacts, book launches and Bollywood camaraderie. Let us get down to brass tacks on our counter-terror mission.