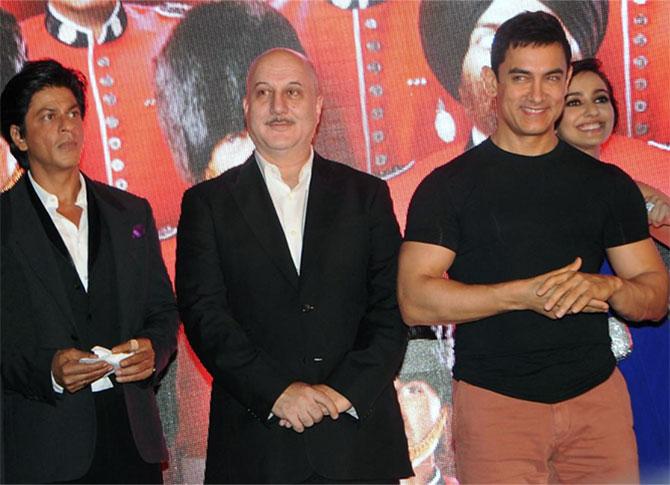 'In a competitive industry where no one has a formula for success other than the actor's personal appeal, the need to dominate the news cycle in the interim between films is so overpowering that even otherwise sober stars can suffer a Ghajini moment,' says Saisuresh Sivaswamy.
When he set out on what was to become a remarkable career in Hindi films, no one thought this young man stood much of a chance in a predominantly Hindu nation given his Muslim name.
And so, the young man, whose very onscreen presence sent women swooning in the aisles and who remains the king of romance, never mind the younger ones laying claim to the title, took on a Hindu avatar and went on to become a superstar.
Shah Rukh Khan had no such issues that dogged Yusuf Khan aka Dilip Kumar some four decades earlier.
And the only issue that plagued Aamir Khan at the beginning of his outstanding career as actor was his early marriage disclosing which, it was felt, would affect his teenybopper image.
But one thing had not changed from Yusuf Khan's time to Shah Rukh Khan/Aamir Khan's time.
India was, and remained, a Hindu majority nation, and naturally, so did the fans of Bollywood.
That fact of religious composition is important given the times in which these two superstars made their debut in the world of entertainment.
The adult Aamir Khan entered films in the late 1980s, at a time when his younger colleague was making a mark in television. The other Khan entered Bollywood in 1992.
That time band -- the late 1980s and early 1990s -- are critical, and cover an era in this nation's life that should never be forgotten, for it represented, after the religious mania of Partition in whose shadow Yusuf Khan had made his Bollywood debut, the worst period in India's history when religious bigotry and intolerance (yes, the same word that is being bandied about today for just about anything) were the order of the day.
The Satanic Verses controversy, the Shah Bano verdict, the Ram Janambhoomi agitation, the Mandal Commission report, the Babri Masjid demolition, the Mumbai riots, the serial blasts.. it seemed that India was lurching from one communal cauldron into another. The country was going through a veritable night without end.
It was that India in which the two superstars made their debut. Given the times, were they advised to change their name to hide their religion, like it happened with Yusuf Khan, lest it affect their box-office chances?
Despite the dire period in which they made their debut, the Khan surname stood them in good stead. And continued to do for the next three decades.
But, obviously, something has changed after 30 years for the two actors to highlight 'growing intolerance' almost in succession.
Shah Rukh Khan said this a couple of weeks ago: 'We may talk about freedom of speech, but people come outside my house and throw stones.'
Yes, stones have been flung at Mannat, security has been called out, but it wasn't always for Khan saying the right things or doing the right films, there have been times when it was for him saying/doing otherwise, too.
Like the time when he said 'darindagiri' could be seen from sometime Samajwadi Party politician Amar Singh's eyes. That was when SRK's FoE ended where Singh's right to not be insulted began, but not before inviting the ire of Samajwadi Party workers outside Mannat. Or when he let fly with the choicest expletives at the Wankhede Stadium.
And now Kiran Rao has seen something consistently in our newspapers to make her wonder if India is the right place for her child to grow, reveals Aamir Khan.
Apart from wondering which newspaper the family subscribes to whose pages have filled one of Bollywood's leading families with such trepidation about India, it makes one want to know if Aamir-Kiran have faced intolerance ever in their privileged private lives like most of us have done at some point or the other -- and not just over the last few weeks or months but over years.
Intolerance cuts a wide swathe and the mistake most of us make is to pass pat judgements on what it is about. A few days of newspaper headlines is hardly the criterion to make a judgement call on growing intolerance in a country like India where always, at some place or the other, atavistic tendencies are clashing with the idea of a modern nation-State, but this is not something you would expect those in self-involved professions to imbibe, even if they have crossed 50.
Violent incidents, outrageous remarks etc have this propensity to draw media attention, get highlighted one day on front pages and in television studios and are promptly forgotten the next. But not so in the reader's mind, it seems, where they stay, suppurate, and germinate into dreadful patterns as more such headlines get added every day.
But societal intolerance is different, that is when you are unable to lead a normal life -- earn a living, marry, do the usual things that normal people do -- solely for the reason of what/who you are.
And despite the growing intolerance he is worried about, Aamir Khan's last film, PK, which gently mocked all religions as they are practised today but seemed to retain a special fondness for one particular religion among them, remains the top Bollywood grosser in a nation that is dominated by the followers of that religion.
So when such a man sounds the bugle over intolerance, how seriously does one take it?
Or when Shah Rukh Khan, whose unebbing waves of mad, wild fans outside his mansion in Mumbai must give a complex to the ebbing sea facing it, and which phenomenon continues till date, redlights the threat to secularism, should one be concerned?
Hardly.
Because our actors are not known for their political savvy, social concern, or activism. Saying this is not to question the philanthropic work they do (which some of them even do away from the glare of publicity) or even commitment.
But in a competitive industry where no one has a formula for success other than the actor's personal appeal, the need to dominate the news cycle in the interim between films (for Aamir it could mean anywhere from two to three years), or ahead of a film's release (check out what films hit the marquee next month) is so overpowering that even the otherwise sober stars can suffer a Ghajini moment.
IMAGE: Shah Rukh Khan, left, and Aamir Khan, right, flank Anupam Kher who defended SRK, but asked Aamir if India did not make him who he is.