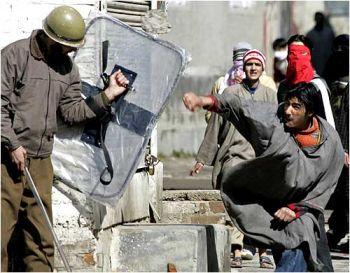 'The Kashmiri identity and its unique blend of Sufi Islam, its culture and language can best survive in a plural and secular India.'
'Neither independence nor merger with Pakistan can achieve that objective.'
'Peace will return to Kashmir only when Kashmiris realise this, else they will be part of the 1,000-year war,' says Colonel Anil A Athale (retd).
Many Indians are dismayed at the latest turn of events in Kashmir.
As someone involved in the issue for over two decades, this does not come as a surprise. Like all insurgencies the Kashmiri one has also seen a transformation from a socio-economic problem to a purely political issue.
Insurgencies are like amoeba, constantly changing its shape and size. Kashmir is no exception.
From its socio-economic roots it has transformed into ideological issues of 'identity', hence the more than expected reaction to death of a home-grown militant vis-a-vis LeT mercenaries.
However, the Indian response is still wedded to the past and consists of doling out economic goodies to solve an essentially political problem.
The present burst of violence has shown the ineffectiveness of the tired and tested approach so favoured by the media and tele-warriors.
Zulfikar Ali Bhutto's declaration of a 1,000-year war with India over Kashmir or Muhammed Sayeed's dream of 'Gazawa-e-Hind' (conquest of India) as well as global issues like the rise of Islamic State, all impact the Kashmir issue.
It seems that Pakistan is determined to fight India to the last Kashmiri.
The Kashmir issue has been a personal involvement for me for over two decades. The following observations are written so as to differentiate my views from the parachuted experts who pontificate on Kashmir from time to time.
In my army career, I spent over eight years on the Kashmir Line of Control. Post early retirement, I have been visiting Kashmir at regular intervals since 1991.
It was in 1993, a year before the latest Kashmiri separatist 'hero' Burhan Wani was born, that I had approached the Pune-based Cummins India for donation of their old computers to be inducted in Kashmir.
The company agreed and I recall having personally loaded four Intel 286 computers in my ancient Fiat. I got in touch with the army formation in Kupwara and they sent a team to collect them and be delivered to schools in Kashmir.
Around the same time, at my suggestion, the brigade at Tregham in North Kashmir, (the birth place of Maqbool Bhatt, founder of the Jammu Kashmir Liberation Front) started the first English medium school there.
I continued to visit J&K to act as the eyes and ears of the army for another five years right till 1998. I, mistakenly as it turns out now, felt that Kargil was a watershed and the Kashmir issue will simmer down.
In 1991, my understanding was that Kashmir violence was essentially a socio-economic issue. I cannot forget an incident at Kamalkor village (near Uri) when a soldier detected the new slippers worn by a poor village lady to accuse her of getting money from her fugitive militant husband!
In 1991, poverty was a major issue especially in rural Kashmir and many Kashmiris acted as couriers of arms and ammunition for as little as Rs 200 per trip.
Cut to 2010. An extensive tour of J&K as part of the Chhatrapati Shivaji Fellowship, I saw a transformed Kashmir.
In place of barely a secondary school or two, places like Rajouri had a full-fledged university. One saw world class residential schools established by the army (as part of Operation Sadbhavana) in Rajouri and Pehalgam. Every major unit of the army in J&K was helping in running 'goodwill' schools in even remote parts of the state.
The recent successes of Kashmir youth in all India examinations is a testimony to the success of this effort. During my two-month journey through the state I saw signs of prosperity everywhere.
The governments of Mufti Mohammed Sayeed and Ghulam Nabi Azad had indeed spurred economic development. The most visible symbol of this is, of course, the railway line in the Kashmir Valley.
The national statistical bureau had put the people below poverty line at a mere 6 per cent in J&K, one of the lowest in the country. The question that come up logically is then why all this violence and disaffection in the Kashmir Valley?
There are two aspects to this answer. One is demographic and other political.
While it is true that economic conditions in Kashmir have certainly improved, the gain at the individual level has been neutralised by the huge population growth. On an average, the Kashmiri fertility rate is 5. The population of the four districts in the Kashmir Valley has seen a 300 per cent jump over the ten year period, 2001 to 2011.
With unsettled conditions, job creation has not kept pace with the population growth. An unemployed youth is an easy target for Pakistani machinations and the separatists who can easily rent a crowd for stone pelting.
Politically, the mainstream parties have failed to get across to the population that one can be an Indian and yet retain her/his Kashmiri as well as Muslim identity.
In a memorable intervention in a Lok Sabha debate, Omar Abdullah had asserted that he is proud to be a Muslim, a Kashmiri and an Indian. Unfortunately, the Kashmiri mainstream leadership has failed to speak up this language aggressively in the Kashmir Valley.
Without this political support, the Indian Army's gains through goodwill schools and other civic actions are being frittered away.
To be fair to the Kashmiris, this inability to accept multiple identities is a problem plaguing the Islamic world at large. The extreme example of this is seen in the behaviour of Islamic State supporters for whom their Islamic identity supersedes even humanism, reducing them to behaving like animals towards non-Muslims.
Muslim populations in Europe and America are all wrestling with this dilemma. The root of the problem in the Kashmir Valley is the refusal to accept their Indian identity.
Several opinion surveys by neutral international organisations have found that there is very little support for merger with Pakistan. However, it is true that in the Kashmir Valley at least (not in Jammu or Ladakh divisions) there is widespread support for the independence option.
The point to ponder is: Can an independent Kashmir survive without succumbing to international predators like Al Qaeda or IS?
What happens then to the minority within minority Shias? (Nearly 20 per cent of the Kashmir Valley population).
Kashmir for Pakistan is a means to take control of its rivers and insurgency is a tool to achieve that strategic aim. I recall the late Laldenga of Mizoram telling me in 1988 that the north-east insurgencies for the Chinese were like a controlled flame, to be increased or decreased as it suited Chinese national interests. Kashmiris ought to have learnt this bitter truth by now!
The hard fact is that the Kashmiri identity and its unique blend of Sufi Islam, its culture and language can best survive in a plural and secular India. Neither independence nor merger with Pakistan can achieve that objective.
Peace will return to Kashmir only when Kashmiris realise this, else they will be part of the 1,000-year war that Bhutto had promised and wait for those many years for the chimera of independence.
In the meanwhile bloodletting in Kashmir will continue unabated. Kashmiri intellectuals ought to give it a thought.
Colonel Anil A Athale (retd) is a military historian and coordinator of the Pune-based think-tank INPAD and author of a book on Kashmir, Let the Jhelum Smile Again! published in 1997.