'I asked a group of uniformed high school kids: Who was the one Kashmiri they admired?'
'I shouldn't have been surprised by the answer,' says Sunil Sethi.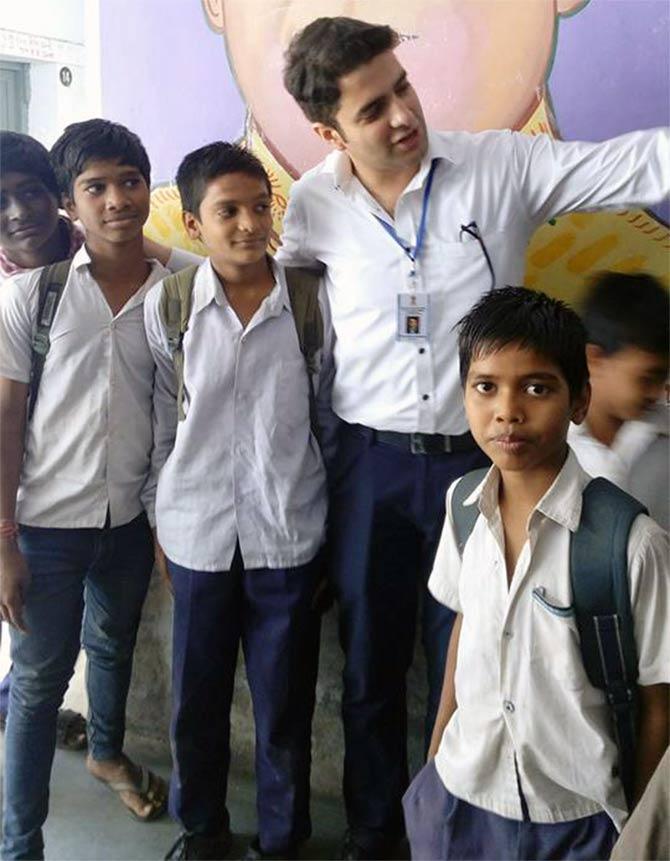 IMAGE: Athar Aamir, who came 2nd in this year's civil services entrance exam, interacts with students at his alma mater. Photograph: Umar Ganie
Kashmir is having a booming tourist summer. The young woman at the IndiGo check-in at Delhi airport says their six daily flights are full. "It's like Goa in December."
A friend who missed a flight had to pay Rs 24,000 to grab the last available seat on Vistara.
In Srinagar and surrounding areas, fat summer roses -- in shades of carmine, iceberg white and burnt orange -- swarm over walls and the light glittering on lakes and streams polishes the crop in cherry orchards a deep red.
Houseboats, hotels and home stays are packed to capacity; shaded by old chinars, Srinagar's shopping streets, restaurants and Mughal gardens are doing a roaring trade.
Kashmir could do with some good news.
Much of April was scarred by protests and violence: First, clashes between students' groups in Srinagar over India's cricket match loss to West Indies, then angry stone-throwing at the alleged molestation of an underage teenager by a soldier in the outlying market town of Handwara. This left five dead, including a 19-year-old aspiring cricket champ.
On top of that, many are still recovering from the devastation of the floods of September 2014 that cost Omar Abdullah his government.
People are struggling to cut their losses and rebuild anew. Sana Javeid, a development professional who works for the Tata Sustainability Group, the corporation's CSR wing, says the drinking water crisis in the villages of Baramulla, Bandipora and Budgam remains acute.
Community-based water filtration plants have shown mixed results -- compensation for damage is a pittance and trickle-down of government funds is a fraction of allocations.
In downtown Srinagar the landmark Hotel Broadway (which I have seen through thick and thin, both as the first high-rise in the 1980s and, later, as a high-security fortress during the insurgency years) is yet to reopen and may end up as a shopping mall.
Natural calamity has been compounded by man-made disasters.
Anxious citizens take you to vantage points to show the tragic destruction of the city's grand lakes.
Steady landfills and encroachments have shrunk the area of the Dal Lake from 25 sq km to 12 sq km and the adjoining Nagin and Wular lakes are dying.
Key civic projects lie incomplete: A downtown bridge over the Jhelum is half-built after five years; a key flyover on the airport road to town is unfinished leading to day-long traffic snarls.
Chronic corruption, it is said, is endemic in any conflict economy and Kashmir isn't different.
Security forces, numbering between 500,000 and 700,000, in daily contact with the populace, only deepen a culture of grievance and retaliation.
Take the violence in Handwara: Local traders had long been demanding the removal of a two-storey army bunker in the main square. The bunker was also provocatively close to two schools -- an intrusion that was bound to blow up in a state where disaffected students are adept in the art of stone-pelting -- seemingly as part of their curriculum.
Not all the stories I heard, however, were troubling. Several were remarkably heartening, of Kashmiri professionals returning to their roots to help make a difference.
The most inspirational is that of Jyotsna Singh, Karan Singh's 57-year-old daughter, who, together with her doctor husband, has spent 10 years restoring a dilapidated orchard and bungalow into a successful home stay.
In addition, she runs the annual Dara Shikoh arts and literature festival and twice a month hosts a farmers' market for local artisans to exhibit and promote their products.
Here you meet young entrepreneurs like Saklain Kawous, an ex-call centre manager from Delhi, who has introduced lavender and geranium farming to produce essential oils; Roohi Nazki, a former Tata executive from Mumbai who is opening a riverside tea room and art gallery called Chai Jaai in collaboration with the 100-year-old Mahatta & Co photography studio, and others who manufacture exotic cheeses and run up-to-date patisseries with names like La Delice and 14th Avenue -- welcome innovations to Kashmir's traditional bakeries that purvey homely breads and confectionery.
At one of these cafes, I fell into conversation with a group of uniformed high school kids digging into pastries. Who was the one Kashmiri they admired? I shouldn't have been surprised by the answer: It was Athar Aamir, the handsome 23 year old who stood second in the all-India civil services exam.
Mr Aamir is the grandson of an unlettered farmer from Anantnag and will soon join Shah Faesal, a medical doctor, who became the first Kashmiri to top the IAS in 2009, and was feted as an icon.
Significantly, Mr Faesal is posted as director of school education in J&K. Like him, Mr Aamir has opted to serve in his home state.
So often perceived as a bad news story, Kashmir's highs are unjustly eclipsed by its lows.
This column was written earlier, much before the events of last weekend.