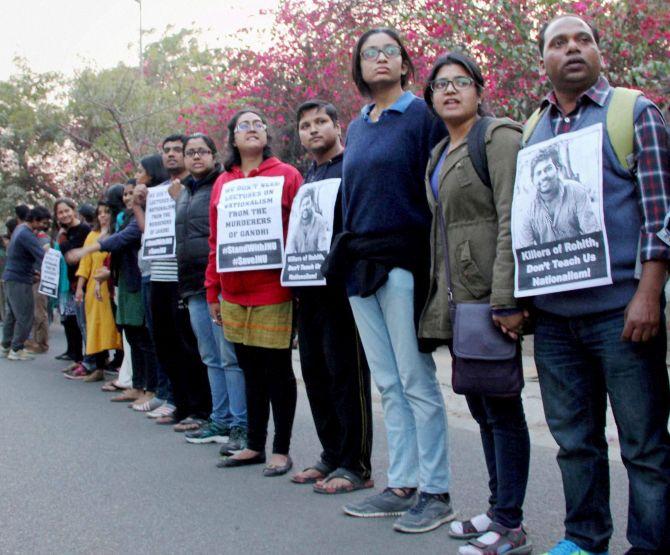 IMAGE: JNU students and faculty form a human chain demanding the release of students union president Kanhaiya Kumar. Photograph: PTI
If some JNU students are 'anti-national', why do we want to send in the police?
Why not send in intellectuals like M V Kamath to have a debate and discussion, asks Syed Firdaus Ashraf.
As a teenager I used to ask a Left-leaning uncle, 'Why do people go without food? Why is there poverty?'
'Distribution,' my uncle used to say. 'Distribution is the answer.'
The earth produces enough food for every human being, he said, but the capitalists do not allow everyone to have food. Hence, the poor die of hunger.
'So what should the poor do?' I asked. He felt the poor must take up arms and overthrow the democratic system so that everybody secured roti, kapda, makan (food, clothing and shelter).
'And what about democracy?' I asked, 'Is it not a solution?' 'Democracy,' he responded, 'is a bourgeois concept and so is nationalism. It won't work for long because the proletariat will unite like Marx predicted and establish a true utopian State.'
By August 1991, as the Soviet Union disintegrated, my uncle's views were laughing stock. A true comrade, he never renounced his beliefs, asserted that this was just a transition, and that Communism would return.
I was confused. Democracy and nationalism flourished even as poverty and inequality remained a grim aspect of everyday Indian life.
This was when my journalism guru M V Kamath entered my life. He was 73, I was 21.
Mr Kamath was a supporter of the BJP (Bharatiya Janata Party) and RSS (Rashtriya Swayamsevak Sangh). He also wrote a biography of Narendra Modi after the Gujarat riots, Narendra Modi, The Architect of a Modern State (2009).
Mr Kamath often made fun of my views in journalism class, but he never forced his ideology on me.
We always discussed and debated issues. Sometimes at his home in Khar, suburban Mumbai, we discussed political issues for hours and hours. There was always something to learn from Mr Kamath and he was always eager to learn things from me though I was half a century younger.
One day I asked if he felt sad to see poverty in India. When he acknowledged that he did feel sad, I asked if he did not feel that one day the poor in India would rise against the capitalists. 'This is your view,' he said, 'but not mine.'
Then he said -- lines I have never forgotten -- 'Firdaus, let me give you a piece of advice. If you are not a Communist or socialist by the age of 25, you don't have a heart. And if you are still a Communist or socialist after the age of 25, then you don't have a head.'
As a departing note to our journalism class he asked me to read about Mao's atrocities during the Cultural Revolution and how in the name of Communism, Communist leaders the world over had killed millions of people.
After I finished my journalism course I did what Mr Kamath prescribed. I read about Marxist societies and discovered the horrific atrocities Communist States inflicted on its citizens. Be it Stalin or Mao, these dictators massacred thousands in the name of Communism.
Mr Kamath won my mind and heart. I understood there was no way a violent overthrow of the system could be justified when we were armed with a more potent weapon -- the ballot.
Why don't the BJP and Narendra Modi's government have more people like Mr Kamath in its ranks?
If some students at Jawaharlal Nehru University are 'anti-national' -- raising slogans against India -- why does the government send in the police? Why not send in intellectuals like Mr Kamath instead to have a debate and discussion with the students?
After all, is this not what democracy is all about? That we agree to disagree.
Worse, the president of the JNU students union has been charged with sedition. (Ironically. the British charged the Hindutva icon Vinayak 'Veer' Savarkar with sedition!)
The Supreme Court has stated that sedition can only be applied if after a speech there is violence, but that distinction apparently does not matter to the Delhi police or its masters in the Union home ministry.
On Sunday, I was reading Sir William Wilson Hunter's The Indian Musalmans, a book written in 1872.
Sir William provides insights why Indian Muslims were not loyal to Queen Victoria, why Wahhabi Muslims in India were a danger to British rule, and how when the cause of Islam seemed in disarray, the Musalmans again and again raised the standard of holy war from the dust.
He cites the 1864 Ambala trial when Wahhabi Muslims were tried for revolting violently against the British, working with Muslims in the frontier areas (now Pakistan's North West Frontier Province) to destabilise the British empire.
At the end of his book, Sir William makes an important point: 'As I write this page, the infamous meat-supplier of the British troops who was condemned to death in 1864 is giving evidence at Patna against the brethren of his former faith. Had his original sentence been carried out, thousands of devotees would every year be making a pilgrimage to his tomb.'
'A death in the cause of religion has in all ages sufficed to illuminate a life of infamy. The fortunes of an even viler meat supplier to the army than our Delhi butcher stand out in history to warn the government against capital sentences, which its Musalman subjects would regard as religious executions.'
'It should never be forgotten how George of Cappadocia, after a life of obloquy as a parasite, as a defaulting bacon-contractor to the Roman troops, and as a dissoluted prelate, obtained an apotheosis by an unwilling death, and became Saint George of Merry England.'
The British knew that hanging the Wahhabi Muslims would make them martyrs. Instead of sentencing them to death, the British sent the rebellious Muslims to the infamous Andaman prison.
The butcher's name was Mohammad Shafi and his name can be found in the list of Indian prisoners along with other Wahhabi fighters who fought the British in 1864.
Unfortunately, what the British knew in 1871, our government has failed to comprehend. By hanging Afzal Guru and Yakub Memon, we appear to have made them martyrs to a section of our people.
Thousands attended Yakub Memon's funeral in Mumbai last July, a fact that startled and upset many Indians. No government would risk sending Afzal Guru's remains to Kashmir ((After he was hung, he was buried in Tihar jail; his body was not handed over to his family), fearing violent protests. For many Kashmiris, Afzal Guru is a martyr.
I wonder what my guru M V Kamath would have said about all this. Alas, he passed into the ages on October 9, 2014.