Tarun Vijay, MP, salutes the General whom he adored as a great friend.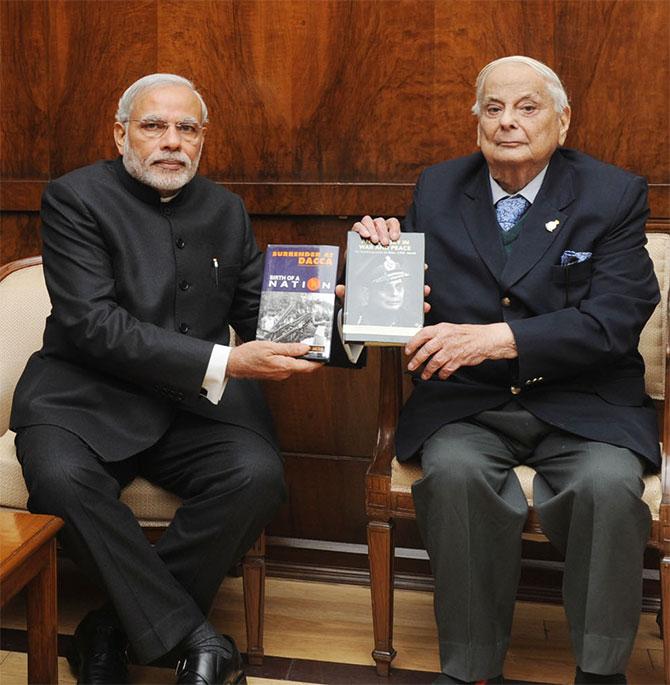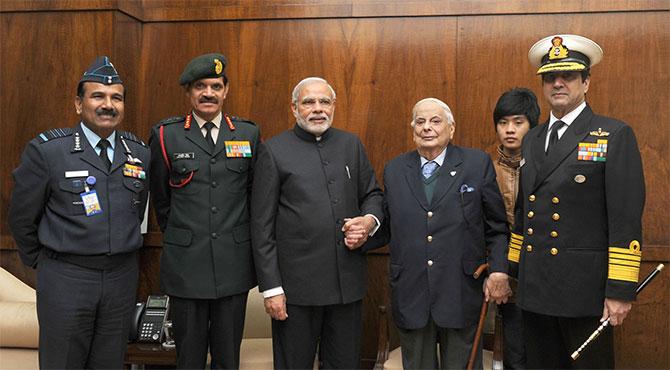 IMAGE: General J F R Jacob with Prime Minister Narendra Modi and the three service chiefs, Air Chief Marshal Arup Raha, General Dalbir Singh and Admiral Robin Dhawan, December 16, 2014. Photograph: Press Information Bureau
General Jacob was a warm, affable, gentleman who could suddenly turn very candid. Royal, always anecdotal, his heart was rooted to see a secure and militarily strong India. Often we would discuss anything under the sun on mail. My tribute to that great General, an ever ready soldier, is through some of the selected mails he sent to me.
General Jacob was our national hero, an uncompromising patriot, who was the architect of the 1971 victory. All his life he waited for governments to say that.
On August 7, 2008, he sent an e-mail attaching some excerpts from his yet to be published book, which, at the end said, 'There is a tiny Jewish cemetery in Delhi. The time is approaching when he will, one day, without any fanfare, be laid to rest in a simple grave -- known only to a few, his contributions unrecognised by government and consequently unknown to the people of his country. However one day, and that day will surely come, future historians will recognise his contribution.'
You people don't recognise how 1971 was won, he would say. And he would quote the book which stated, 'Jacob fought for some five years in World War II in the Middle East, Burma and Sumatra. He was lightly wounded in Burma. Jacob remembers, after one of the battles there, his commander telling him, 'Jacko your reward will be in heaven.' Jacob has received no honours or recognition for his role in the 1971 war nor his converting a cease fire into an unconditional public surrender. He does not expect anything any more.'
That was General Jacob. A great soldier, strategist and a warm friend. He always spoke of how India must eliminate terror from her land. His mails, hundreds of them, analysed the Pakistani bluffs, tricks and the firmness India needed to make Pakistan behave.
His anguish was Indira Gandhi didn't secure a guarantee for the safety of Hindus from Sheikh Mujibur Rehman though he had suggested it to her. India owes it to protect Hindus in Pakistan and Bangladesh, Mujib had said. Why should they suffer?
When I was in Panchjanya, he would often drop in to have a lively chat on national goings on. That would be on his way back after meeting Chaman Lalji, the then head of the RSS international department (Vishwa Vibhag) in Keshav Kunj, the local RSS headquarters.
Discussing Israel, India's wrong Palestine policy, Pakistani tactics and how we should finally eliminate the Naxal menace were some of the dear subjects he would love to analyse threadbare.
When Thailand published postal stamps on Hindu deities, he sent me this mail: 'Thailand Government released new Postage Stamps on Hindu Deities'
'Government of Thailand released remarkable new edition of stamps depicting the Hindu Deities, which will definitely delight the hearts of Hindus in Asia and other parts of the world.' He then called me, "But Tarun you won't be able to do this in India-obviously.'
In April 2012, he sent me excerpts from a book published in Bangladesh, reproduced here and then poured out his pain in the lines at the bottom:
'J F R Jacob: A Man of Honor for Bangladesh by Mohshin Habib'
'April 2, 2012 at 3:15 am: http://www.gatestoneinstitute.org/2983/jfr-jacob-bangladesh'
'If Jacob had not been there, history would have been different.'
'Among the foreign friends whom Bangladesh awarded last week on the occasion of the 41st anniversary of its independence, for their leading role in liberating it in 1971, was a Jew, an Indian top ranking military official, Lt. Gen (ret.) Jack Farj Rafael Jacob, whom Bangladesh considers one of the most important friends of the nation.'
"Jacob never asked for any award, and told reporters simply, "It is a great honor. I am honored." The progressive and informed part of the country do not believe it would been possible to have achieved independence in nine months of a bloody war against Pakistan's powerful military without his diligence.'
'If Jacob had not there, history would have been different. Jacob is admired wholeheartedly.'
DEAR TARUN DO SEE. AT LEAST BANGLADESHIS HONOUR AND REMEMBER. MY OWN COUNTRY GIVES CREDIT TO OTHERS WHO MADE LITTLE OR NEGATIVE CONTRIBUTION REGARDS... JFRJ
He wanted the army's role in eliminating Naxalism. Another e-mail describes it" 'Let future generations not say that we are the hamlets of our age.'
'I tried for many years to urge governments to employ the army as was done in 1969/1971, with no success. The Naxal insurgency continues to escalate. Please read on. Many thanks and regards...' jfrj
'The air force was also used to bomb Mizo rebel camps, while the army was used in West Bengal against the Naxals.'
'The army is currently involved in counter insurgency operations in Jammu and Kashmir as also in the north east. These are precedents to employ the army and air force to conduct anti-Naxal operations.'
'There are two factors required to keep an insurgency going -- firm bases and lines of supply for money, arms and ammunition. The firm bases are in the forests, the mofussil areas, and are now spreading to the towns. In some areas, the Naxals are running a parallel government and are collecting 'taxes'. They are obtaining weapons by seizing them from the police and paramilitary, and explosives and detonators from the mines. With such access to sources of money, weapons and explosives, the insurgency will continue to escalate.'
'Yet the government (both at the central and state level) as well as the armed forces, are not in favour of using the military to counter the Naxals. But are we prepared to let the situation escalate further?'
'Shakespeare's Hamlet is the tragedy of procrastination. Hamlet knew what he had to do, but kept on putting it off. Let future generations not say that we are the Hamlets of our age.'
He was concerned that the BJP must come to power to save the nation. But looking at some of its moves, he described as 'big mistakes he wrote to me
'HI THERE TARUN,'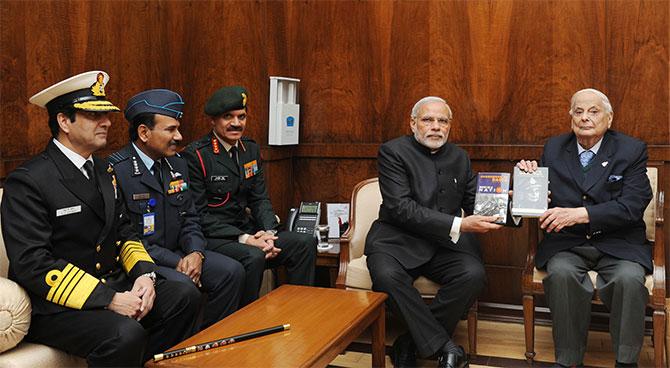 IMAGE: General J F R Jacob presents his books to Prime Minister Narendra Modi with the three service chiefs, Admiral Robin Dhawan, Air Chief Marshal Arup Raha and General Dalbir Singh, December 16, 2014. Photograph: Press Information Bureau
'BJP SHOULD UNDERSTAND THAT TACTICS WINS BATTLES, BUT IT IS STRATEGY THAT WINS WARS.'
'THE TRUST VOTE IS ONE BATTLE -- THE NEXT ELECTION IS THE WAR. THE LEADERSHIP OF THE COUNTRY AND CONSEQUENTLY THE OFFICE OF PM, WILL BE ONE OF THE CRUX ISSUES.'
Once praising my column against Christian conversions, titled Totalitarians (external link) he wrote:
'hi there, nice piece of yours -- the totalitarians please see email below. the pakis and bangladeshis know what happened in 1971. regards. jack jacob'
He quoted a mail from Sanjeev Singla, who was then first secretary in our Dhaka high commission requesting him to give an interview to Bangladesh's largest daily Pratham Alo on his role in 1971. (That's the reason he wrote -- 'the pakis and bangladeshis know what happened in 1971.')
He wanted the entire security system to be revamped. Once he wrote, 'Dear tarun, i had been pushing with the previous and this government the urgency for reorganising the infrastructure for national security and counter insurgency.'
'Please see the last note sent. bangalore and now ahmedabad. where will it end?'
'Please read. also please see piece on terrorism and insurgency, a lecture i gave in usa TO STATE DEPT AND MILITARY OFFICIALS. www.jacoblectures.blogspot.com any comments? in case you wish you can forward to the BJP if of any interest to them. regards.....jack jacob'
Excerpts from the note he had attached:/p>
'MONEY AND ARMS ARE BEING SOURCED FROM OUTSIDE -- WEAPONS AND MONEY FROM PAK/BANGLADESH AND MONEY FROM THE MIDDLE EAST...... EXPLOSIVES ARE READILY AVAILABLE LOCALLY. GELATINE/ GELIGNITE AS ALSO DETONATORS ARE IN USE IN MINING AND ROAD CONSTRUCTION AND ARE BEING DIVERTED FROM THERE... CAN BE CONVERTED INTO EXPLOSIVES... THESE NEED TO BE MONITORED. WEAPONS ARE BEING SEIZED FROM POLICE AND PARAMILITARY. INTELLIGENCE GATHERING, PARTICULARLY GRASSROOT, AND ASSESSMENT NEED TO BE DRASTICALLY IMPROVED IN ORDER TO KEEP UP WITH A RAPIDLY DEVELOPING SCENARIO.'
'IT IS TIME THAT OPERATIONS SHOULD DESIGNED TO BE BE PROACTIVE, NOT REACTIVE. THE NATIONAL SECURITY SET UP SHOULD BE REVAMPED AS HAD BEEN DONE IN THE USA. THE ATTITUDE OF 'LAISSEZ FAIRE ' SHOULD GIVE WAY TO ONE OF PROACTIVE -- PRE EMPTIVE ACTION.'
He loved Israel, obviously. Once he sent a hilariously interesting piece written by a Japanese author, which I can't resist reproducing here with the map it had accompanied
By Yashiko Sagamori
If you are so sure that "Palestine, the country, goes back through most of recorded history," I expect you to be able to answer a few basic questions about that "country of Palestine".
1. When was it founded and by whom?
2. What were its borders?
3. What was its capital?
4. What were its major cities?
5. What constituted the basis of its economy?
6. What was its form of government?
7. Can you name at least one Palestinian leader before Arafat?
8. Was Palestine ever recognized as a country whose existence, at that time or now, leaves no room for interpretation?
9. What was the language of the country of Palestine ?
10. What was the prevalent religion of the country of Palestine ?
11. What was the name of its currency? Choose any date in history and tell what was the approximate exchange rate of the Palestinian monetary unit against the US dollar, German mark, GB pound, Japanese yen or Chinese yuan on that date.
12. And, finally, since there is no such country today, what caused its demise and when did it occur?

You are lamenting the "low sinking" of a "once proud nation".

Please tell me, when exactly was that "nation" proud and what was it so proud of?

And here is the least sarcastic question of all: If the people you mistakenly call "Palestinians" are anything but generic Arabs collected from all over -- or thrown out of -- the Arab world, if they really have a genuine ethnic identity that gives them the right for self-determination, why did they never try to become independent until Arabs suffered their devastating defeat in the Six Day War?

The great person that he was, General J F R Jacob will always be remembered not just as the architect of the 1971 War, but as a patriot who inspired millions of Indians.