Delhi's air is a desperate problem, but some of the solutions have been too desperate and unthinking, says Shekhar Gupta.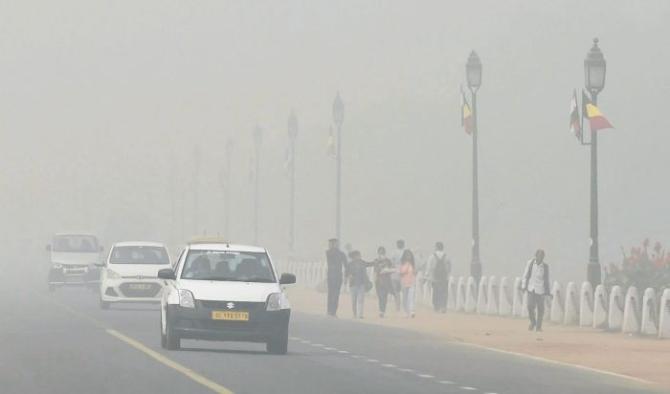 IMAGE: A view of Rajpath, New Delhi, enveloped in smog, November 7, 2017. Photograph: Manvender Vashist/PTI Photo
The headline for this piece is inspired by Raj Kapoor's Bobby (1973).
Dimple Kapadia pleads with Rishi Kapoor in Lata Mangeshkar's voice: 'Mujhe kuchch kehna hai (I must tell you something).'
And Rishi Kapoor responds, 'Mujhe bhi kuchch kehna hai (Even I want to tell you something).' It tugs at your heart-strings as teenagers bare their love in Anand Bakshi's subtle lyrics.
There is, however, nothing subtle about the phenomenon we are analysing, by twisting these famous lines, replacing 'kehna' with 'karna'.
So when faced with a serious crisis, even a grave national emergency like North India's murderous air quality, our response usually is, echoing Dimple, 'Mujhe kuchch karna hai (I must do something about this).'
The rest of us in the larger governance elite, judiciary, activists, media and, smartest of all the politicians then become Rishi Kapoor's: 'Mujhe bhi kuchch karna hai.'
Everybody then does her 'something', salves her conscience, the media conjures up glorious headlines and the talking heads declare victory.
Google and check how many times, especially in the Diwali-winter months, drastic, one-shot solutions have been announced and hailed as a brave death-blow to smog.
There is no effort to research and address the larger problem. It takes too long, real solutions aren't sexy. They require too much time, and onerous hard work.
Yet, you can't be seen to be doing nothing about this emergency. So let's at least do 'something'.
No harm if it gives me an opportunity to ride my own pet hobby-horse. Or slay my own favourite demon. Because when I have done my something, my responsibility is over.
You can, meanwhile, buy that air-purifier (that costs more than an air-conditioner) and keep that steroid inhaler handy.
And if you can't afford these gasp, and pray.
This is a quick recounting of some headline-grabbing things our champion smog-slayers have done in the last many years.
Somebody has banned all vehicles beyond a certain age in the capital, another has cracked down on diesel, a pollution tax has been levied on heavy trucks entering the city, work-stoppage has been ordered at construction sites on a whim, water-spraying ordered, household summarily fined (Rs 50,000 no less) for leaving debris on the kerbside, an even-odd scheme has been implemented with endless fanfare on TV channels, sponsored by air-purifier brands, now crackers have been banned.
How much better is our air quality as a result, check the readings on your air filter.
There is no doubt that the activist-judiciary complex that rose in the mid-1990s, the years of the Supreme Court's Justice 'Environment' Kuldip Singh and PIL warrior M C Mehta has made a real contribution.
Its high point was the successful shifting of the capital's public and commercial transport to compressed natural gas. It brought about a phenomenal improvement in air quality. But this benefit peaked a decade ago.
Much that has followed since then is gimmicky, thoughtless, arrogant, dictatorial.
Something on the lines of: We, the activists, judges, friends in the media, and know what is best for you. So we order, and you follow. On fear of contempt of court. Ask no questions, seek no accountability.
Meanwhile, also learn to nebulise your children.
Delhi's air is a desperate problem, but some of the solutions have been too desperate and unthinking.
The overnight shifting of all of Delhi's cottage industry to outlying areas like Bawana with no time, patience or commitment to build infrastructure, physical or human.
Industry and jobs were moved out before public transport and housing could fetch up, so the result was job losses, spawning of new slums and illegal housing sprawls built by land-grab mafias and simply shifting the capital's pollution from its relatively core areas to the outskirts.
There was insufficient thought to the kind of industry Delhi should have and on a policy to move in that direction.
Funny, the belief that one privileged community can load its pollution on a lesser one.
That poison-laden air does not respect municipal or even national boundaries was a lesson we were taught by the father of modern environmental activism Lester Brown in his bible on the issue, World Without Borders, published in 1972.
In 2015, the Aam Aadmi Party, a party of former activists, took power in Delhi.
It was quick to see the opportunity to shift from its old anti-corruption agenda to anti-pollution and took gimmickry to another plane altogether. I have compiled the following facts with the help of my colleague Rajgopal Singh.
First, it announced the so-called even/odd scheme which made no difference to air quality.
Then followed the promise of installation of five giant air purifiers, a mist fountain and a virtual chimney in the most polluted areas. It was even done on 'trial basis' in October 2016.
There were other promises: Mechanised, vacuum-sweeping of Delhi's roads to reduce dust, our nastiest lung-destroyer. Spotted one of those lately?
The Environment Pollution (Prevention and Control) Authority, Supreme Court and the National Green Tribunal meanwhile kept doing their own thing, passing so many orders on vehicles and fuels that you'd need to call McKinsey to make sense of these.
A reading of the comprehensive EPCA report submitted to the Supreme Court on February 1 this year is revealing, especially the section on status report on implementation of court orders.
Even more instructive is the report EPCA has submitted on April 4 this year detailing the Supreme Court's action plan on the capital's smog. It is well-meaning, comprehensive, and would usher in the perfect world.
But it is impossible to implement, short of a revolution. Or, let me push the envelope, even after a full revolution.
It has steps that will be binding on at least two dozen agencies of the Centre and several states besides, indeed, Delhi.
It will have implications on budgets (buy thousands more buses and create special corridors for them), fuels, taxes, agriculture in adjoining and distant states, Haryana and Punjab, municipal and civic operations.
If you read each point of this plan, and agency tasked for compliance, you will see that the least it will take to implement is a full-time Supreme Court bench, or may be entire Supreme Court sitting on a daily basis with a dozen empowered committee to oversee everything.
With the greatest respect, we have to say that while this makes brilliantly reassuring reading, it's not going to happen.
A cruel fact-check: No new buses have been bought by Delhi after the surge during the Commonwealth Games in 2010, ongoing Metro phase-3 is the first to be delayed by more than a year and even the plan for Phase-4 is delayed by a full 2.5 years.
The whole mess is what we might call a dog's breakfast, that even Gods can't unscramble.
It's harsh, but not speaking the truth would be cowardly and dishonest to our children's lungs.
These committees, created as a result of an M C Mehta public interest litigation beginning 1985, have done a stellar job, but have now outlived their utility.
Now they are bored, tired and repetitive like any other government bureaucracy with its sense of entitlement.
In its 20th year now, the EPCA could be among our longest lasting court-mandated authorities.
Its chief, Bhure Lal (whose name recently surfaced as a Bofors investigator), took over the EPCA in 1998 and has carried on through the tenure of 17 Chief Justices of India.
All that would have been fine if meanwhile our air quality had improved.
It's time for the Centre to set up a new, empowered political authority under the prime minister if necessary, including all concerned chief ministers, set targets for it and be held accountable.
It's time also, I say with the greatest humility, for the courts to get off the kerb. They have done a lot, but why let the executive pass the buck to them, sit back, and mock the ineffectuality of their actions.
By Special Arrangement with ThePrint, and Editor-in-Chief Shekhar Gupta