The party has to stop gazing fondly at the trophy shelf of its past, and start envisioning and working toward a future palatable to new generations of Indians who have higher expectations and less patience, observes Mitali Saran.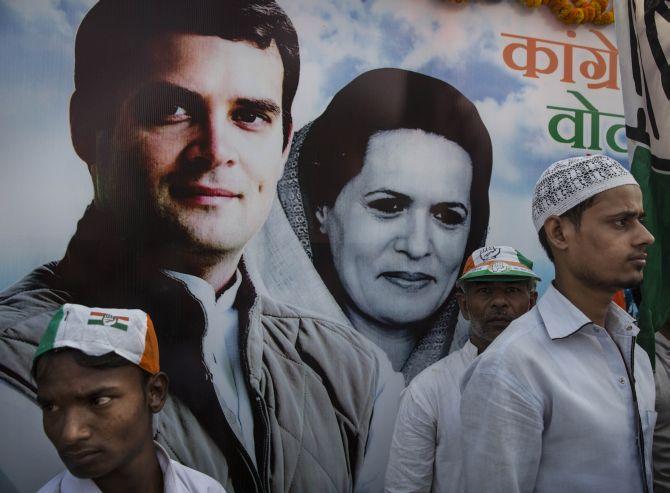 They say that as you get older, time seems to accelerate. It seemed to me it was just the other day that I was writing a column about New Year resignations, so I looked it up, and discovered that it was written on January 11, 2014. Forget where this year has gone -- I don't know where two years have gone.
This past year, 2015, stands out largely for record noise levels in a famously noisy country, and for better or worse, we ended up paying attention, albeit in a deer-in-the-headlights sort of way. The beef wars, and the writers' protests that followed, accomplished what looked like an increasingly remote possibility: it put a bit of spunk back in the Opposition. The Congress began by firing off the shoulders of individual citizens, but has since emitted a roar or two of its own.

The Bihar elections were a huge shot in the arm for the parties of the Opposition, and made a sizeable hole in the BJP's ego. If the Centre was complacent about making smooth and steady headway in its agenda, 2015 put paid to that notion. It is now mired in fighting various fires -- Arvind Kejriwal in Delhi, Nitish Kumar in Bihar, the Congress in Parliament, a political crisis in Arunachal Pradesh, and the press at all times.

Constructive opposition is vital and good. The Congress has so much baggage of its own -- decades of its own intolerances, its own acts of censorship, of misogyny, of intimidation, of constitutional violations, of authoritarianism, of corruption, of communal incitement, and of high-handedness -- that its credibility on these issues can only properly be built going forward. It is the lot of any enduring party, that the history it is rightly proud of is the same history that weighs it down; for now, even supporters struggle with the double standards.
But at least India is reassured that the principal Opposition party has a pulse. And there's nothing like a court case, and even the spectre of a possibility of its leadership spending some time in the clink, to keep the party visible and connected to its supporters.
Sonia Gandhi and Rahul Gandhi are to appear in court on Saturday in the National Herald/Associated Journals case, and they will be walking the fine line between their stated respect for, and confidence in, the judiciary, and Rahul Gandhi's statement that the case against them is "100 per cent political vendetta coming out of the Prime Minister's Office". Those two stances are at least partially at odds, since it is the court that considers that the case merits investigation.

How the trial plays out and how the party reacts, especially in the case of a conviction, will be an interesting indication of the longer game the Congress plans to play.
Will it set itself up as a confident, law-abiding guardian of the Constitution, or will it unleash (or fail to leash), the same ugly dogs as the Bharatiya Janata Party has at its disposal? Both parties have, and freely leverage, thugs and goons. Both like to pretend they have nothing to do with them. But an Opposition party benefits chiefly from looking and acting different.
The Congress will have to fight its long-standing political habits to rise above both brawl and persecution complex. It will have to play a longer game. It will also have to let go of its thoroughly outdated habit of constantly invoking the family. You cannot promote family hagiographies without implicating the same family. Sonia Gandhi is quite formidable enough on her own to say "I'm not afraid of anyone" without bringing up her mother-in-law. The Congress has to stop gazing fondly at the trophy shelf of its past, and start envisioning and working toward a future palatable to new generations of Indians who have higher expectations and less patience.

The Opposition's job is to check and balance the administration. And yet, India only has so much patience for obstructionism. The stand-off in Parliament is losing its purposeful fire and turning into an unsightly waste of time and taxpayers' money.
After the mutual name-calling that has characterised this year, even having acknowledged that the BJP was equally obstructionist in its time, constant roadblocks get really old, really fast. The Congress, unburdened by the compulsions and expectations of governance, has a reasonable hand of cards to play, and is free to reinvent itself and find a new, invigorated direction. It would be a terrible waste and a disappointment if it were to squander that advantage by playing the same old politics, perhaps winning a battle or two, but losing the war of perception.
India is sick of the past, and looking to the future; 2016 should be the year that the Congress gets serious about putting its own house in order.
Photograph: Kevin Frayer/Getty Images