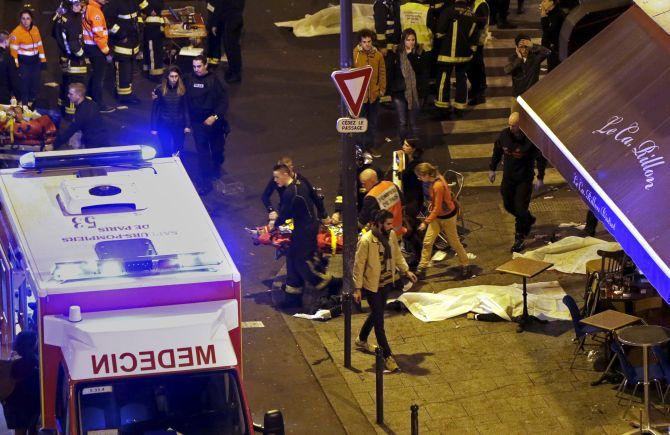 'If religious scholars and preachers declare suicide attacks as un-Islamic and decree that suicide bombers will be denied an Islamic burial and funeral rites, it may dissuade some would-be terrorists who dream of an afterlife in heaven,' says Colonel Anil A Athale (retd).
When nearly seven years ago Pakistani gunmen attacked Mumbai and killed over 160 people, most analysts expected that this was the beginning of a new form of terrorism. They were not wrong as the Mumbai attack pattern was repeated in Paris in 2015.
The two attacks were indeed similar in terms of tactics, yet very different in terms of world reaction and response. A comparison is warranted in order to learn and forestall future attacks.
The bad news is that in an era of global interconnectedness due to trade and travel and the information highway (that ensures wider impact of distant events) such like attacks on urban centres anywhere are virtually unstoppable.
It is impossible to turn a city into a fortress and if a few armed men can sneak into any crowded place they can create mayhem anytime.
Thus it is a global problem and denial of sanctuary is a first step that is needed to be taken.
In case of areas under Islamic State (Daesh)-like groups, these need to be physically isolated and countries that shelter such groups, either willingly or unwillingly also similarly be quarantined. This is the best way to prevent a repeat of Paris-like attacks.
For an effective global war on terrorism, there should be no double standards. I recall with horror an instance nine years ago at an international workshop at Salzburg in 2006, speaker after speaker spoke of the Madrid train bombings of 2004 and the London attacks of 2005, but there was no mention at all of the horrific Mumbai train bombings that took place on July 11, 2006, just a few months before!
This workshop had some of the world's best legal brains and diplomats taking part to deliberate on the rule of law and human rights in age of terrorism. Unfortunately, the consensus was more in favour of human rights for terrorists and adherence to the rule of law principle of regarding a terrorist as innocent till proven guilty. Mine was a lone voice pleading for laws of war (use of maximum force) to be applicable to terrorism.
It is true that it is virtually impossible to stop a suicide attacker as seen in numerous instances worldwide. Terrorists motivated with religious teaching that glorify suicide need to be dealt with using the very religion.
If religious scholars and preachers declare suicide attacks as un-Islamic and also decree that suicide bombers will be denied an Islamic burial and funeral rites, it may dissuade some would-be terrorists who dream of an afterlife in heaven.
The ball is firmly in the court of the Islamic clergy who have to rise to the occasion to stop criminals from hijacking and defaming Islam.
The second measure needed to be implemented by all countries is to enact a special law that will enable police/soldiers to take pre-emptive action against plotters or suspects.
As a safeguard against misuse, the law can put the burden of proof on the police to prove the conspiracy angle. But the most urgent measure is for the United Nations to clearly define 'terrorism.'
Global cooperation on terrorism has been stuck at the problem of defining 'terrorist' and terrorism. It has been often said that one man's terrorist is another man's freedom fighter. Nearer home, Kashmiri terrorists are termed 'freedom fighters' by Pakistan so are the Palestinians fighting Israel by most Arab countries.
There is also the issue of 'State terrorism' raised by human rights group. For instance, the Chinese government's action in Tiananmen Square in June 1989 is condemned as a terrorist act by Western countries.
In the absence of a clear definition, united action by all countries has not been possible and has been one of the biggest hurdles in the fight against terrorism.
There is the related issue of the indiscriminate use of the word 'terrorism' in a situation of fighting a guerrilla war or insurgency. Attacks by insurgents on the police or armed forces by groups fighting for a variety of causes are often wrongly termed as acts of terror. This has diluted the focus on actual terrorism directed against unrelated targets.
Instead of trying to define who is a terrorist, it would be better to clearly define an act of terrorism. Any action that causes death or destruction to civilian life or non- military property should be defined as act of terrorism. This should not apply to armed or violent unarmed mobs that are a threat to peace.
The defining feature of an act of terrorism is causing damage to 'non-violent and peaceful civilians.' This will automatically exclude actions by the State against rioters, stone-pelters or armed violent mobs.
Any person or group that indulges in these acts defined as 'terrorism' should be automatically be termed 'terrorist' and all States should be obliged to take action against these individuals and organisations.
Failure to do so should invoke automatic economic and travel sanctions against offending countries. This should then act as a deterrent against any country giving shelter or help to terrorist groups.
Much damage has been done to the cause of fighting terrorism by the bogus theories of 'root cause.' India has particularly been a victim of this syndrome whereby the secret sympathisers of terrorists resort to this stratagem to justify terror acts.
Acts of terrorism should be clearly separated from the cause for which the terrorists are fighting. Thus, it should be made clear to all that even a 'legitimate' cause does not justify the use of terror tactics and if so used the organisation will face the wrath of the whole world. This is quite akin to the Gandhian principle of the use of only 'legitimate' means.
Attacks against the armed forces or the police by groups of fighters should be excluded from this definition of terrorism as they fall under the rubric of guerrilla war. The world has lost a decade in the fight against terrorism by clubbing terrorism with guerrilla war.
Global consensus on the issue of defining terrorism and enacting mandatory UN sanctions against violators will be true tribute to the victims of terrorism from Mumbai, Nairobi, Paris and elsewhere. We owe it to them and our future.
IMAGE: Rescue service personnel outside a restaurant in Paris where several people were murdered by terrorists on November 13. Photograph: Philippe Wojazer/Reuters
Colonel Anil A Athale (retd) is a long-term student of insurgency and coordinator of the Pune-based Indian Initiative for Peace, Arms-control & Disarmament.