'Hardliners who are against denuclearisation may be working secretly on North Korea's nuclear activities, despite official claims that dismantling its nuclear arsenal has already begun.'
'Does it mean that Kim does not have full control over the military,' asks Dr Rajaram Panda.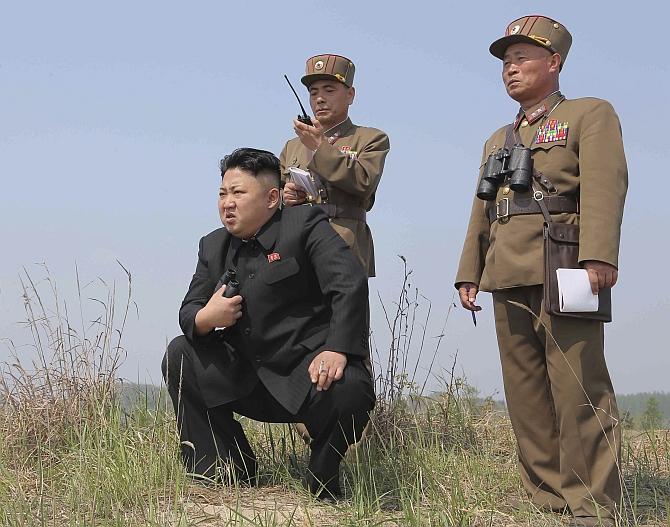 The North Korean conundrum over the denuclearisation issue following the Donald J Trump-Kim Jong Un summit on June 12 in Singapore gets murkier by the day.
There are several stakeholders related to the issue. Each has its own stakes, which they are unwilling to compromise on.
The US, Japan, South Korea, Russia and China are not necessarily on the same page as their respective strategic/economic interests are at variance with the other.
North Korea's denuclearisation issue on which so much hype was generated after the Singapore summit seems a non-starter.
There seems to be several imponderables in seeking what Washington has been insisting that nothing short of 'complete, verifiable, and irreversible dismantlement' of North Korea's nuclear weapons and other weapons of mass destruction is acceptable to welcome North Korea to the world community.
Japan virtually parrots such a stance, pushing for the focus to remain on missiles of all ranges rather than merely the intercontinental ballistic missiles that could reach the US mainland.
Despite the euphoria generated by the Trump-Kim summit in Singapore, Japan remains cautious about North Korea's intentions.
China and Russia are not on the same page and take a softer line.
South Korea seeks peace by any means as it could be the immediate adversary in any conflict situation.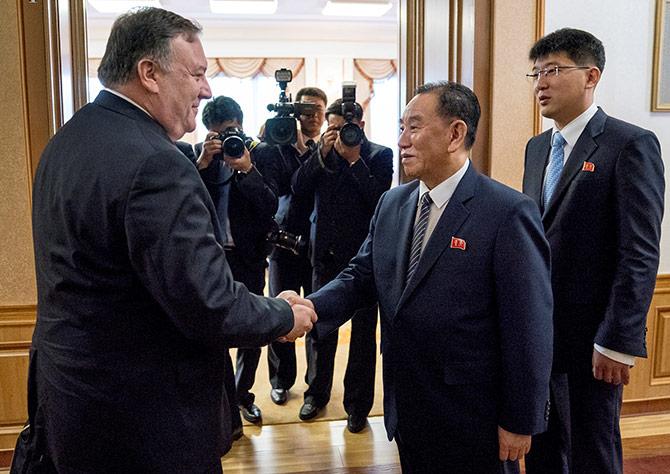 In the midst of all these conflicting perceptions, US Secretary of State Mike Pompeo made his third visit to Pyongyang last week to work out the way towards denuclearisation.
Not only did it end with virtually no outcome, but there was acrimony after Pompeo claimed that the talks were productive, which Pyongyang dubbed as 'regrettable'.
This raises the question: Is Kim Jong Un sincere about keeping the promise he made in Singapore or are there other factors that prevent him from executing his promise?
One possible reason some analysts cite is that Kim decided to prioritise economic development, which is why he choose to talk about giving up nuclear weapons.
The return to a hardline stance -- as demonstrated by Pyongyang's reaction to Pompeo's claim of his talks being 'productive' -- gives rise to speculation that Kim is facing a setback to his economic development plan because of opposition from hardliners in the military.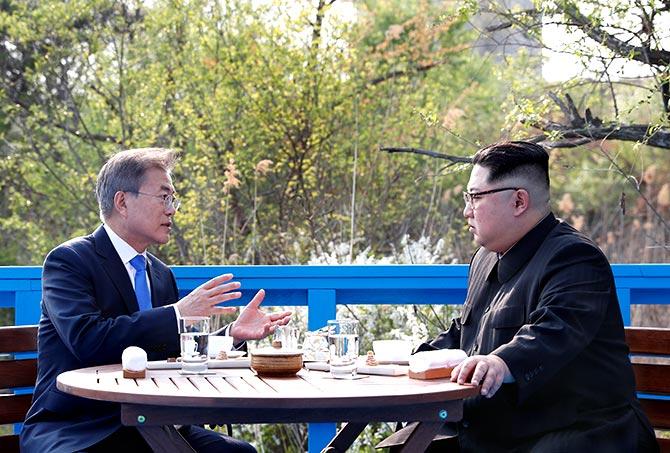 According to reports in the Korean media, Kim expressed his frustration about the hardliners when he met South Korean President Moon Jae-in on April 27 in Panmunjom.
Though this cannot be verified, optimists who see a new dawn of peace in the Korean peninsula will have to revisit their position, if this indeed is the case.
It is also speculated that the hardliners who are against denuclearisation are working secretly on the country's nuclear activities, despite official claims that dismantling its nuclear arsenal has already begun.
Given Pyongyang's past record of breaking promises, the trust deficit is not going to go away so easily irrespective of its intentions.
This could also be one reason why denuclearisation negotiations between the US and North Korea remain stalled for weeks and no progress has been made.
Does it mean that Kim does not have full control over the military or what goes on in the military?
If the speculation that Kim may soon replace Kim Yong Chol, vice chairman of the central committee of the Workers Party, with Foreign Minister Ri Yong Ho as the counterpart to Pompeo comes true, then the speculation of Kim Jong Un losing control over the military could be real.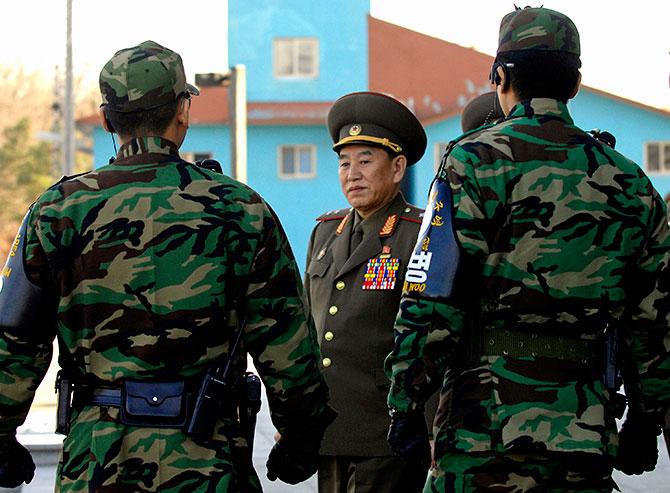 Kim Yong Chol had been Pompeo's opposite number until the June 12 summit between Kim Jong Un and Trump.
However, the joint statement issued at the end of the Singapore summit stated Pompeo and an unnamed 'relevant high-level North Korean official' would seek to hold follow-up talks, implying that Kim Yong Chol could be replaced.
Kim Jong Un is aware that Kim Yong Chol with his military background has hardline views against the US.
It is possible that conservatives in Pyongyang do not feel comfortable that Kim Jong Un has opted for a softer stance on the State's nuclear programme.
They worry about the State's future in the possible changed scenario.
The 'internal voices of military hardliners' is cited as one reason why denuclearisation talks have not made much progress.
However, there could be other views as well.
For now, Chol stays on.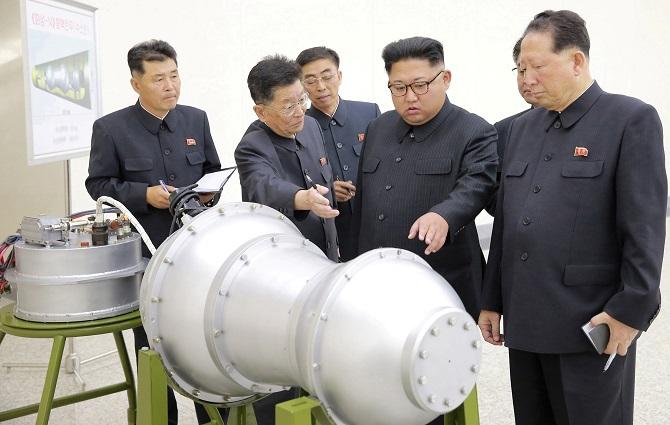 The above argument and counter argument stems from the news gathered by US intelligence sources that North Korea is engaged in making more nuclear fuel despite ongoing talks.
US intelligence agencies cites 'unequivocal evidence' that North Korea continues production of fuel for nuclear weapons at multiple secret sites and may hide these at a time when it seeks relief from US-led sanctions.
If true, then Trump's boastful announcement after the June 12 summit with Kim that 'there is no longer a nuclear threat from North Korea' needs to be viewed differently.
Obviously, a scenario when North Korea steps up production of enriched uranium for nuclear weapons while engaged in nuclear diplomacy with the US is not ideal for achieving denuclearisation.
North Korea has more than one secret nuclear site in addition to its known nuclear fuel production facility in Yongbyon.
This leaves room for suspicion that Pyongyang is deceiving the US.
The joint statement issued in Singapore gave no details on how or when Pyongyang might surrender its nuclear weapons.
Ahead of the Singapore summit, North Korea had rejected unilaterally abandoning an arsenal which it viewed as an essential deterrent against the US aggression.
There was a virtual volte face in Singapore where it was announced that Pyongyang would give up its nuclear weapons if North Korea's security was guaranteed.
Trump claimed this as a victory and announced that Pyongyang was blowing up four of its big nuclear test sites, thereby starting the denuclearisation process.
According to 38 North -- the Washington, DC-based North Korean monitoring project -- this was not the case.
Amidst all this confusion, while diplomacy continued with Mike Pompeo's third visit to Pyongyang seeking clarity on its denuclearisation plans, the Korea Herald reported on July 6 that Kim is eyeing a second summit with Trump in Switzerland.
The report cited multiple diplomatic sources that a team of North Korean diplomats flew to Geneva, Bern and Davos to look at potential venues for denuclearisation talks with the US.
No such mention was made when Pompeo made his third visit to Pyongyang, however.
The Japanese news agency Kyodo reported that North Korea could also be considering multilateral negotiations with the US, South Korea and China through the remaining months of 2018 and through 2019.
Kim Jong Un studied at a junior high school in Bern and Switzerland has evinced interest in hosting talks between North Korea and the US.
If these reports are true, a second Trump-Kim summit in Davos coinciding with the annual World Economic Forum could be a possibility.
Dr Rajaram Panda, former Senior Fellow, IDSA, was until recently ICCR Chair Professor at Reitaku University, Japan.