Three hate crimes have deepened the fear among South Asians that Trump's rhetoric encouraged violence against them, but there is no evidence that Indians have been specifically targeted.
And as long as there is no systematic targeting of Indians or condonation of such attacks by government agencies, there is precious little India can do, says Ambassador T P Sreenivasan, who served as deputy chief of mission at India's embassy in Washington, DC, when the US imposed sanctions against India in May 1998.
Illustration: Dominic Xavier/Rediff.com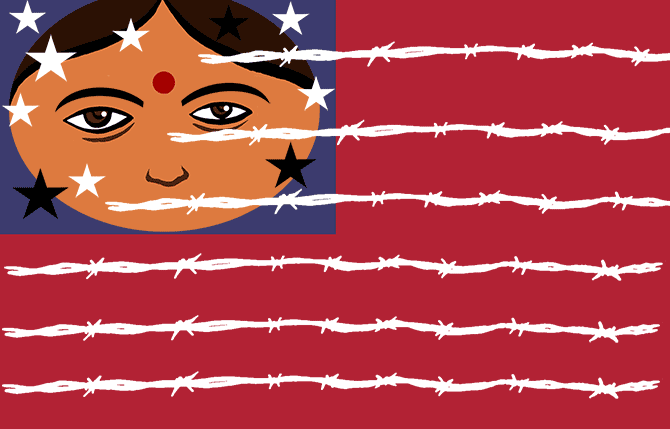 In this age of post truth, impressions rather than facts matter and there is a tendency to jump to alarming conclusions, based on signals.
So there is nothing surprising about the three attacks on Indians in the United States being put at the door of President Donald Trump.
After all, he is the one who has poisoned the minds of his people against foreigners, imposed restrictions on arrival of immigrants and restricted the H-1B visas, whose beneficiaries are mostly Indians.
But objective facts show that the Indians were unintended victims rather than targets.
The Kansas shooting that killed Srinivas Kuchibhotla and injured his friend Alok Madasani occurred in a bar, which they had adopted as a hangout.
A local man, who was known for his drinking habits and petty crimes, Adam Purington, was telling them -- half in jest -- that they did not belong to the US.
This irritated not only the Indians, but also other customers and they threw him out of the bar.
An enraged Purington returned after a while and shot at not only the Indians, but also a young white man, who tried to apprehend the culprit.
Purington was charged with premeditated first degree murder and attempted murder.
The authorities considered the attack a possible hate crime and it reverberated in the US and India, raising fresh alarm about a climate of hostility towards foreigners in the US, where President Trump had made clamping down on immigration a central plank of his 'America First' agenda.
The White House strongly rejected the notion that there might be any connection between the shooting and the new administration's sharp language about immigration and the US president expressed concern.
In his address to the United States Congress, President Trump said the 'shooting in Kansas City... remind us that while we may be a nation divided on policies, we are a country that stands united in condemning hate and evil in all its forms.'
'People are devastated,' said Somil Chandwani, a friend of the two victims who lives in Overland Park, Kansas. 'I wouldn't say they are angry. They have a sense of insecurity at the moment. People are trying to find answers.'
The charge sheet gave no details about the motive of the shooting.
The word, India, did not figure in the conversation between the two Indians and their attacker, but there was a mention of illegal migrants and the Indians said they were legal residents who had studied in the US.
It was the fact that the attacker was thrown out by the other customers that enraged Purington and not necessarily any words or action of the Indians.
The silver lining on the incident was that the young white man, who tried to rescue the Indians and took a bullet was duly rewarded by the local residents.
Kansas declared March 16 as an 'Indian American Appreciation Day'. The incident was clearly isolated and did not reflect a sentiment in the locality.
There were also reports that the attacker said later that he had shot two Iranians.
Within a few days, two more attacks took place.
One in Lancaster, South Carolina, where Harnish Patel, who had lived in the US with his family for 14 years, was shot and killed outside his home.
A Sikh man was also shot in Kent, Washington, while he was in his drive way, working on his vehicle. The victim, Deep Rai, was also allegedly told to go back to his country at one time.
These three attacks have naturally deepened the fear among South Asian and immigrant communities that President Trump's aggressive rhetoric and executive orders encouraged violence against them. But there is no evidence that Indians have been specifically targeted.
Average Americans are fairly ignorant of geography and the differences between various nationalities.
Similar incidents took place after the 9/11 terrorist attacks and the victims were Sikhs, who apparently were mistaken for Muslims. The headgear was enough to make them look like Osama bin Laden!
They were unable to distinguish between Iraqis and Kuwaitis at the time of the Gulf war. An American was heard boasting to his neighbours that his son had gone to finish off the Arabs. He was not aware that the US was fighting to liberate one nation of Arabs from another nation.
Undoubtedly, immigrants have not been particularly popular in the US, except among the city dwellers, who knew their worth as doctors, teachers, intellectuals and more recently, IT experts.
Outsourcing was seen as an evil by the unemployed in the villages, prompting even President Obama to say that the US should have business in Buffalo, not in Bengaluru.
But he did not do anything to halt outsourcing, which was a win-win situation for both the US and India. Even President Trump will not be able to do without immigrants, particularly the Indians in the IT industry.
Many people have been asking what India can do to prevent tragic incidents involving Indians.
It can do precious little, except to condemn the incidents, insist on proper investigation and payment of adequate compensation. If the victims are US citizens, our leverage is even less.
As long as there is no systematic targeting of Indians or condonation of such incidents by government agencies, there is no reason even to protest.
The case was different in 1998, when the US government itself denied visas to Indians and repatriated scientists, in protest against our nuclear tests.
The Khobragade incident was also deplorable to the extent that an Indian diplomat was arrested and humiliated with US state department connivance.
Our concern about the possible implications of the present government policies shall remain unexpressed as this cannot be proved either way.
There are reports that fewer Indians are travelling to the US, even fewer are going for education there and alternate destinations are being explored.
Hopefully, normalcy will be restored, once the current period of uncertainty in US policies is over.
The American Dream will linger beyond the present dispensation for civilisational reasons.
T P Sreenivasan, (IFS 1967) former Ambassador of India and Governor for India of the IAEA, is Chairman, Academic Council and Director, NSS Academy of Civil Services, Director General, Kerala International Centre.