'There is a very serious terror threat to India in the run-up to Republic Day on January 26 and Beating the Retreat on January 29,' says Rajeev Sharma.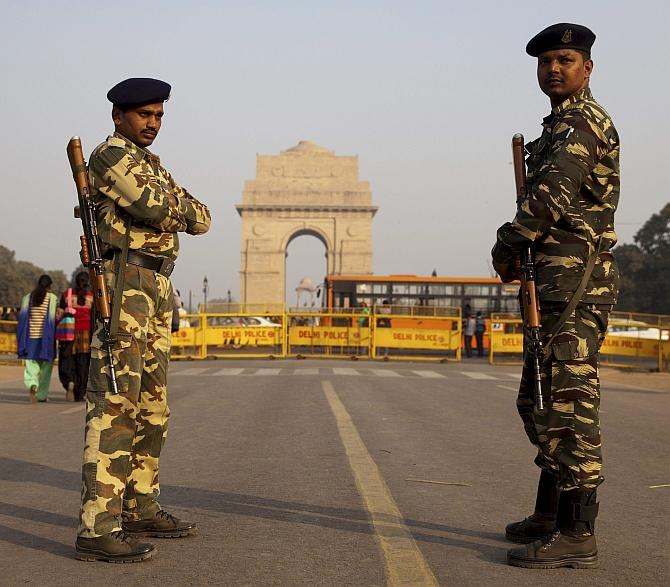 IMAGE: Troopers guard the India Gate in New Delhi ahead of Republic Day.
There has been a spate of news reports of late that Islamic State in Iraq and Syria (ISIS/Da'esh) is going to turn a laser beam focus on India and make a base here.
ISIS per se can't have either strategic compulsions or gains by spreading its tentacles to India. Even its presence in Bangladesh has been denied by Premier Sheikh Hasina and its presence in Pakistan too is in the AfPak region.
Then how does one interpret the National Investigation Agency arresting 20-odd ISIS 'sympathisers' from 12 separate locations across the country on Friday, January 22?
And how does one analyse the French consulate in Bengaluru receiving a three-line letter on January 11 warning French President Francois Hollande from visiting India?
Strategically speaking, how can ISIS have the wherewithal -- forget about the intention -- of spreading its base to India when its tail is virtually on fire with the US-led international community having stepped up its aerial bombings on ISIS targets and even bombed out its banks in at least two such attacks in the last one week alone?
How can ISIS even think of opening a new theatre far away from its known area of operation when it is bogged down in a grim battle in the strategic city of Deir Ezzor in northern Syria and where it is up against the Russians?
ISIS has made sizable gains in this city and wresting its control would be a huge morale booster after it seized control of Raqqa, another Syrian provincial capital, and give it a huge operational heft by improving its supply lines across the border into Iraq.
Yes, ISIS has targeted a P-5 country like France in a big way with unprecedented terror attacks in Paris, but does it have the operational capability of chasing the French president across the globe and targeting him wherever he goes? The answer is obviously in the negative.
From out of 30,000-odd fighters that ISIS boasts of, the number of Indians in these ranks does not even get into double digits. And this is despite the fact that India is home to the second largest Muslim population in the world with 172 million Muslims living in the country.
The most likely explanation of reported uptick in ISIS activities in India can be this. It is a case of a wolf in a hyena's clothing.
NIA investigators as well as intelligence agencies are of the view that the latest ISIS 'sympathisers' are none other than Indian Mujahideen cadres.
Terrorists and terror outfits are known to mutate, evolve and change tactics to keep themselves in business and increase their longevity. This is precisely what the Indian Mujahideen may be doing to keep itself relevant.
However, there is no gainsaying the fact that there is a very serious and credible terror threat to India right now in the run-up to Republic Day on January 26 and Beating the Retreat on January 29.
It doesn't matter to the Indian security establishment whether the terror threat comes from this outfit or that outfit. India's biggest concern right now is that the terrorists of all hues and ideologies must not get a chance to indulge in even a token terror attack.
Two days are most sacrosanct for India and its security apparatus, Independence Day and Republic Day, and governments after governments have successfully ensured that at least on these two days terrorists must be kept out of business.
If the terrorists are able to strike on or around Republic Day it will be a huge morale booster for them.
The Indian security establishment is keeping its fingers crossed as two cars have been hijacked -- one a blue beacon car of a senior security official from Noida and another one a taxi from Pathankot whose driver was found murdered. The modus operandi in these two incidents is starkly similar to that of the Pathankot terror attack.
The terrorists are definitely up to something. If God forbid, they were to succeed in the next few days, there is a strong likelihood that such an attack is projected as the doing of ISIS. Well, a case of same wine in a new bottle!
Rajeev Sharma is an independent journalist and strategic analyst who tweets @Kishkindha