What do critics of the prime minister know? India has reached the zenith of its glory under the Modi dispensation, says Durba Dhyani.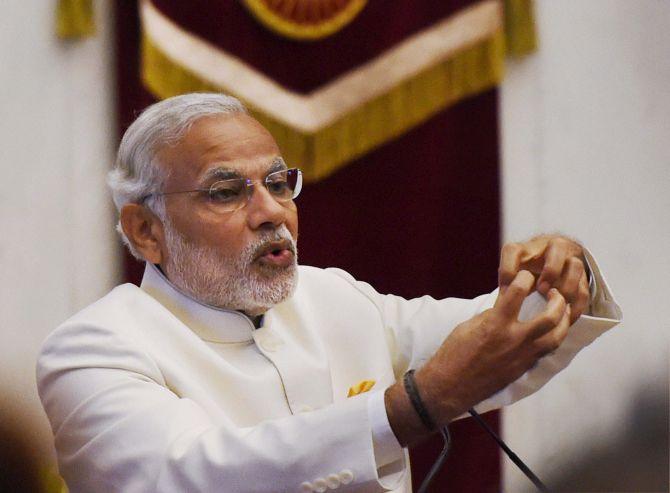 IMAGE: Prime Minister Narendra Modi. Photograph: Subhav Shukla/PTI Photo
Recently, a dear friend of mine forwarded this article, India was this perfectly happy place, and then came Narendra Modi (external link) translated by Shefali Vaidya from the original Marathi piece by Pradyumna Paranjape. Needless to say, I was very upset by this sort of satire and immediately wanted to pen my strong support for our PM. So here goes.
My India....
It was not a perfectly happy place. There was corruption, there was crime and there were communal riots, too, sometimes. Poverty was not unknown to us, and we had almost become resigned to our fate.
Unfortunately for some anti-nationals, those dark days did not last, and something happened! On May 16, 2014, when the world was going about its business as usual, India stood still and celebrated the coronation of Honorable Shri Narendra Modiji as prime minister.
Our very own poster boy of development as well as Hindu pride, made us realise that the Ma-Beta pair, with some help from Aaptards, sickulars and adarsh liberals had brought the nation to ruin. The time for Rahul was over, the time for Vikas was near.
And just look, how my India is transformed today!
Now we don't know what corruption is and have forgotten the word scam. Why are you asking me about Lalit and Vyapam when I am asking you to focus on Vikas? Where is Vikas, you say? Are you blind? Look around you!
All the black money stashed abroad has been brought home and people have Rs 15 lakh each in their accounts. There is no sign of poverty anywhere anymore!
Our economy has now overtaken China's! Don't talk of Moody's and spoil my mood. Arun knows best, and he says we are doing better than ever.
Not Arun Shourie, you duffer, I meant Arun Jaitley! And I don't trust that Raghuram Rajan fellow much either. Another sickular, if you ask me.
So much FDI has been generated by our PM's travels abroad that not only our economy, even the world economy and tourism are flourishing!
In this paradise, women are so safe, so safe, that all they have to do is yell 'beef' when anyone harasses them and a police contingent arrives in minutes. We have successfully managed to 'Beti padhao, Beti bachao' -- just by clicking selfies with daughters!
India is so Swachh, so Swachh today, that from Delhi to Bangalore there is not even a speck of dirt (forget about the stench of garbage). Anything can happen when you start taking selfies, I tell you!
Our enemies now tremble in fear -- Pakistan and China have been completely subdued and even Nepal is not taking any chances with us! Our PM's 56 inch has scared the whole world!
Mehengai has ended and dal is now so sasta, so sasta, that I am drinking three bowlfuls every day. Again some sickulars say we cannot afford dal nor are we allowed to eat beef. Well, as someone rightly commented, our PM has only delivered his promise of 'Na khaunga, na khane dunga,' in that case.
We are taking such giant strides in arts, science and technology, that artists and scientists have all started raining awards on the government, instead of the other way round! Some army veterans, too, want to decorate the government with medals.
What do anti-nationals know about love for the country? Our PM has taught us that the best way to show love for your country is to never be in it.
Some people consider Modiji a wily politician, I don't know why. He is a wonderful human being and an actor who has always remained true to his craft. As a child, too, he excelled in plays. That passion has made him a performer par excellence today and people are simply jealous of his success!
Our magician Modiji can appear in any part of the world in no time and wow everyone with talk of Digital India. Back home, he can immediately transform into a gareeb ma ka beta, even a backward class boy who understands the 'mann ki baat' of the poor.
From Kashmir to Punjab to Kanyakumari, peace and communal harmony prevail everywhere. We tried to implement the Gujarat model even in Bihar, but unfortunately the Biharis could not appreciate this.
We enlightened citizens know that Modiji is personally responsible for the Achche Din that we are blessed with today.
In fact, India has become a paradise and if it gets any better, celebratory firecrackers will surely start going off in Pakistan!
Durba Dhyani is a Bengaluru-based corporate trainer.