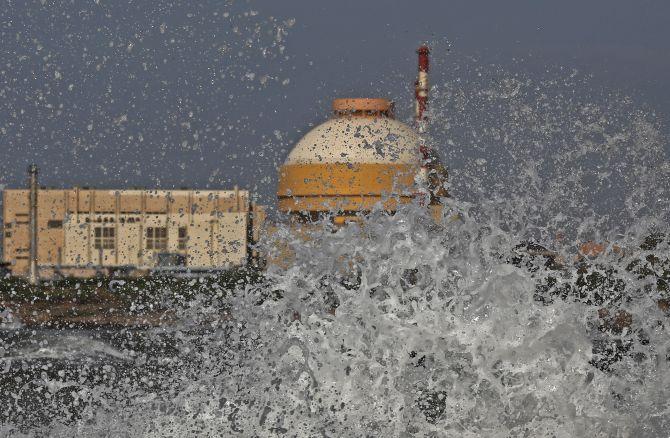 The government must justify why we need to buy foreign reactors when we have developed up to 700 MWe unit-size pressurised heavy water reactors, a design which can be easily extended to 900 to 1,000 MWe unit size.
Why can't the 'Make in India' philosophy apply to indigenous nuclear reactors, more than 18 of which have been designed, built, and being operated by Indian engineers, asks Dr A Gopalakrishnan, former chairman of the Atomic Energy Regulatory Board.
In an article titled (external link) The Nuclear Cover-Up in India Today, I had argued that, following then prime minister Manmohan Singh's July 2005 visit to Washington, DC, the United Progressive Alliance government's foreign policy focus shifted to establishing an India-US strategic relationship, even though it meant the trading in of a part of the nation's sovereignty and its hard-earned self-reliance in the nuclear sector.
In return for this strategic bear-hug, the then UPA government agreed to purchase a significant number of nuclear power reactors from the US, France and Russia. The corporate houses in India and abroad involved in nuclear commerce and their federations and business councils, as well as some of our senior bureaucrats and nuclear scientists, were eager to have India import nuclear reactors and, therefore, worked as active collaborators in this to subserve their own partisan interests.
It was evident from an interview which the then chairman of the Atomic Energy Commission gave to Sakaal, a Marathi daily newspaper, on January 5, 2011, that the import of nuclear reactors was the price Dr Singh paid as a quid pro quo arrangement for the Nuclear Suppliers Group clearance.
M V Ramana and Suvrat Raju have also commented on this matter in their (external link) article in The Hindu.
Two areas where India's indigenous nuclear technologies and local equipment are known to be below world class quality are those related to enriching natural uranium and for reprocessing the spent-fuel for plutonium extraction, together commonly called 'ENR technologies.'
While asking Parliament to favourably consider the India-US nuclear deal, Dr Singh had categorically assured that, if the deal is signed, no associated nuclear technologies for power, including full ENR assistance, would be denied to India.
Once the September 2008 NSG waiver and the 123 Agreement with the US were in place, NSG members were free to sell ENR technologies to India, under safeguards.
Surprisingly, in November 2008, under dominant US pressure, the NSG reframed their rules to deny ENR technologies to non-NPT countries, including India.
This was a clear betrayal of a key inter-governmental understanding with us and, therefore, the then Indian foreign secretary had written on February 3, 2009, to the US State Department that the American initiative on ENR ban at the NSG constituted a 'derogation' of the bilateral India-US agreement on civil nuclear cooperation.
The UPA government did not thereafter try to resolve this issue, and the (external link) ENR technology ban stands against India even today.
For India, what is most needed are modern ENR technologies, not foreign nuclear reactors. Since the US and other major countries have violated a crucial part of their commitments under the nuclear deal, India no longer has any obligation to purchase their reactors as earlier promised by the UPA government.
Therefore, I urge the Narendra Modi government to discuss with President Barack Obama the non-supply of ENR technologies and refrain from discussing nuclear reactor imports during his forthcoming visit.
An important consideration at the outset is whether the present government has seriously examined India's projected electricity requirements and the optimum mix of generation technologies we must adopt.
Setting an India-specific long-term target for per capita annual electricity consumption is essential before starting reforms.
In this, the summary conclusion we can infer from the (external link) extensive sustainability studies done over the last three decades is that perhaps India should settle for a long-term average annual electricity consumption not exceeding about 4,000 to 4,500 KWh per person for the year 2050 and beyond, if we are to preserve a sustainable and stable society.
It could be dangerous to blindly imitate the example of today's developed nations and set a much higher target.
The mix of electricity generation technologies to use will depend on the capital investment per MWe, cost and availability of fuel, environmental impacts, technology independence, indigenous manufacturability, and various such factors.
Therefore, the least the Modi government must do is to develop ab initio a strong case, if there is one, for the need for expanding nuclear power per se in India, before proceeding along that path.
The government must especially justify why we need to buy foreign reactors for that purpose when we have indigenously developed up to 700 MWe unit-size pressurised heavy water reactors (PHWRs), a design which can be easily extended to 900 to 1,000 MWe unit size.
These PHWRs could be just as efficient and safe and will cost only 30 to 50 per cent compared to the reactors we plan to import .
In late December 2014, the current government has issued (external link) strict guidelines to all ministries, asking them to give preference to domestically manufactured electronic products, a move aimed at boosting electronics production as part of the prime minister's 'Make in India' drive.
Why can't the same philosophy apply to indigenous nuclear reactors, more than 18 of which have been designed, built, and being operated by Indian engineers?
Irrespective of the mode of generation, it is electricity that India wants -- but at what financial, political, environmental, and human cost?
Remember that the capital investment for imported nuclear plants will have to come entirely from the Indian tax-payer, no foreign company or bank will risk lending for nuclear projects.
Nuclear generation plants based on French EPRs could cost about Rs 30 cores to Rs 35 crores/MWe (Rs 300 million to Rs 350 million), the US AP-1000 (Westinghouse-Toshiba) and ESBWR (GE-Hitachi) as well as the Russian VVER-1200 reactors could cost about Rs 20 crores to Rs 25 crores/MWe (Rs 200 million to Rs 250 million), while the indigenously designed and manufactured Indian PHWRs will only cost about Rs 10 crores to Rs 12 crores/MWe (Rs 100 million to Rs 120 million).
In contrast, coal-based ultra mega power projects based on supercritical steam cost only Rs 5 crores to Rs 7 crores (Rs 50 million to Rs 70 million) per MWe.
But, what do the reactor manufacturers themselves say?
In fact, the chief executive of General Electric Co, one of the world's largest suppliers of nuclear equipment said in an (external link) interview to the Financial Times on July 20, 2012, that 'nuclear power is so expensive compared with other forms of energy that it has become really hard to justify.'
When those who are sellers of reactors are themselves of this view, I wonder why our government is eager to buy their reactors.
In an (external link) interview to The Hindu on November 25, 2010, the then CEO of Areva, France said, 'Before buying something, people need to see the product. There are a lot of designs which are perfect on paper, but which do not work.'
The Deparment of Atomic Energy is seeking approval to start two nuclear parks, one involving six 1,650 MWe French EPRs at Jaitapur and the other of six 1,594 MWe US General Electric ESBWRs at Kovaada, though no operational reactor of either of these types exist today anywhere in the world!
Most of the defects and deficiencies in a newly designed reactor shows up in the initial few units, within few years of early operation. The undue haste with which India is planning to buy six each of these reactors, well before such teething problems are discovered and corrected, gives rise to several legitimate suspicions, especially in view of the immediate past history of widespread corruption in government.
Finally, today's global warming is the result of the green house gas (GHG) presence in the atmosphere due to the historic accumulation of emissions ever since the start of the industrial age. (external link) Documented data for the cumulative emissions show that India's total contribution to this from 1850 to 2000 is only about 2.2% of the total, whereas the US and Europe have been responsible for 29.3% and 26.5% of the total.
(external link) Even the annual CO2 emission of India in 2012 is only 1.6 tonnes per capita, in comparison to 16.4 tonnes and 7.1 tonnes per capita in the US and China, respectively.
Therefore, the primary onus cannot be on India to save the world from global warming, when we are still at the nascent stages of development.
The recent US-China Climate Agreement will still leave GHG emissions of China and the US to about 12 tonnes per capita in 2030, when Indian emissions will still be far below that level. So, there should be no compunction on India's part to continue the building of coal-fired, ultra supercritical steam-based thermal power stations, without getting pressured into buying foreign nuclear plants .
Encouragingly, few sensible views on nuclear power have emanated recently from some Cabinet ministers. Union Power and Coal Minister Piyush Goyal (external link) said in November that the government would remain 'cautious' about tapping nuclear power generation.
Goyal suggested that the West was trying to pass on 'discarded technology,' under the garb of clean energy, which reflects an earlier government view of importing uranium and not reactors from outside.
Similarly, External Affairs Minister Sushma Swaraj (external link) said on September 8, 2014, 'Scandals like the Bhopal tragedy took place. That is why suppliers' liability is already included into the Nuclear Liability Act We will not pass any (revised) bill... I think we will reiterate our stand before President Obama. This time a strong government will be talking to Obama; that will make all the difference.'
Let us hope these voices will also have a say in making the final decisions on India's nuclear power policy.
Image: The Koodankulam nuclear plant in Tamil Nadu. Photograph: Adnan Abidi/Reuters.
Dr A Gopalakrishnan is a former chairman of the Atomic Energy Regulatory Board, Government of India.